Los Angeles and Region
L.A. County Sheriff's Department: What You Need To Know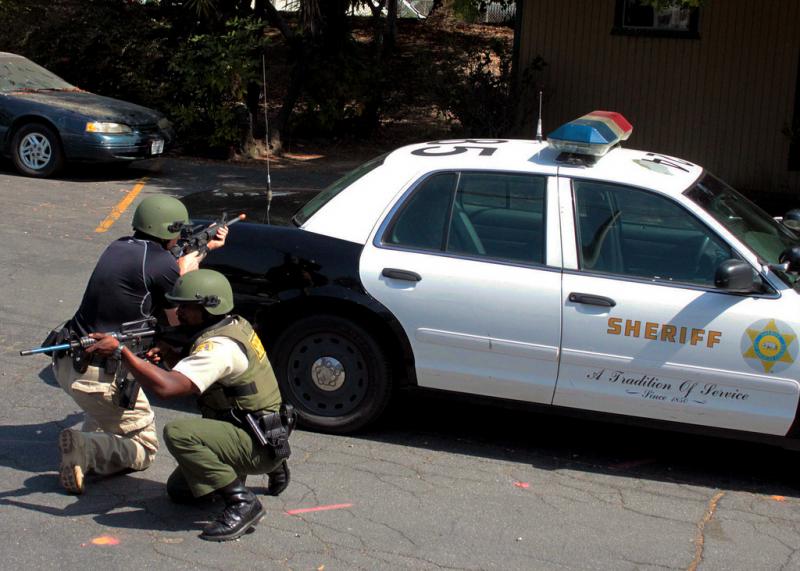 Following floundering public agencies can become somewhat of a sport for those who keep up with the news. But any potential fun soon dissipates when the particular public agency is a highly corrupted and abusive paramilitary police force, charged with both protecting the largest county and managing the largest jail system in the country.
Simply said, The Los Angeles County Sheriff's Department is in serious trouble, and it's important for citizens to know exactly what has been going on behind the scenes with the nation's fourth largest law enforcement agency.
READ MORE: Feds Want Oversight Of L.A. County Jails
For the past few years, federal agents have been investigating the Department for alleged widespread abuse inside the county jail system. Charges raised against the department include frequent prisoner beatings and sexual abuse, and extending as far as systematic cover-ups on a departmental scale; rumors have even emerged of gang warfare among sheriff's deputies.
Whistleblowers and abusers alike are testifying this week and next about the alleged abuses that have occurred in the county's Twin Towers Correctional Facility. This particular trial is for six sheriff's officials accused of obstructing justice after their behavior when a cellphone tied a federal investigation was discovered on an inmate named Anthony Brown.
The cellphone was planted on Brown as a part of an F.B.I. Investigation into the alleged civil rights abuses occurring inside the Men's Central Jail. Brown, a regular inmate, was supposed to act as an inside informant for federal agents, telling them what kind of abuse was happening when.
The F.B.I. got the phone to Brown through a corrupted deputy named Gilbert Michel in August of 2011. Michel was bribed by federal agents to give the phone to Brown, not knowing that he was acting in a sting operation set up by federal agents. A few weeks later, the F.B.I. contacted Michel, showing him video of the exchange, and asked if he would cooperate with their investigation.
Soon after, though, the phone was discovered on Brown, and Sheriff's deputies launched an investigation into discovering its source. Michel was placed on leave, and shortly thereafter resigned his position as a deputy.
READ MORE: L.A. County Sheriff's Candidates Race To The Top Spot
Things started really heating up once the Sheriff's department learned the phone originated from the F.B.I. and that they were being investigated.
On one end, department officials attempted to hide Brown from federal agents in the jail itself. Sheriff Lee Baca and his number two, Undersheriff Paul Tanaka, gave orders to hide Brown for "his own protection." Brown was transferred from jail to jail under false names to make him "unfindable." All while extra deputies were posted outside of his cell who, according to testimony this week were "not to keep Anthony Brown in, but to keep the F.B.I. out."
At the same time, two Sheriff's sergeants (presently on trial) arrived at lead investigating F.B.I. agent Leah Marx's house, and told her that they were obtaining a warrant for her arrest.
The judge declared the request-for-warrant ludicrous, but that didn't stop the department from authorizing a surveillance team to follow Marx. Days later, the sergeants again confronted Marx on her driveway, demanding to know whether or not there were more phones inside the jail.
READ MORE: L.A. County Sheriff's Department Employed Officers With History Of Misbehavior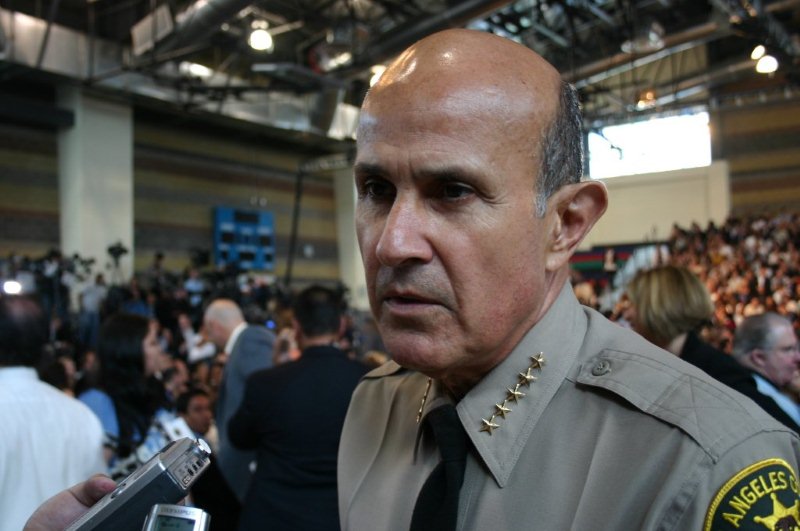 This trial follows the indictment of
18 sheriff's deputies late in 2013
on various charges, and the resignation of County Sheriff Lee Baca himself about a month later.
Those 18 were indicted following the same investigation—of Special Agent Leah Marx—that the present six officials are on trial for obstructing.
Marx's investigation zeroed in on the Twin Towers correctional facility, searching to substantiate allegations of widespread abuse and corruption actually took place inside of the jail.
For example, one reported incident includes the case of a paraplegic inmate who got into a verbal argument with a deputy inside the jail. The deputy proceeded to conduct an "anal-cavity-search" of the inmate, and eventually broke the inmate's eye-socket in the following struggle.
Marx's testimony in this week's trial reveals that her informant Anthony Brown reported about 50 cases of abuse before the phone was discovered, some of which resulted in formal charges.
Michel also testified this week about some types of abuse that were routine within the prison.
In one instance, which the Los Angeles Times reported on, Michel recalled a time when he was conducting a regular search on an inmate and asked the inmate some questions. The inmate responded, correctly, that he didn't have to answer them without his attorney.
The search concluded, but as the inmate was returning to his cell another deputy told Michel that the inmate was disrespecting him. Michel testified that the other deputy said "He's laughing at you."
Michel returned to the cell, dragged the inmate back out and ordered him to spread his legs for a search. When the inmate refused to cooperate, Michel kicked the inmates legs to make them buckle and slammed his face against the wall.
Why?
Michel testified that the goal of aggressive search behaviors were to provoke an inmate into retaliating. If an inmate started attacking a deputy, it was enough cause to justify a full beating, presumably by more than just one deputy.
The inmate was beaten and handcuffed by Michel and the other deputy, then peppersprayed, and taken to the jail's clinic for his injuries.
In his report, Michel claimed, falsely, that he had seen the inmate passing drugs through the bars, and that the inmate called him a fag.
HEAR MORE: The Hot Seat: Paul Tanaka
Harrowingly, Michel's story is far from exceptional. A long train of similar stories have surfaced from the same facility, ranging from unprovoked attacks on visitors, to gangs of deputies beating prisoners of color.
Paul Tanaka, former Undersheriff to Lee Baca and current candidate for County Sheriff, was a part of a deputy gang spawned in Lynwood in the late 80s called the "Vikings."
In 1991 several Vikings were indicted for unjustly attacking people of color; a federal judge went so far to call the Vikings a "neo-nazi, white-supremacist gang."
Tanaka has since been connected to similar incidents, and was accused last year in a lawsuit by two deputies for organizing a cover up involving a skinhead deputy who attacked inmates, threatening to kill those who attempted to report departmental abuses, and ignored legitimate claims of inmates who were abused.
READ MORE: New L.A. County Interim Sheriff Announced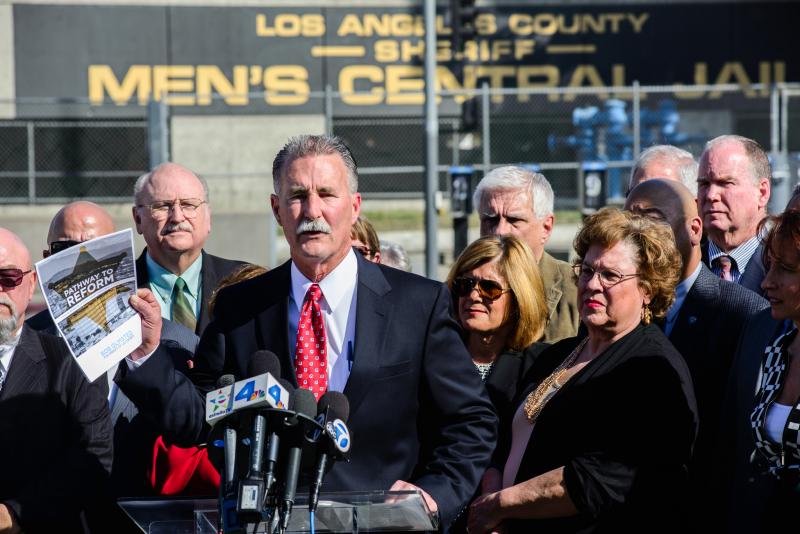 Claims are claims, and Tanaka has repeatedly
denied any connection to or knowledge of abuse
. But the former Undersheriff repeatedly ignored attempts by whistleblower Robert Olmstead to fix the county jails.
Olmstead was promoted to captain of the Men's Central Jail at the Twin Towers facility. Upon arrival, he became alarmed at the types of behavior he saw of sheriff's deputies in the jail. He attempted to report the abuses, but found that all of his superiors— even then-Sheriff Lee Baca himself—ignored his claims.
It wasn't until the A.C.L.U. filed a lawsuit against the nefarious organization in 2011 and the details from the F.B.I.'s own investigation were revealed that it became clear just how entrenched in its own corruption the Sheriff's department was/is.
Olmstead led an unsuccessful campaign for County Sheriff earlier in the year, losing in the primary to Long Beach Police Chief Jim McDonnell and former Undersheriff Paul Tanaka.
It's important to note, too, that last year, Los Angeles County spent $43 million dollars fighting and settling lawsuits involving the Sheriff's department mostly involving excessive force, accounting for almost half of the County's $89 million dollar total litigation cost.
County Sheriff is plagued with all sorts of trouble. Whether it's shooting homeless people, shooting hostages, or shooting each other, it's clear that the agency is challenged by a misdirection of power on a regular basis. Come November, make sure not to vote for Paul Tanaka, who has been inside running the show the entire time.
Contact Staff Reporter Matthew Tinoco here. Follow him on Twitter.