Los Angeles
L.A. County Sheriff Candidates Race To The Top Spot
Recently strewn with alleged violence and abuse cases, the Los Angeles Sheriff's Department is hoping to clear its name with a new sheriff in town -- literally.
Leroy "Lee" Baca, Los Angeles County's 30th Sheriff, withdrew from the 2014 Los Angeles County Sheriff elections when he announced his retirement earlier this month, citing the exhaustion of battling allegations of authoritative misconduct, "concern for the future of the sheriff's department," and "the negative perception of this upcoming campaign" as reasons for throwing in the towel early.
READ MORE: Critics Applaud L.A. County Sheriff Lee Baca's Resignation
Seven men are vying to take his place in June's primary elections. Here's a closer look at the candidates:
1. Jim McDonnell
McDonnell most recently entered the Sheriff race but is considered a front-runner by many political observers, according to the L.A. Times. McDonnell has been the Long Beach Police Chief since 2010 and says he has an advantage by being the only candidate to have run a law enforcement agency. "He represents the largest city in Los Angeles County outside of L.A. and he came from the LAPD," said political consultant Jeff Adler in an interview with Press-Telegram.
Before his position as police chief, McDonnell was second in command to Los Angeles Police Chief William J. Bratton. McDonnell worked for a total of 29 years in the Los Angeles Police Department, holding various positions.
McDonnell missed the bid for LAPD chief twice, in 2002 and 2009. His platform this time includes "broad, bipartisan and law enforcement support," which he announced in a press release Monday when he declared his candidacy for Sheriff. McDonnell also said he would address problems under Baca's tenure, including poor hiring, jail abuse and the lack of accountability among supervisors.
He is endorsed by many significant Angeleno figures, including District Attorney Jackie Lacey, Steve Cooley, Police Chief Charlie Beck and L.A. City Attorney Mike Feuer.
WATCH: Press-Telegram's interview with McDonnell; announcement of candidacy
2. Paul Tanaka
Before McDonnell entered the race, Tanaka held the most recognized name in the field. Tanaka joined the Los Angeles Sheriff's Department in 1982 and was Undersheriff in 2011. As Assistant Sheriff, he directly commanded the Department's Field Operations Patrol Regions, Detective Division and the Homeland Security Division. He also oversaw the Administrative Services Division.
Tanaka has been the mayor of the City of Gardena since 2005 and was reelected in 2009 and 2013. He serves on the city's Finance Committee and on the Boards of the County of Los Angeles Sanitation District 5, the South Bay Regional Public Communications Authority and the Selection Committee for LAFCO and the Coastal and Transportation Commission.
Alameda County Sheriff Gregory Ahern and Mendocino County Sheriff Tom Allman endorse Tanaka.
Tanaka's platform focuses on crime reduction to create safer communities, fiscal responsibility, local cooperation, new direction and leadership for the Sheriff's Department, permits for carrying concealed weapons and improved treatment of mentally ill inmates.
Find Paul Tanaka's campaign site here.
3. Todd Rogers
Rogers, an assistant sheriff, joined the department in 1985 and was the Captain of Carson Station for six years. He also served as an Area Commander in the Department's Filed Operations and worked in the Region II Headquarters and Leadership and Training Division.
Rogers was mayor for the City of Lakewood from 2004-2005 and 2009-2010. He has been a hugely popular elected city councilman in the City of Lakewood for the past decade, running twice unopposed in 2009 and 2013. He currently serves as Vice Mayor.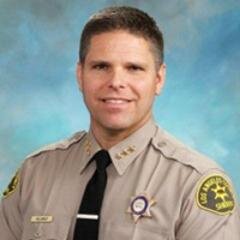 4. Jim Hellmold
A 25 year veteran of of the L.A. County Sheriff's Department, Hellmold commands all of the Department's Field Operations Regions, Detective Division and Homeland Security Division. During his tenure in patrol, Hellmold received formal recognition in Long Beach and Bellflower for impacting street crime, according to his bio on the LA County Sheriff's Department site.
He has held a wide range of positions and duties, including serving as a youth mentor at local foster homes and MacLaren Children's Center, working as a media spokesperson and conducting staff duties for the Sheriff's Office.
Hellmold was promoted to Sergeant in 2000 and assigned to the East L.A. and Compton stations. He assisted in developing the Department's Long Term Strategic Plan as part of the LASD2 team and was assigned to the Department's elite tactical unit known as Special Enforcement Bureau at the Canine Services Detail.
He was promoted to Lieutenant in 2005, Captain in 2007 and Commander in 2011, for which he closely inspected jail operations throughout L.A. County.
5. Bob Olmsted
Bob Olmsted is a former LASD commander and department whistleblower, as the highest ranking person to expose inmate abuse, according to LA Weekly. He says of his constituents and platform on his campaign site: "Voters deserve a sheriff's department they can be proud of. I'm running for Sheriff to restore integrity into the department and get back to the basics – serving the community, stopping crime, and helping keep kids out of crime in the first place."
His candidacy is in the hands of veteran campaign consultant John Shallman, who has augmented Olmsted's media presence and name recognition.
Olmsted's line of work included teaching criminal justice at El Camino College. He was Commander, Captain, Lieutenant, Sergeant and Deputy during his career. As Commander, he supervised around 15,000 inmates.
After retirement, Olmsted talked about the widespread dysfunction and corruption in the Los Angeles policing system. Specifically, he exposed corruption the Men's Central Jail System.
6. Pat Gomez
Lieutenant Gomez has been with the L.A. Sheriff's Department for over 31 years, working assignments that included Pico Rivera and Temple Stations, Custody Training Unit, STAR Unit and several Custody Facilities.
Before becoming Deputy Sheriff, he was a Sheriff's Department Law Enforcement Explorer and a past Regional Vice President of International Union of Police Associations, representing California and Hawaii. He was a past President and Board Member of the L.A. Sheriff's Professional Association, President and Trustee of Sheriff's Relief Association and Commissioner of California State Assembly Speaker's Commission on Police Conduct.
Gomez has run twice before for the position of Los Angeles County Sheriff.
7. Lou Vince
Vince, a US Marine Corps Reserve, began his career with the LAPD and rose through the ranks as a Field Training Officer, Sergeant and Detective Supervisor.
Vince was heavily involved in the LAPD's 2005 Mission Police Division and the 2009 Topanga Police Division. He served as a Level I Reserve Deputy with the L.A. County Sheriff's Department for four years and holds a Master's Degree in Criminology, Law, and Society.
Vince is using Twitter actively to engage his constituents.
Contact reporter Sarah Collins here. Follow her on Twitter here.