Los Angeles
USC Students Fight On Against JanSport At Bovard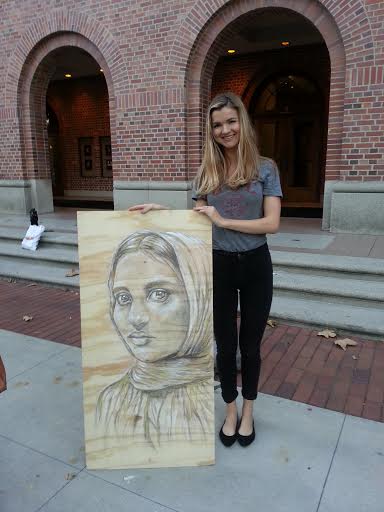 Protests from USC students and the Student Coalition Against Labor Exploitation (SCALE) have kept up for hours on Tuesday, April 15. The struggle was to simply get a response from President Max Nikias on changing the school's contract with JanSport, but was instead been met with threats of suspension and scholarship revocation.
SEE ALSO: USC Students Protest In President's Office Over Ties With JanSport
From a representative of SCALE, Arya Shah, "Students across campus have been campaigning for the past eight months. The simplest way to describe it is that SCALE has been asking the university to cut its contract with JanSport."
According to SCALE, JanSport is a company associated with a branch that is responsible for the deaths of workers in Bangladesh. The students have campaigned with rallies, weekly letter deliveries, and various forms of faculty outreach.
"President Nikias has never acknowledged a single letter we gave or anything," Shah continued. "Students were basically pissed for their voices being ignored on this issue and in general on campus, which is why we decided to do this to get our administrations' attention and let them know that we won't be silenced."
Students began their protest outside of Bovard around 2 PM and petitioned with signs and cries, promoting #occupybovard. A group of students managed to get into the building and sat outside of the president's office where they were met with retaliation from faculty and ultimately left after 6 PM.
SEE ALSO: Why The SCALE Protests Matter To You
Natalie Biehl, a junior political science major in SCALE, stood outside Bouvard with a portrait of Aklima Khanam, an 18-year-old Bangladeshi worker that was trapped under rubble for two days before being rescued.
According to Biehl, "We were met with extreme hostility, lots of threats, and contempt. They called DPS right away, told us we were violating safety hazards and were in the process of suspending us. It talks about where does USC stand with protests and activism, and is that really how they're going to react to students? Are they going to discourage students and the issues that they care about? Cutting contact with jansport is not going to be harmful to USC, but it will send a message to them that they need to make Bangladesh factories safer and sign on to the safety and building safety accord."
The protestors all mentioned that the faculty had made threats to call the parents of the protesting students, which was followed through with at least one SCALE member. "We don't know if what they did was okay, but they got our emergency contact information," Shah said. "When it became clear that this was their way of stalling and waiting things out, it wasn't constructive for us to remain here any longer."
After multiple attempts at getting in contact with Student Affairs, Neon Tommy was able to get a message forwarded from the Vice Provost, Ainsley Carry.
He stated:
"No letters of interim suspension were handed out. I informed the students protesting inside the Bovard Administration Building of their rights and responsibilities in relation to protesting on campus. The students were informed that if they chose to continue to disrupt university business with loud protests inside the building or by staying inside the building after the hours of operation that they would be given a letter of interim suspension. The students would then be required to go through the student judicial affairs process and, if found responsible, could face sanctions up to and including suspension. A student that is suspended would likely face the loss of any university scholarships.
"All students were informed of this potential and given the right to make a decision as to their conduct.
"The standards and requirements of USC licensed vendors are among the most stringent in higher education. USC has a long history of making dedicated efforts to help ensure that USC-branded merchandise is manufactured under safe and fair working conditions. No USC licensed vendor is producing USC merchandise in Bangladesh. A relatively small number of students have requested that USC use tuition money to support organizations and causes that have nothing to do with USC. We will continue to require that all licensees producing products for USC manufacture those items only in factories that ensure safe working conditions for their workers."
A timeline of USC's steps taken towards social responsibility was also provided and can be found here.
SCALE will continue to protest JanSport and it's continued business with its parent company, VF Corporation. They meet on campus at VKC on Wednesdays at 7. You can check out their facebook page here.
Reach Executive Producer Eric Parra here.