Los Angeles
People St Program Adds Green Space To L.A.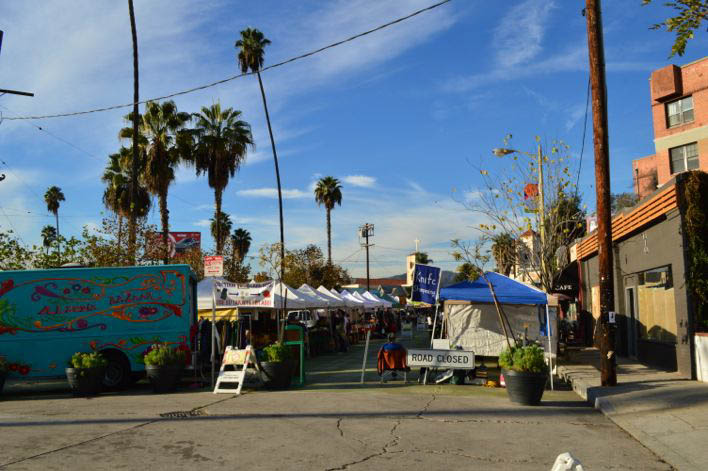 Five days a week, Silver Lake's Sunset Triangle Plaza — also known as Polka Dot Plaza — is a place where people come to walk their dogs, drink coffee and chat with neighbors. But every Tuesday and Saturday, it transforms into a farmer's market that attracts hundreds of people shopping for produce, wild-caught seafood, flowers, clothes and more.
Sunset Triangle Plaza was built as part of a pilot program for an initiative by the city of Los Angeles and LADOT called People St, which will soon begin accepting applications from community members all around Los Angeles to build parklets, bike corrals and plazas — just like the one in Silver Lake — in their own neighborhoods.
The program's aim is to turn underused spaces throughout the city into green, pedestrian-friendly areas that will encourage more foot traffic and community building. That need is especially felt in downtown Los Angeles, where the population has spiked in recent years and where green space is scarce.
"When we asked the community what they wanted to see, they said they wanted more public spaces, places to gather," District 14 Councilman Jose Huizar said. "They wanted to see some of these commercial quarters have the traffic calmed down so we don't see them as dangerous places for families and pedestrians to walk."
Huizar — whose district includes downtown, northeast L.A., El Sereno and Boyle Heights — is also the muscle behind Bringing Back Broadway, the program aiming to revitalize the historic Broadway corridor by widening sidewalks and dusting off the unused theaters. He said he thinks Broadway would be a natural fit for new plazas, parklets and bike corrals.
SEE ALSO: "Bringing Back Broadway In Downtown L.A., One Step At A Time"
Already, downtown has benefited from the addition of pilot projects. Two parklets — which convert small sections of street space into "people-oriented" space with the addition of seating, planting and bike parking — were built about a block apart on Spring Street. York Boulevard in Highland Park also has its own parklet and bike corral, and a parklet was built on Huntington Drive in El Sereno. A bike corral in Atwater Village is the latest addition for the program.
Sunset Triangle Plaza is People St's shining example of how these projects can be used to enhance communities by creating not only a gathering area, but a small economy as well.
The researchers behind Parklet Studies, a volunteer collaborative in partnership with Living Streets L.A.'s Streets for People, revealed the effects the plaza had on the Silver Lake area. Preliminary findings showed 50 percent of nearby businesses saw an increase in sales from foot traffic after just six months of the plaza's installation. LADOT's assistant pedestrian coordinator Valerie Watson said an updated report will be released soon.
The pilot projects were merely a trial run for People St. Community leaders will be able to submit applications for projects in their own neighborhoods during an introductory application window beginning March 3 and lasting until April 30. The regular annual application window opens up October 1.
Watson says the application process is a simple one. It calls upon community members to designate underused spaces in their neighborhoods for projects.
"We built in a lot of flexibility to address the needs in each neighborhood," Watson said. "We know 'one size fits all' doesn't work here in L.A. This isn't a top-down process where the city is identifying sites. We are really inviting the community who knows their neighborhoods best to propose locations through the application process."
Along with the application is a preapproved "kit of parts" that serves as a guide for community members to use when planning their own projects.
READ MORE: "Downtown L.A. Residents Swap Redevelopment Solutions"
Watson stresses the importance of places like Sunset Triangle Plaza and the impact they'll have on the bigger picture of community betterment.
"We hope that whether it's a plaza, parklet or corral that these projects actually help community members to have conversations about bigger urban changes," Watson said. "It's one thing to have seating and planting, but it's another to allow that to spur bigger conversations about the corridor and street enhancements projects."
The Downtown Los Angeles Neighborhood Council President Patti Berman lives only a block away from one of the pilot Spring St parklets downtown, which community members have embraced.
"In the Valley, where you have 10 acres, go ahead and make a park," Berman said. "But [downtown], we have to scrap for 15 inches of anything we can get. The parklets are an extension of the sidewalk, and it sends a message that people count more than cars."
The leaders behind People St hope pilot locations like the one in Silver Lake will inspire others to designate spots for future projects in their own neighborhoods. Once applications are received, reviewed and approved, those projects could pop up as quickly as within eight or nine months.
"Los Angeles is so huge that you need that kind of community village feeling of the different neighborhoods," said Europa Macmillan, a jewelry maker and frequent vendor at the Silver Lake farmer's market. "Every neighborhood should have its own open space. It doesn't have to be a huge park. This shows you two square blocks can make a nice area for people to enjoy."
Check out more Arts District stories here.
This story is part of a Neon Tommy special on the revitalization of downtown Los Angeles. Click #reviveDTLA for more.
Reach Executive Producer Cassie Paton here. Follow her on Twitter here.