Los Angeles
Bringing Back Broadway, One Step At A Time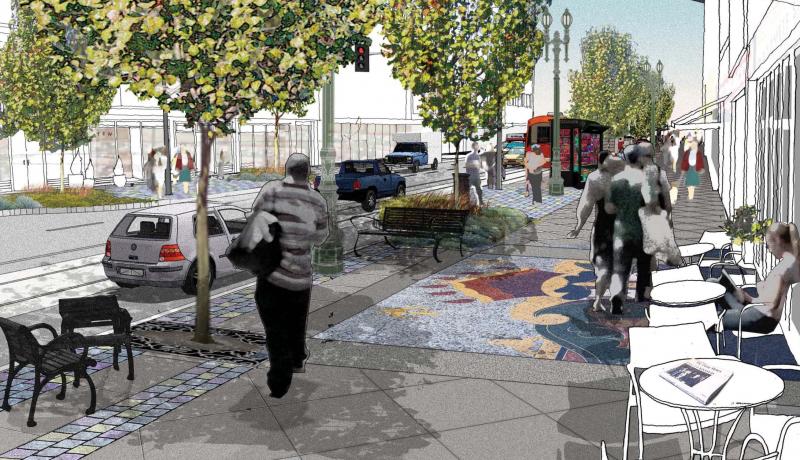 Downtown Los Angeles' campaign to revitalize the historic Broadway District will begin this week as traffic lanes will be cut in exchange for wider pedestrian sidewalks, according to Rick Coca, the communications director of the Bringing Back Broadway initiative.
Phase one of the streetscape plan, spearheaded by District 14's City Councilmember Jose Huizar, will reduce the four traffic lanes between Broadway's Second and 11th streets to three lanes and widen sidewalks from 12 to 20 feet, according to the Los Angeles Department of Transportation (LADOT).
"Throughout the district, Councilmember Huizar has really worked with communities and business owners to take a different approach to planning," Coca said. "It is almost a throwback to another decade where the goal isn't to get people from point A to point B. The goal is to get people to go to point C so the community can come together through a destination spot."
In 2008, Huizar announced his commitment to Bringing Back Broadway: a 10-year plan to "provide economic development and business assistance; re-activate Broadway's historic vacant theaters, as well as more than one million square feet of vacant commercial space; and increase parking and transit options, including bringing the beloved streetcar back to downtown Los Angeles," according to the initiative's website.
Phase one of the two-part project will use semi-permanent objects to temporarily reconfigure the roadway before ensuring funding is secure to break ground, according to LADOT.
Downtown's Broadway District has seen its fair share of changes within the past few years. Big-ticket retailers and businesses like Ross Dress for Less, Urban Outfitters and the recent opening of the trendy Ace Hotel have replaced smaller businesses, in hopes of bolstering economic activity in the area.
READ MORE: "The Ace Hotel Raises The Curtain For A New United Artists Theatre"
In addition, the Broadway District has an additional one million square feet of empty retail and business space that the campaign hopes to use, according to Coca.
"What we're finding downtown is that all these communities grow when you put more feet on the ground and have more pedestrians. It is a natural enhancer for increasing business. It's always been about buying locally, but now it's more about living locally," Coca said.
Not all are convinced that the streetscape plan will go smoothly, though. Long-time residents and frequenters of downtown Los Angeles expressed concern for small businesses that might not survive an increase in rent costs and will be forced out of Broadway.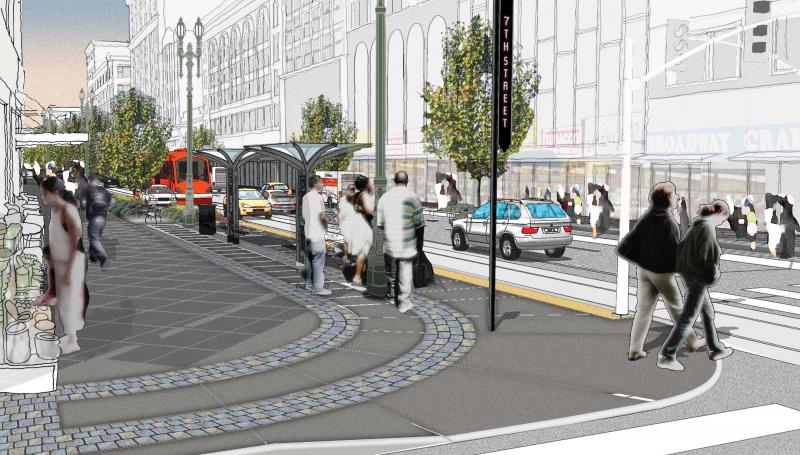 "The biggest winners are usually land owners. As the value of their buildings go up, so do rents. So a lot of the existing retail there will move because they can't stay in business with higher rents," said Lisa Schweitzer, an urban studies expert and associate professor at the University of Southern California. "New businesses will move in, ones that pay more — $20-a-plate entrees and the like."
"The struggle there is that if the project is successful, the price of real estate will go up because the demand for real estate will go up. Although this is not guaranteed, there are opportunities elsewhere for businesses to grow at a cheaper price," said Ryan Millsap, an expert on real estate and adjunct instructor at USC.
The Broadway District peaked during the 1920s as the central hub for Los Angeles' entertainment and film industry. In later decades, the district saw a prominent influx of Latinos who adopted Broadway as a haven of their own.
The dichotomy between reviving the cultural aspects of the Latino community and the nostalgic past of the district's origins has caused the Bringing Back Broadway team to struggle in finding a balance.
"The Bringing Back Broadway campaign has had a conflicted goal all the way through. Early on they focused on bringing back a sense of nostalgia and then realized that Broadway is a very successful small business street. It was also the key Latino shopping street for many years," said David Sloane, an urban history professor at USC.
There is also concern that the homogenization of Broadway solely into a high priced retail destination could sacrifice the diversity from which the area has thrived.
"To me, we live in a very diverse area, and I think supporting diversity is a critical point in how we move our community forward. My concern is that Bringing Back Broadway is moving toward the nostalgia. I understand why they want to bring in more retail spaces and would receive more sales tax, but they should make an effort to ensure that every member is being accounted for," Sloane continued.
But the Bringing Back Broadway team is convinced that the streetscape initiative will have a positive impact on the economy. The campaign hopes to find the same success that New York City's Union Square streetscape project did. The area saw a 172 percent increase in retail sales and 16 percent decrease in vehicle speeding, according to Coca.
And the Bringing Back Broadway team sees the most potential in creating a space for all members of downtown Los Angeles' community to come together and grow in, regardless of the area's historical and cultural origins.
"I think it's more practical that we want to retain and restore the charm Broadway had during the '20s and '30s and how we're doing that is working with developers on preserving a lot of the historic features of the buildings. Ultimately though, we are just trying to bring in retailers that feed the needs of people living in downtown Los Angeles," Coca said.
This story is part of a Neon Tommy special on the revitalization of downtown Los Angeles. Click #reviveDTLA for more.
Reach Staff Reporter McKenna Aiello here and follow her on Twitter @McKennaAiello.