Los Angeles and Region
Downtown L.A. Residents Swap Redevelopment Solutions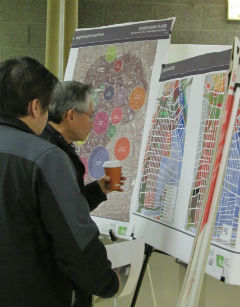 Having grown up in the heart of
downtown Los Angeles
, local resident Cheryl McDonald wanted to make sure her concerns and ideas were heard when talking about the area she loves.
"I lived in downtown for 10 years, but I also grew up down here so I've seen a lot change," McDonald said. "I'm very interested in what kind of directions are being discussed particularly in and around my area."
McDonald was one of several community members Tuesday night that joined city planners and developers at Union Church in Little Tokyo to help envision a future downtown Los Angeles.
Spearheaded by L.A.'s City Planning Assistant Bryan Eck, the public meeting aimed to give residents a venue to share plans and apprehensions about downtown's changing dynamics.
"Our process is always a ground up process where we look to the community first to sort of understand the issues and opportunities that exist today. And then we look to them for their vision for the future," Eck said.
Residents were able to walk around to five different subtopic discussions that included transportation issues, urban design, land use and development, the area's livability and sustainability and economic development.
Apart from the topics up for discussion, many residents came to the meeting with their own list of concerns they hoped could be addressed in the future.
"I'm always interested to hear what anyone is doing about homelessness and Skid Row. That's kind of the underlining problem for the whole community," McDonald said. "I don't want to see those people just pushed out. I want us to deal with the problem."
Others echoed McDonald's worries, with many hoping to create more affordable housing for Skid Row residents and families.
"Homelessness and social service is always a big issue in downtown, but that represents some of our most vulnerable population," Eck said. "There is affordability type housing, but we don't have housing for a range of users in downtown. This is an issue when we a have a lot of the single-use condos but not a lot of housing support for families or seniors."
Other community members talked about the difficulty of traveling to different districts in downtown. Sidewalk lining and additional signage were offered as solutions.
"It's really easy for you to get downtown, but once you're here, it's hard to get and link to all those great activities that are going on," Eck said.
Downtown resident Eric Solis, whose love for urban design, drew him to the meeting.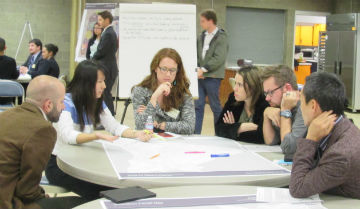 "I have a passion for architecture and in improving the area I live in," Solis said. "Hopefully I can communicate with some people that are connected with decision makers that can get these ideas off the ground."
With nearly hundred residents gathered, the major issue people shared was what actions would follow the roundtable discussion.
"I hope that unlike so many public input plans in the past, this one does not go on a shelf and gather dust," McDonald said. "It drives me crazy that people spend hours and hours of thoughtful time developing a master plan for the city to just ignore it."
Eck noted that the meeting was just the first step to fully improving downtown. Following more community group meetings and informational sessions, the city planning department will start developing a downtown plan.
"I think the energy and excitement of the community has come through in the conversations we've had so far, but we are really just getting started," Eck said. "We'll be having this conversations for the next few years."
Check out more Arts District stories here.
This story is part of a Neon Tommy special on the revitalization of downtown Los Angeles. Click #reviveDTLA for more.