Entertainment News
In Case You Missed It: Celebs Have A "Yikes!" Moment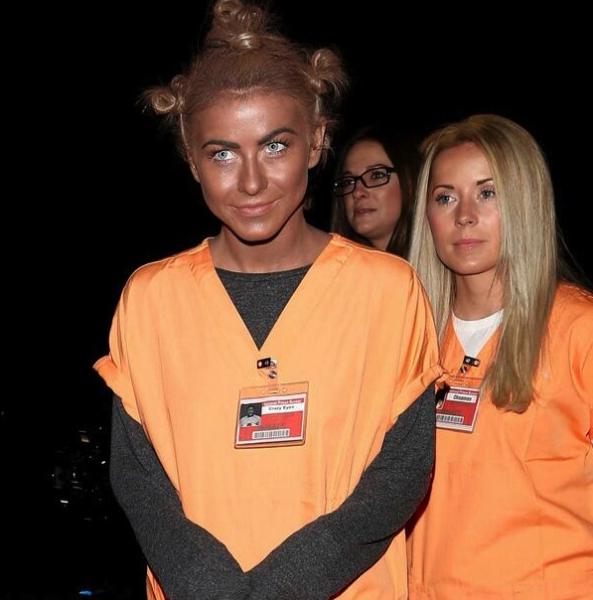 Every Friday, Film Editor Kathy Zerbib brings you the top five highlights of the entertainment world. In case you missed it, here's what's going on this week!
Julianne Hough Uses Controversial Blackface For Halloween Costume
Plenty of celebrities went all-out this Halloween. Miley Cyrus dressed up as Lil Kim, Heidi Klum transformed into a very convincing old lady, Ellen DeGeneres bared all as Nicki Minaj, Matt Lauer got into character as Pamela Anderson on "Baywatch," and other celebrities made it a perfect night for pictures. But not every celebrity got good publicity from the holiday.
Remember when Julianne Hough and Ryan Seacrest dressed as Bonnie and Clyde for Halloween? The couple received oodles of compliments for being so adorably dressed. On her own, Julianne didn't fare so well. This year, she dressed as Crazy Eyes from the Netflix TV series "Orange is the New Black," an African-American character. Julianne used blackface, a controversial move, to better resemble Crazy Eyes' skin tone.
The dancer and actress' decision was not well received. She was bashed all over social media for her insensitivity, prompting an apology from the young starlet. Julianne says she did not intend to be disrespectful or demeaning, and that she's a huge fan of Uzo Aduba and her character Crazy Eyes.
READ MORE: 7 Hollywood Couples That Should Not Have Broken Up
Chris Brown Jailed For Assault
Music artist Chris Brown just can't stay out of trouble.
Chris was arrested and charged with felony assault for getting into a fight. The altercation occurred near the W hotel in Washington D.C. The man Chris fought is Chris Hollosy - also charged with felony assault - who "photobombed" Breezy while he was taking a picture with two girls.
Lucky for the singer, the charge was reduced to a misdemeanor simple assault.
But Chris Brown's struggle didn't stop there. He checked into rehab a few days later for anger management. His attorney Mark Gergagos checked him in. Unfortunately, that meant Chris' Halloween party in the LA Conga Room at LA Live had to be cancelled.
Breezy's court hearing is on November 25th.
READ MORE: Chris Brown Is Disgusting
Truck Collision Puts Kanye West's "Yeezus Tour" On Hold
Kanye West was living way too well these past couple weeks. His engagement to Kim Kardashian made big news. We've all seen why he's so excited to go home. He's gotten huge attention for his rants and feuds. His concerts are highly discussed. Of course, he was destined for failure eventually.
Kanye's "Yeezus Tour" is on hold for the moment, following a critical truck crash that damaged his 60-foot LED screen. The custom-made screen is part of his performance and cannot be repaired. The music artist was traveling from Los Angeles to Vancouver at the time.
Naturally, Kanye isn't willing to compromise. Without the screen, his performance wouldn't be the same. The screen is an essential part of the concert, and Kanye is awaiting a new screen to be made.
Concerts in Vancouver, Denver, and Minneapolis are postponed for now.
READ MORE: Kanye And Kimmel Feud: Kanye's Best Tweets
Marvin Gaye's Family Sues Robin Thicke Over "Blurred Lines"
The hit song of the summer "Blurred Lines" is once again under scrutiny.
Marvin Gaye's children filed a copyright infringement lawsuit against Robin and two other recording artists featured on the track - Pharrell Williams and T.I. They are also targeting the song's publisher, EMI April. The family asserts that the songwriters illegally used compositional elements from one of Gaye's songs.
Two months ago, the three recording artists filed a suit against the Gaye estate in an effort to prove "Blurred Lines" wasn't stolen from Gaye's 1977 hit "Got to Give it Up." Robin doesn't deny that the song inspired his work, but insists his hit single isn't related to Gaye's.
The family is asking that EMI April lose their rights to "Blurred Lines" and to surrender all profits the song has generated. Pretty hefty demands… This is bound to get ugly.
Listen to "Blurred Lines" here and compare it to Gaye's song "Got to Give it Up" below.
Miranda Kerr & Orlando Bloom Split
Sad week for the Victoria's Secret model and the "Pirates of the Caribbean" actor. Miranda Kerr and Orlando Bloom called it quits over the weekend. The couple shared six years together, as well as a son named Flynn.
Don't expect a bitter battle between these two, though. Bloom said the two separated on good terms. They'll handle the split well and continue to respect each other as parents and individuals.
Rumors swirled about the couple's problems since 2012, when Miranda was out and about without her wedding ring. They denied any trouble at the time.
READ MORE: 10 Cutest Celebrity Parents (With Their Babies)
Find all the "In Case You Missed It" posts here.