Media
Two Men Dress As Trayvon Martin And George Zimmerman For Halloween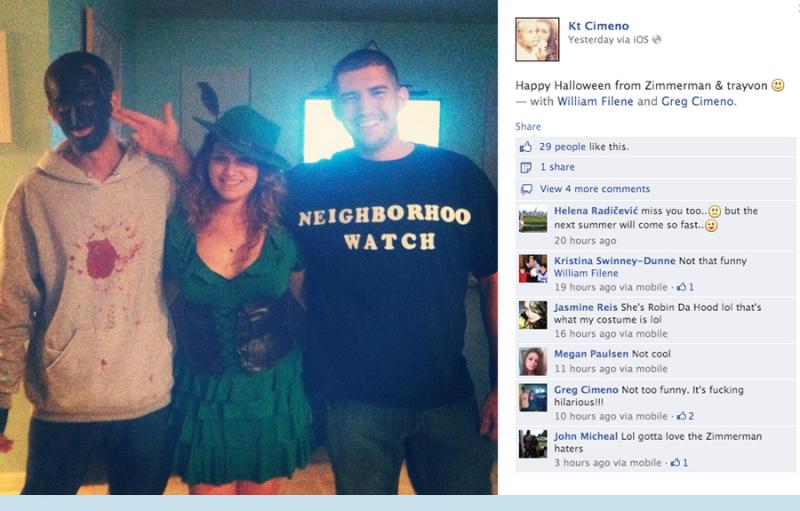 A photo went viral this past week, showing two men dressed as Trayvon Martin and George Zimmerman for a Halloween party.
The man who dressed as Martin, a caucasian from Florida, painted his face black, presumably to complete the costume.
The rest of the costume consisted of a gray sweater and a bloody gunshot wound through the chest. His companion dressed as Zimmerman with a T-shirt on which the words "Neighborhood Watch" were printed. The two are posed in the photograph with "Zimmerman" pointing a finger gun to "Martin's" head.
The two men were identified as William Filene and Greg Cimeno, both from Florida, according to The Smoking Gun.
Filene, a.k.a. "Trayvon," tweeted on Oct. 26: "I'm Trayvon Martin for Halloween," along with the picture of himself, Greg Cimeno as George Zimmerman, and Cimeno's sister, Caitlin, as Robin Hood, as identified by The Smoking Gun.
Caitlin also posted the photo to Facebook last Friday. Her account has since been deleted.
Filene's and Greg's choice of costumes left the online community outraged.
Dancer and actress, Julianne Hough, was also seen last week donning a "black face," dressing as the character Crazy Eyes from Netflix TV series "Orange Is The New Black."
Hough apologized to the public via Twitter for the decision, saying, "I am a huge fan of the show Orange is the New Black, actress Uzo Aduba, and the character she has created," according to the L.A. Times.
"It certainly was never my intention to be disrespectful or demeaning to anyone in any way. I realize my costume hurt and offended people and I truly apologize," said Hough.
There has been no response from Filene or the Cimeno siblings.
Reach Contributor Katie Chen here. Follow her on Twitter here.