Entertainment News
In Case You Missed It: Jennifer Lawrence, Mariah Carey, & Other Celebs Speak Out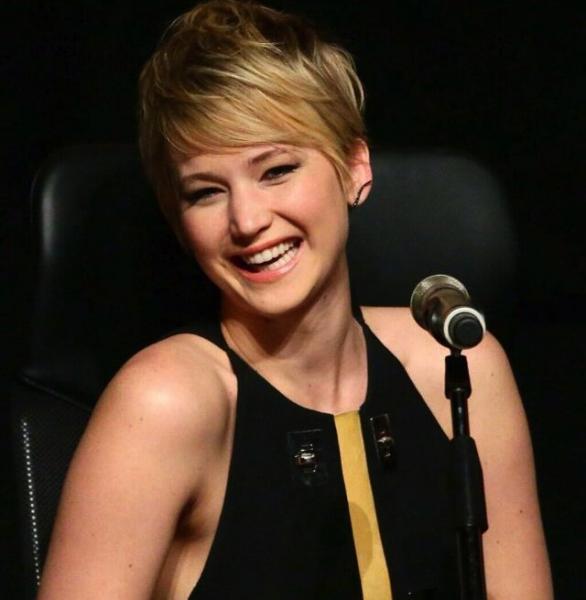 Every Friday, Film Editor Kathy Zerbib brings you the top five highlights of the entertainment world. In case you missed it, here's what's going on this week!
Jennifer Lawrence is Disgusted That "Young Sex Sells"
JLaw has plenty to say about the entertainment industry. In an interview with BBC News, Lawrence shared her opinion on Miley Cyrus and how the industry sexualizes young Hollywood starlets.
"It's a part of the entertainment industry that sells - sex sells. And for some disgusting reason, young sex sells even more," she said.
Lawrence isn't having any part of it. She's said before that she refuses to submit to an obsession with body image, a prevalent habit in Hollywood. The actress is against losing weight for roles. Sexualizing young females is no different.
"It's not really something that I worry about because I feel like everybody's kind of got their own path and they have their own way of finding themselves. And for some people, that's how they feel best, that's how they feel sexy, that's how they want to perform… I'm just saying, to each their own."
Lawrence believes Katniss Everdeen in "The Hunger Games" is a strong role model for young girls. Katniss embodies strength and determination, rather than sex appeal. "Growing up, I didn't have a female hero the way that Katniss is and I think she's a wonderful role model for young girls. I'm happy that they have a character like that," she told BBC.
Can we just nominate JLaw for role model of the year? She deserves it.
Check out the trailer for "The Hunger Games: Catching Fire" below.
READ MORE: Jennifer Lawrence: All Real Talk And No Nonsense
Alec Baldwin Apologizes For Anti-Gay Diss to Paparazzi
A video recently dropped, showing Alec Baldwin dishing anti-gay slurs to photogs. They were trying to take pictures of his family and he wasn't having it. Initially, Baldwin claimed he said "fathead," not "f*g" as TMZ reported. However, he couldn't deny saying "c*cksucking," which can definitely be heard on the video.
As celebrities before him had to do, Baldwin publicly apologized. "I did not intend to hurt or offend anyone with my choice of words, but clearly I have - and for that I am deeply sorry," he said in a statement on MSNBC's website.
Baldwin's talk show "Up Late With Alec Baldwin" is temporarily off air for at least the next two weeks.
READ MORE: Alec Baldwin's Stalker Goes To Jail
Tati Neves Calls JBiebs "Well-Endowed"
The Biebs just can't catch a break in South America.
The Brazilian bodybuilder/model who caught Justin Bieber sleeping on video is making sure she's getting her full 15 minutes of fame. She was interviewed by the British tabloid, The Sun, and spoke her heart out.
Neves claimed they slept together, and that's he gave her a night to remember. "Take it from me, he's well endowed - and very good in bed," she said. "A man must know what to do to make me happy - Justin did all that and more."
She said she met him at a club in Rio de Janeiro called Zax. She was one of the lucky select women invited back to his rented house for an after party. He came on to her, she said, and accepted his invitation to sleepover with him.
"It was one of the best moments in my life. It was marvelous and unforgettable," she told The Sun. "He has quite a fit body and he looked great naked."
Yes, now is when you eye-roll. Feel free to gag, too. Also, expect to hear about Neves for at least a couple more weeks until the shenanigans calms down.
South America just isn't working out well for Justin Bieber.
READ MORE: Justin Bieber Caught On Tape By Brazilian Bodybuilder
Mariah Carey Compares "American Idol" to Hell
The singer went on Hot 97 in New York City and blasted her short time on "American Idol." According to Carey, being a judge on the show made every day like "working in hell with Satan." The "Satan" in this case? Nicki Minaj, no doubt. The two clashed regularly on "Idol."
Carey made $18 million for her first - and only - season. She said she was told she'd be on a three-judge panel alongside Keith Urban and Randy Jackson, but found out Nicki Minaj was also coming on to judge. Needless to say, the lack of chemistry at the judging table was quite obvious.
Her main concern with the show? "I was disappointed," she said. "I loved the contestants. And some of them were so good, and also really good people… It was disappointing when they would - for political reasons - not put [the contestants] through. And I'm like, I'm not going to sit here and do this. I would prefer to put this person in a studio and record a record with them."
Both Carey and Nicki Minaj won't be back on "Idol" next season. Jennifer Lopez, Harry Connick Jr., and Keith Urban will be judging.
Watch some of the dueling pair's best moments here. Watch Carey's full interview below.
READ MORE: Nicki Minaj And Mariah Carey Feud On 'American Idol'
Maci Bookout Discusses Birth Control
MTV's very own is saying "Abstinence isn't realistic." Maci Bookout of "16 and Pregnant" and "Teen Mom" now travels around the country to speak to teens about pregnancy prevention.
In a post on Cosmopolitan, she dishes on her high school's lack of efficient sex ed. Bookout says she was in complete shock when she discovered she was pregnant and wished she knew that she could have gone to the health department and gotten birth control for free.
She also says she can understand why people believe "16 and Pregnant" glamorizes teen pregnancy. "If anyone ever sat down and watched it… there is nothing glamorous about that. I read the statistics on teen pregnancy quite often, and they took a huge decline in 2009, when '16 and Pregnant' first aired… I don't think that's a coincidence," she said.
She goes on to discuss how she would've done things differently, had she watched a show like "16 and Pregnant" before she got pregnant. Had she known how her life would have turned out, Bookout would've acted differently.
Now, she's determined to prevent other girls from going down the same path she went. "When I had Bentley, and then a year or so after me and his dad, Ryan, split up, I felt like I had lost my youth. I thought, 'if I can keep one girl from facing these issues, that's what I'm going to do.'"
Good for you, Maci Bookout. Way to grow up!
Find the full, inspiring text here.
READ MORE: Does 'Teen Mom' Glamorize Teen Pregnancy?
Find all the "In Case You Missed It" posts here.