Los Angeles and Region
More Liquor License Troubles On Tap For Coliseum Commission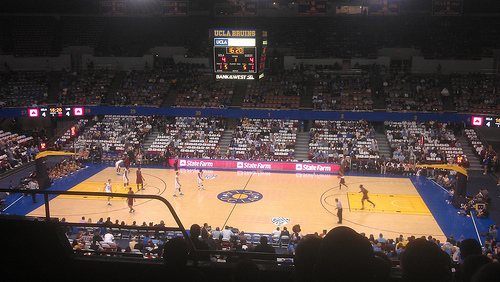 State authorities this month temporarily suspended one of the Los Angeles Coliseum Commission's two liquor licenses as the commission continued to await word whether it would face any penalties for a separate incident in which a commissioner's wife allegedly used the license improperly.
LAPD caught a bartender inside the Los Angeles Memorial Sports Arena selling alcohol to a minor during the day of the Stanford-USC football game on Oct. 29, according to a source with a knowledge of the matter.
Faced with its third liquor license violation in a year, the nonprofit arm of the Coliseum Commission chose to accept a 15-day suspension of its license rather than pay a $6,000 fine. The suspension runs through Jan. 24.
The Department of Alcoholic Beverage Control was not available to immediately confirm details of the incident, but the department's website confirms the license suspension.
The commission's nonprofit still hasn't heard from the department whether it will be penalized for an arrangement between former general manager Patrick Lynch and Bobbie Parks, the wife of commissioner Bernard Parks. Bobbie helps run a nonprofit known as the Regalettes, which holds an annual fundraising gala in Exposition Park.
Nonprofits holding one-day events must file for their own temporary permits to distribute alcohol. But Lynch had agreed to let the Regalettes use the commission's license number.
In a legal opinion produced in October for the Coliseum Commission, attorney Ralph Saltsman wrote that "the loaning of the license in this manner, as well as the utilization by Mrs. Parks and/or the Regalettes, in this manner, would be illegal."
Attorneys for the commission later self-reported the violation to the Department of Alcoholic Beverage Control and the district attorney's office.
Lynch resigned in Feb. 2011 and was replaced on an interim basis by John Sandbrook, who has said he wants to be permanently replaced by this summer. But Parks has called for Sandbrook to go immediately. Sandbrook discovered the Regalettes arrangement and brought it to a halt.
The Coliseum Commission's closed session discussion on Wednesday also included a note about an investigation by the beverage control department's trade enforcement unit regarding the commission's purchase of Russian Standard Vodka from Southern Wine & Spirits.
The unit's website says, "Unlawful alcoholic beverage industry practices include commercial bribery, consignment sales, excessive retailer credit and free goods."
The issue relates back to raves held at in Exposition Park by Insomniac and Go Ventures, but further details were not immediately available.
The Los Angeles Times reported in June 2011 that former Coliseum employee Todd DeStefano received $10,000 from Southern Wine & Spirits, "a company he helped to obtain a discount to lease the Coliseum for an employee party."
Regalettes-Coliseum Commission
Like reporter Paresh Dave on Facebook, follow him on Twitter, circle him on Google+ or send him an e-mail.
Best way to find more great content from Neon Tommy?
Or join our email list below to enjoy Neon Tommy News Alerts.