Entertainment News
Face Forward's 6th Annual Gala Celebrates Survivors Of Domestic Violence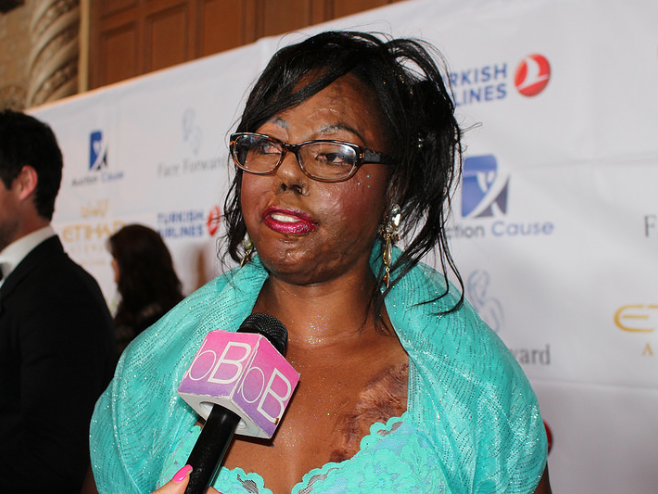 "The hardest thing was… acceptance," said Hanifa, a 32-year-old woman, the mother of two children, and a survivor of domestic violence. "As long as you don't accept the new you, you never move forward." Her eyes gleamed with courage and power that could be only matched by her moving story.
Hanifa is a survivor of domestic violence. Her face has been deformed after acid was thrown at her, melting her nose and right eye. Her 18-month-old daughter fell on the acid while running towards her screaming mother. Hanifa could have easily given into being a victim of this tragedy, but instead, she decided to use it as strength for her voice.
"Face Forward has transformed my life. It has brought out the new me, the inner me is now reflecting!" She said in her beautiful turquois dress on the Red Carpet last night at the 6thAnnual Gala for Face Forward.
READ MORE: Met Gala 2015: Red Carpet's Best & Worst Dressed
Held at the Biltmore Millennium Hotel in downtown Los Angeles, the annual gala is a red carpet and charity auction event to raise funds and awareness for Face Forward. Face Forward is a nonprofit organization with a mission to help domestic violence victims like Hanifa by providing pro bono reconstructive surgery and other services. I.e., they help these women grow into survivors. The founder and CEO, Deborah Alessi, is a former victim of domestic violence who advocates stopping domestic violence and sex trafficking.
Many familiar faces at the Red Carpet also spoke passionately on the same subject like Chaka Khan, Jo Frost, Lana Parrilla, Luis Guzman, Shaun Toub, "Sugar" Shane Mosley and more. Especially, La Toya Jackson broke into tears while sharing her personal story of being beaten and psychologically and verbally abused by her former husband Gordon.
Followed by the Red Carpet was the auction hosted by Nicole Sullivan (King of Queens) and emceed by Kevin Frazier and Lu parker in the main ballroom. The atmosphere was both celebratory and serious, recognizing that the issue of domestic violence is still to be solved.
READ MORE: Carousel Of Hope Ball Honors Magic Johnson
This year, the organization emphasized the seriousness of sex trafficking because they believe it is a form of domestic violence.
"We also help to service survivors of sex trafficking… and a lot of sex trafficking happens on college campuses," said Dr. David Alessi, a renowned plastic surgeon and biochemist, husband of Deborah Alessi. He continued to explain that the modern day pimp is not who we imagine, with flaring jeans and a big hat, but is someone who is very charming and promises to sweep you off your feet.
These pimps target girls as young as age 12 and often live in dorms, passing as boyfriends, scouting for vulnerable new recruits. They isolate young girls from their family and friends and start asking for favors, which is retaliated with violence if not accepted. Sex trafficking is the world's the third largest international crime industry and California harbors 3 of FBI's 13 highest child sex trafficking areas in the U.S. Many of these girls feel helpless and broken, and Face Forward is dedicated to help them and has partnered with the local law enforcement to take action.
The gala ended successfully after the auction and performances by Macy Gray and USC's very own SoCal Vocals. As I left the hotel, the voice of Hanifa was ringing loudly in my head.
READ MORE: Untapped Fashion And Music Hosts Coachella Red Carpet Gala
"Beauty is not physical, and your physical beauty is not your ability. What matters is who you are inside of you… Knowing who I am inside helped me overcome what happened on the outside… I now accept my inner self."
Reach Staff Reporter Christina YR Jang here.