Entertainment News
Emmys 2015: Kari Feinstein's Style Lounge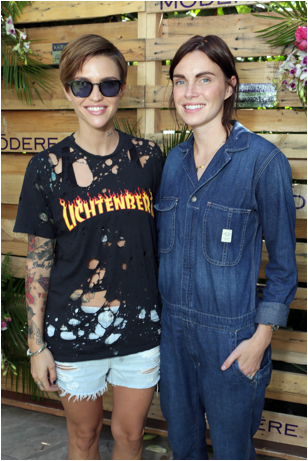 On the eve of the 67th Annual Primetime Emmy Awards, Los Angeles is buzzing with celebrities, fashion, and press. Stars fresh from New York Fashion Week are coming in from all over to attend this celebrated award show recognizing the excellence in the television industry. With so many events happening around town we headed to the Sunset Marquis to check out
Kari Feinstein's Style Lounge
, where star are gifted clothes, makeup, and jewelry from various brands promoting their products.
The Outdoor Villa at the Sunset Marquis was the perfect relaxing yet trendy backdrop for stars to enjoy shopping around the style lounge. Being on the press side of the event, we were treated just as well as the talent and were given the full star treatment managing to walk away with some goodies of our own. The style lounge was bustling full of innovative and creative minds. We also were able to chat with the creators of the featured brands, who each beamed with passion when discussing their products and the inspiration behind them. With so many amazing products there were certainly a few products that really stood out.
READ MORE: Emmy's 2015: Inside The DPA Gifting Suite
Chinese Laundry, a fashion forward yet affordable shoe line gave away adorable fringe heels in three different colors. These heels were the perfect addition to any fall wardrobe with the perfect balance of chicness and the Coachella fashion flair we love so much in Los Angeles. While making are our way inside we were introduced to Skinn Cosmetics, revolutionary skin and makeup line that manages to help the skin while making you look amazing. We met Dimitri James, the owner who founded the makeup line in his own garage and is was now successfully selling his line all over the world. The makeup pallet was an personal favorite and must have, because of its array of neutral colors, perfect for daytime and a more casual look.
Bible Los Angeles Clothing, an empowering apparel line full of incredible graphic T-Shirts was another stand out. This fast growing line is full of great messages and looks like something you could easily pick up at your local Kitson or Fred Segal. Another favorite was Soul Journey Designs, a jewelry line for inspired living. Each piece is handmade in Canada by creator Apryl Dawn. Dawn makes each piece with a healing or energy property by sourcing out her products from the purest places in Nepal, Thailand, and India. Her goal is to spread the energy and love in her truly unique pieces.
READ MORE: Exploring Diversity At The 2015 Emmy's
With the music blasting, photographers roaming, and snacks being passed around, this made for an unforgettable afternoon.We also acquired some great press on nail and nail art products from Kiss Cosmetics, an easy go to for busy college students still wanting to maintain a nice manicure in between their busy schedules. The nail art looks are perfect additions to game day festivities around campus or for an evening outing with friends.
Overall, Kari Feinstein's Style Lounge was not an event to be missed. From famous faces such as Matt LeBlanc of "Friends," "Dancing with Stars" star Maksim Chemveroskiy, and Ruby Rose of "Orange is the New Black," it was a win/win occasion for everyone invited!
Reach Staff Reporters Phoebe Abraham and Melissa Darlow by email.