Los Angeles
Bikers Bare All For Change At The World Naked Bike Ride L.A.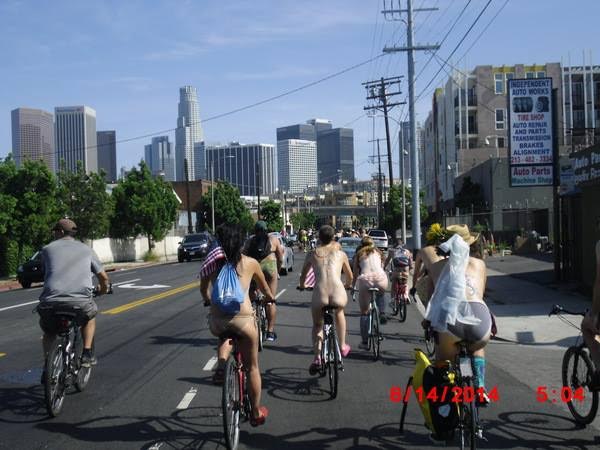 What do bike safety, body acceptance and environmental conservation have in common?
"Nudity," said Gary Mussel, president of Southern California Naturist Association, one of the several naturist (nudist) clubs co-organizing the annual World Naked Bike Ride (WNBR) in Los Angeles, which takes place tomorrow, June 27, in downtown L.A. "We have to get naked to get your attention to our issues."
READ MORE: 17-Year-Old Organizes #FreeTheNipple Protest, Is Cooler Than Us
Nudity distracts, discomforts, and demands vulnerability, baring physical flaws and stimulating insecurities. Being naked in public is often construed as an act driven by sexual motivation and mental instability in "Western" countries. However, can nudity be an effective mechanism to convert public attention to activism?
Spanning across various enclaves of Los Angeles, the WBNR ride confronts riders and residents both with the stigmas of nudity in order to draw attention to issues of bike safety, oil dependency and body acceptance.
READ MORE: In Highland Park, Bike Oven Cooks Up Community
"Body acceptance" is one of the hundreds of slogans painted on bodies, hand signs and bikes within the diverse gathering. Who are these shapes, sizes and colors crossing streets in unison? Some are overweight, pregnant and aging, pedaling past their physical constraints. Some are members of the LGBT community —some undergoing gender transformative surgeries. They venture through residential neighborhoods, Skid Row, scenic parks and commercial centers dotting the outskirts of the LAPD-approved path, constructed in the legalese of public indecency ordinances established in 1938 and revised under individual cases since the late 1960s. Surprised bystanders show their solidarity in several ways, from honking their car horns to stripping clothes.
READ MORE: L.A. Cycling: Benefits, Challenges And A Vision For The Future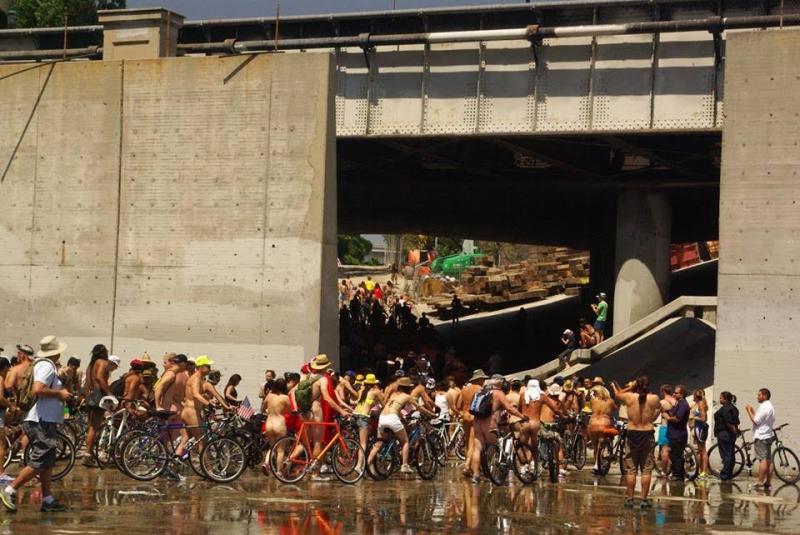 This year, the 20-mile ride is broken into two legs to accommodate physical constraints and navigate downtown L.A. traffic. WBNR encourages riders to "bare as you dare": gauge their individual level of comfort in a gathering which continues to draw participation from advocacy groups using nudity as a mechanism to broadcast interrelated issues, such as the "Free the Nipple" movement, which will be joining WBNR L.A. for the first time this year.
"I think their fight is our fight," said Mussel, a practicing nudist for the past thirty-five years, regarding Free The Nipple activists promoting women's rights to be topless. "It will be a tough political battle because the advertisers don't want women to be open like that."
Nudity, in its physical and emotional baring, is used in the World Naked Bike Ride as a mechanism to raise awareness of interrelated as well as disparate issues. While labeled as lewd under local public ordinances and state indecent exposure laws, nudity welcomes an individual internalization of the moral undertones of politicized issues, especially concerning oil dependency and environmentalism.
According to the 2013 Los Angeles Bike and PED Count, bike ridership has increased 7.5% in both the County and the City, outpacing the addition of bike lanes, sharrows (shared lane markings) and bike paths, especially near university campuses, which have increasingly become breeding grounds for bike rental businesses and research on sustainability and urban planning. According to Los Angeles study of California Highway Patrol crash data, there has also been increase of 42% in hit and run collisions involving bicyclists.
"Bicyclists and motorists share responsibility on the road," said Officer Catchart of the Los Angeles Police Department (LAPD) West L.A. Traffic Division. "Citations and warnings— the letter of law and spirit of law are the best way to address bicycling accidents."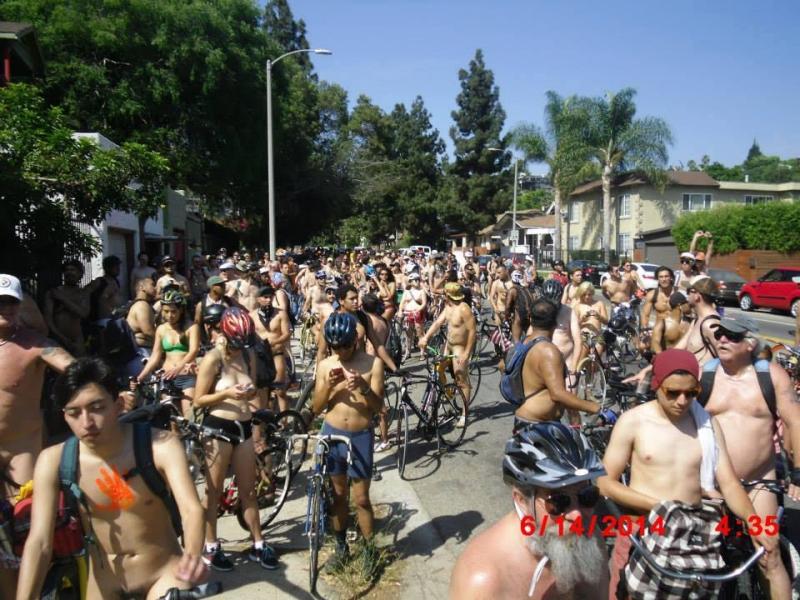 However spontaneous this ride appears in selfies and blogs of bucket listers, administrative oversight and collaboration is crucial for the expansion of WBNR L.A., where clogged freeways and rising apartment complexes weave throughout the urban sprawl. Overseeing the safety and moderating the behavior of riders, LAPD clears bike paths on motorcades and keeps in check stragglers— Riders can be arrested for D.U.I and for lewd conduct.
"We have never faced any organizational opposition to the bike ride in LA all the years we have been doing it," said Mussell. "As we continue to grow in size in the next few years inevitably we are going to run into some group who will complain, but we have 7 years of cooperation with the police so I think we can stand our ground at this point."
Since its initiation in 2005, WNBR LA has grown to include 300-400 riders, inching alongside Portland and Chicago as one of the largest WBNR rides in the United States. WNBR is a relatively disorganized organization; Activists in various cities independently propose and organize rides. The capacity of the ride depends on the extent of a city's enforcement of public nudity ordinances and the resiliency of sponsoring organizations. WBNR rides have relatively minimal coordination with other WBNR domestically and internationally.
Media coverage is essential to recruit volunteers and riders; However, major news media organizations have shied from covering the WBNR under broadcasting laws censoring nudity. L.A. Weekly, Channel 5, college websites, riders and independent bloggers are among the few sources reporting WBNR L.A. Even then, images of riders are pixelated or edited to censor "sexualized" body parts.
"We are still a small ride in comparison to the global ride system. The community here in L.A. has so far been very supportive of the ride," said Michael Beal, president of American Naturist Families Association, who has participated in the ride twice and is now a lead organizer of WBNR LA. ANFA, alongside other nudist as well as non-nudist organizations, has donated anonymously to the ride by purchasing insurance policies for property owners, purchasing loaner bikes and other equipment, and coordinating social media outreach.
WNBR L.A. will be held on Saturday, June 26 at 11 a.m. at an undisclosed location in downtown L.A. Route information will be released the night before to those register here. Bike rentals will also be available. While there is no legal expectation of privacy in a public space, it is polite to ask first before photographing bikers.
Contact Staff Reporter Mahima Verma here.