Arts+Culture
17-Year-Old Organizes #FreeTheNipple Protest, Is Cooler Than Us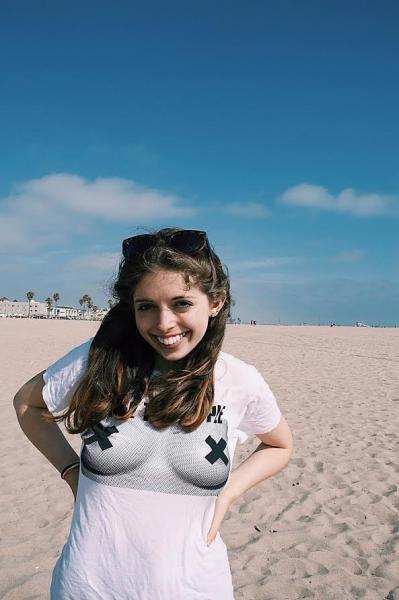 Saturday's Free The Nipple Beach Day took place just off the Venice boardwalk. Topless women sat in loose circles on the sand, discussing the sexualization of women in the media and a lady's right to bare breasts. There was a tent, pizza, and a bucket of sunscreen bottles for parts never before exposed to the sun.
Ali Marsh, at 17, is so much cooler than I was at 17. She created and organized the entire event.
Sitting cross-legged in pasties and a pair of black-and-white pants, Marsh (@ali_marsh) told me she found Free The Nipple online and had to get involved. She reached out to filmmaker Lina Esco, who has spearheaded the movement, and planned the topless rally at Venice Beach as a way to spread the word.
READ MORE: Is Posing Nude Or Topless Feminist?
Free The Nipple is a hashtag, a movie, and an increasingly popular topic of gender equality discourse and social media feminism. The Free The Nipple website notes that it's "effectively illegal" for women to be topless, "breastfeeding included, in 35 states." The film by Esco "follows a group of young women who take to the streets of New York City topless," protesting for the right for women to expose their nipples as men do.
Social media users have since adopted the hashtag #freethenipple to join the conversation and protest their own nipple censorship – Instagram does not allow pictures of female nipples, so many outraged users re-post on Twitter and Tumblr.
Although the movement has been around for a while now – Miley Cyrus tagged @freethenipple in a tweet back in 2013 – the protests and discussions continue both online and in-person. Just last week, UCSD held its own topless rally.
"When people hear the name [Free The Nipple], there's still definitely that initial shock," said Marsh.
Enough shock to call the police, apparently. "It was ridiculous… we had a-20 minute discussion with them, and eventually everyone put pasties on. People took them back off, of course," she laughed.
For Marsh, Free The Nipple is about taking back control of her body from "the media": "They're taking our sexuality and selling it back to us," she said. "Their way of making money is using our bodies. [Breasts] can't really be ours anymore."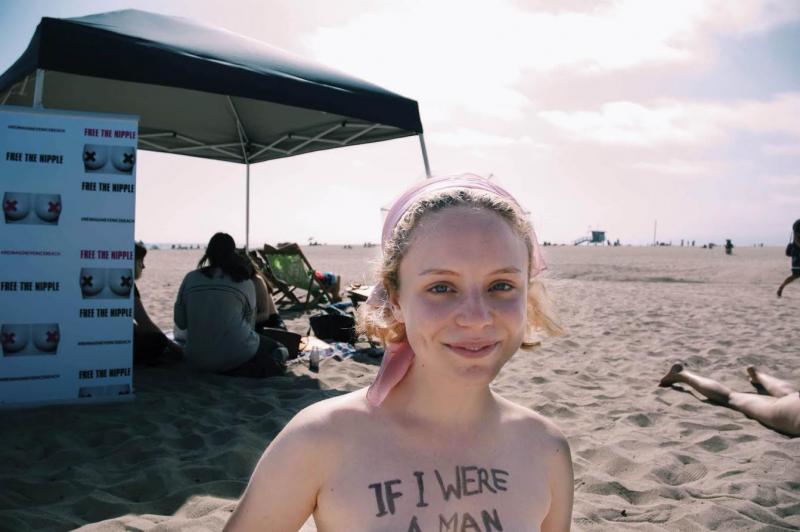 Emma Seely-Katz, also 17, wrote, "If I were a man, this would be OK" on her chest in marker. She says she's identified as a feminist her whole life and plans to study gender studies and neuroscience at Barnard College next year. "I just realized that I had to dedicate my whole life to making sure that women and men have the same rights and same bodily autonomies," she said.
Seely-Katz came alone to the event, and when we spoke, she was the only bare-chested person in the group. "It's all me. Me and my nipples," she laughed. But to her, it didn't matter; she did it for personal reasons, to "[affirm] the fact that I am comfortable with my body, and I am comfortable doing things like this for something that I believe in."
She wants to pave the way for freer, more flexible expressions of femininity. "Breasts for a long time have been such a symbol of femininity," she said. "And though I don't think that breasts should be the symbol of womanhood, because there are so many ways to be a woman…I do believe that femininity and breasts are so inextricably linked that to destigmatize the display of breasts and nipples is to destigmatize a large aspect of femininity."
This effort, to Seely-Katz, is the true meaning of feminism: "For me, feminism isn't about protecting women or fighting for women's rights," she explained. "It's about fighting for the right of anyone, no matter what their gender or sexuality, to express as much or as little femininity as they want."
For her, and the other women I spoke with, the rally was about more than just nipples; it was a safe space to talk about feminism in general with a group of other young adults who care.
READ MORE: I <3 Feminists Who Critique Other Feminists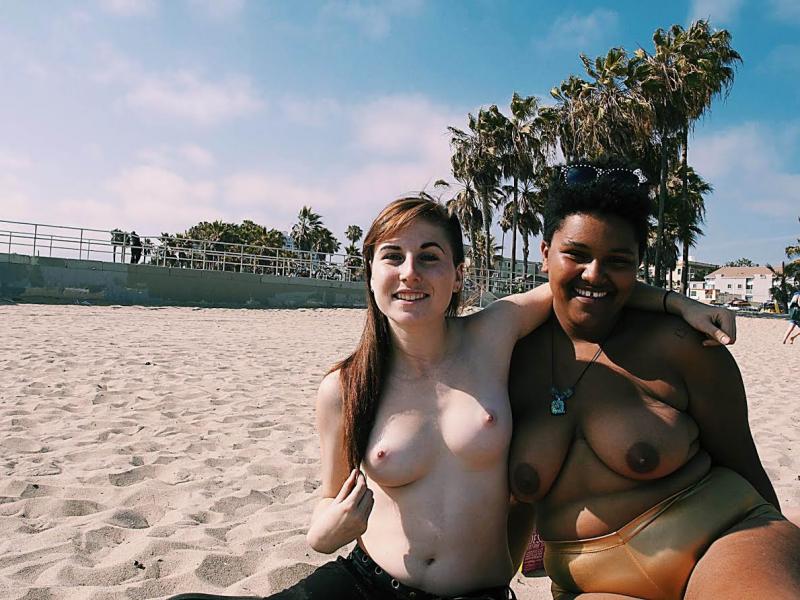 Ari Cohen, 20, remembers the exact moment she became a feminist: "I heard "Can't Hold Us Down" by Christina Aguilera and got really angry and started Googling feminism," she said. "That made it cool for me, I guess, or okay."
She uses social media to learn more about feminism and connect with other feminists; this event gave her the opportunity to share ideas face-to-face.
"I would like to sit here with my tits out for as long as possible and get to feel what it feels like to be surrounded by people who won't judge me for it," said Cohen.
Cohen was glad Free The Nipple gave her a chance to "feel the breeze," but says that the real problem is much larger than nipples. "My mom was like, 'well don't wear booty shorts and show your nipples, cause the movement's about nipples,' she told me. "I was like, 'mom, you so don't get the point. It's about not sexualizing us at all.'"
Near the end of the rally, a half dozen high school- and college-age girls sat in a circle and chatted about their experience on the beach. A couple felt harassed by men; one girl got laughed at and called "grimy," another had a breast grabbed.
"Do you think there will ever be a time when guys don't do that?" one asked.
"We have to raise the children who raise the children who don't do that," another replied.
On the whole, though, the participants seemed satisfied. To Seely-Katz, even changing one person's mind would be enough.
"I hope that someone sees me and someone stares," she said. "And is disturbed. And angry. And then goes home and thinks about what they saw, and why they feel disturbed or angry. And maybe realizes that the reasons they're disturbed or angry aren't really valid reasons to stop someone from being topless."
Contact Editor-in-Chief Gigi Gastevich here.