Los Angeles
In Highland Park, Bike Oven Cooks Up Community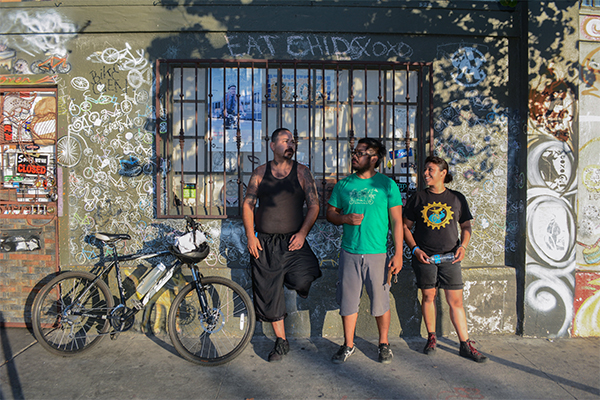 It's just after 7:00 p.m. on a warm summer evening in Highland Park. The sun is dropping into its almost-sunset-but-not-quite position, and cars barrel by on Figueroa Street as two women close up their party supply store. A few feet away, in front of the creatively painted, bicycle adorned store-front adjacent to the party store, stand three people—all visibly frustrated that the door is still locked despite its scheduled opening time of 7 o'clock.
The sticker-clad door in question opens into the Bike Oven, a community collective specializing in helping and teaching bicycle maintenance to North East Los Angeles' active cycling community.
"This is one of the problems of being a totally volunteer based operation," cuts Randy Uribe sarcastically.
Uribe has been volunteering with the Oven for almost two years now, and is scheduled to be on shift tonight, from 7 to 10 p.m., as one of the Oven's volunteer mechanics. Tall and tattooed, he originally discovered the collective when he struck up conversation with some other volunteers on a group ride in central L.A. known simply as the Poppycock Ride. At the time, Uribe was just getting into cycling, but he didn't know that much about actually fixing his own bike. He wanted to learn how to, so he started spending lots of time at the Oven.
Colloquially referred to as "wrenching," volunteer mechanics staff the space during open-hours and help those who visit the collective with bike-related issues fix their bicycles.
Unlike regular bike shops where customers drop off their bicycles and pay a nominal fee for employees to do the work, Bike Oven's entire mission is to help teach people bicycle maintenance so they can maintain their own machines. Nobody gets paid, but the Oven does ask for a $5 donation for each hour spent using one of the shop's two bike-stands to pay for things like water, power, and rent.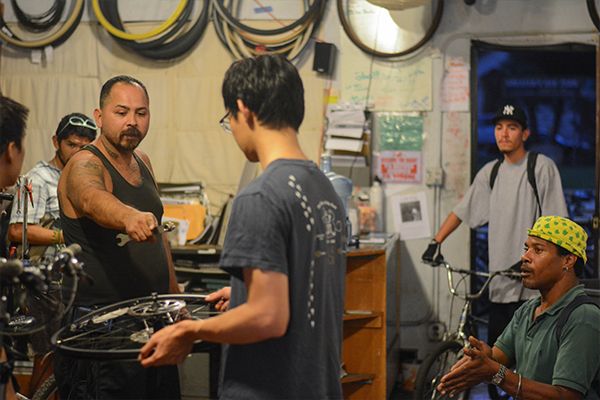 Kimberly Marquez has volunteered at the Oven for about a year. She's an active part of L.A.'s cycling subculture (she rides with a group called the MoM Riderz) and understands the organization as a major step toward L.A.'s future as a car-free city.
"People usually come in wanting to learn," Marquez told me as we waited for another volunteer to arrive with the key. "We want to help them learn so they can take care of themselves and not have to worry about getting stranded if something goes wrong on their bike and they're far from home."
When people arrive at the collective, a volunteer greets them and asks them to sign in and explain why they're there. Many times people need help with something very simple—like changing a tire tube or tightening brakes. For these types of repairs, volunteers are quick to assist, pulling the customer inside and quickly launching into a lesson explaining what the issue is and how to fix it.
Bike Oven mechanics actually help the customers actually make the repair themselves too. If someone comes in with a flat tire, they'll get a full hands-on, tools-on education on how to remedy the situation. The Oven staff are there to help, but they strongly encourage people to actually fix their bikes themselves.
The shop is well stocked with replacement parts and all the proper tools to ensure that nobody gets turned away. No problem is too big for the Oven to handle.
READ MORE: Hundreds Bare All For World Naked Bike Ride, Los Angeles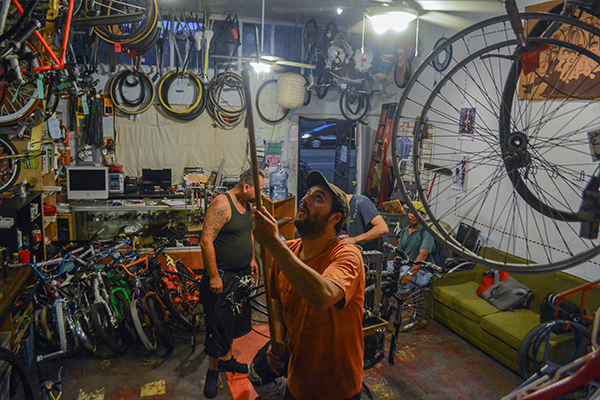 A Toyota Prius pulls up in front of the locked storefront. It's about 7:30 p.m. and one of the two men inside the vehicle, Xuan Chao, asks Kimberly what's going on. She tells him that we're all waiting for the volunteer with the key to show up, and that he should be here soon.
Chao and his friend decide to wait along with us; he purchased a practically new Trek mountain bike off Craigslist with a bent up back wheel. He's come to the Oven to see what he can do about it.
Uribe is on his phone, quickly typing to the missing volunteer who has the key.
"I mean, we have customers waiting," he declares. Marquez agrees, even though she's only there to pick up her helmet before a group ride later in the evening, she still doesn't want to see anyone go home without any help.
Sometime in late 2005, Josef Bray-Ali founded Bike Oven as a sort of follow up to Bicycle Kitchen, another collective located close to the Vermont/Sunset Station in Silverlake. Bray-Ali owns the nearby Flying Pigeon Bike Shop, and thought that there ought to be a community-oriented way for people to get repairs in-and-around Highland Park.
It took off, and by August of 2007, Bike Oven was in full swing at its present location on Figueroa. Since then, it has grown into one of the most important hubs for community-based cycling advocacy in Los Angeles.
In addition to teaching people how to fix bikes, the Oven serves as a rallying point for community organizers in North East L.A. Presently, organizers are pushing Councilman Gil Cedillo to embrace Bike Lanes along North Figueroa, a heavily used cycling corridor that lacks any safe infrastructure. As Bray-Ali phrases, it's "kind of difficult when a council office sort of declares war on you."
Bray-Ali is referring to the tactics that Cedillo's office uses against cycling advocates in favor of the lanes, including allegedly altering petitions and selecting only speakers against the lanes at city sponsered meetings to discuss the merits of lanes on Figueroa. Last week, Cedillo's office issued a letter, firmly "deferring the implenentation of any bike lanes on Figueroa until [he] can ensure all residents who travel along the corridor will be safe."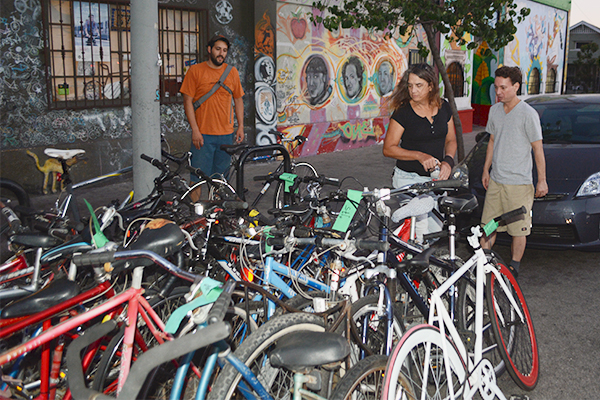 Not that this is deterring those at Bike Oven
—
the shop is chock full literature and petitions in favor of the lanes on Figueroa. When the city offered community meetings, Bike Oven served as an information hub, where volunteers raised awareness of the #Fig4All campaign to paint new lanes on Figueroa Street.
Presumably, the campaign will continue as organizers take their case to the city (which, by the way, has endorsed the lanes, along with Mayor Eric Garcetti, LAPD Northeast Division, and LADOT).
Digressions aside, the shop hosts a series of group rides too—most notably the "Spoke n Art Ride" which tours art galleries throughout Highland Park and Eagle Rock every second Saturday of the month. In the past, the Spoke n Art Ride has attracted up to 100 people, all centering around Bike Oven—which acts as a casual gathering point both before and after the ride.
READ MORE: L.A. Cycling: Benefits, Challenges And A Vision For The Future
By 8:00 p.m. the Oven is open and bustling. At least seven people have appeared with bicycle-related issues. Someone brought bagels and cream cheese, and everyone is quickly moving around pulling tools off the walls or looking for parts in the filing cabinets in the back. One man is looking to purchase a bike, which the Oven sells to make ends meet.
A volunteer, and Bike Oven Treasurer, named Alejandro Larin Baranda works with the man to find a bike that properly fits him. Uribe tells me though the group sells bikes, profit is not really their focus.
"We evaluate on a case-by-case basis. Like a guy comes in here looking for a bike for his daughter. I can see he's a really hardworking guy and he's telling me that he can't really pay more than say 20 bucks. I might say just take this one, for free," said Uribe, adding quickly "might even make her cry."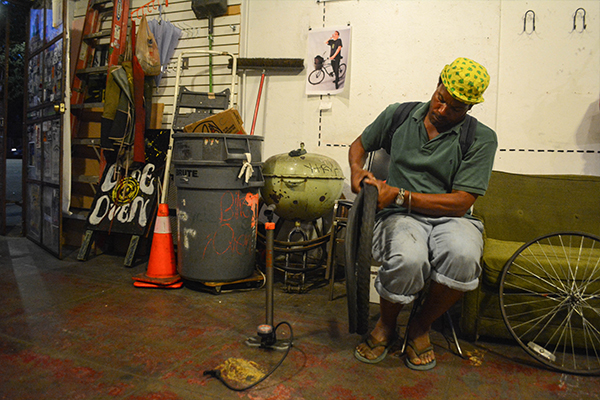 A man walks inside dragging a bike missing its front wheel. "I got robbed," he states, and a volunteer says he'll help in a minute. When the time comes, the volunteer takes a look and then ventures upstairs into the shop's jumbled parts loft to look for a wheel. He returns a few minutes later with a rim, tire, and tube that fits the bike.
Total cost for the customer, about eleven dollars. Tom, the customer, is an Oven veteran and gets right to work setting up his bicycle with the new wheel, using a pump and levers pulled off the wall of the Oven while sitting on the shop's couch.
Meanwhile, Uribe is helping Chao with his Craigslist bike as other volunteers and patrons dig around to find tools and parts in the packed space.
READ MORE: Taking Cycling And Public Transit Mainstream With Maria Sipin
This is Bike Oven, a not-for-profit business targeted to help the community as much as possible. The organization is governed by a five person, highly democratic, board which ensure things like the rent is paid and lights stay on. Not that there aren't hiccups—the key debacle is a prime example—and since the collective relies heavily on donations, there are shortages. Marquez recalled a five-month period where the shop didn't even have tubes to fix flat tires.
"It gets hard sometimes," Marquez said. "But we always manage to pull through."
Pulling through is a challange, but right now the Bike Oven is transitioning into a more formal organization to hopefully make it easier. This year is the first year the organization has been officially on the books. As a not-for-profit business, Bike Oven survives primarily on donations of both time and physical products. Treasurer Baranda says the vast majority of the shop's revenue comes from "stand-time" (the five dollars per hour suggested donation) and bike sales, all of which are donated for the shop's disposal.
The goals are clear and novel. But they have some bigger implications, especially as Los Angeles develops into a more city more reliant on bikes and trains than cars.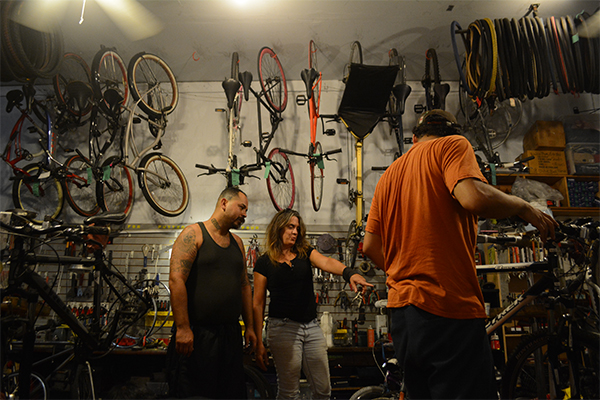 "These low income families," Uribe says, gesturing around to the surrounding hills of Highland Park. "They can't go to a shop and drop 80 or 90 bucks for a tune up. Five bucks here and you get the work done while learning something too. We're open for anyone."
Anyone genuinely means anyone. Income is not a factor when looking around the Oven's colorful clientel. Well-off college students are just as common as blue-collar workers who depend on their bicycles to get to and from work. Ultimately, Uribe says, it all comes down to one thing.
"And that's just learning how to work on bicycles. You come here to learn, and people always leave knowing more than when they came in."
Contact Staff Reporter Matthew Tinoco here. And follow him on Twitter.
Visit Bike Oven at 3706 N. Figuroa Street, in Highland Park Hours vary by the day, so check on their website before you go. Other Bike Collectives exist around Los Angeles too, including Bicycle Kitchen in Silver Lake, the Valley Bikery in Van Nuys, and the Bikerowave in Mar Vista.