Los Angeles
Parents and Students Voice Concerns on Unified Superintendent Search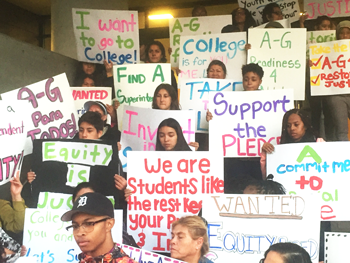 The Los Angeles Unified School District is searching for a new superintendent again, and parents and students held a rally at the LAUSD headquarters to ensure their voices are heard when it comes to the hiring process.
In cooperation with Inner City Struggle and Community Coalition, demonstrators developed a pledge — that they hope the new hire will sign — which outlines concerns of community involvement, fairness and equity in education.
"We feel that this is a really important moment because of all the progress the district has made, and the progress that has happened because students and parents from South and East LA have really pushed for key priorities to be passed into public policy," said Sandra Hamada, Community Coalition's director of youth programs. "Whoever is this next superintendent will either be a part of pushing forward that progress or could possibly even take us backwards."
READ MORE: MiSiS Issues Continue To Challenge Teachers, Students, Parents Across LAUSD
The concerns of students and parents are two important sides to a complex issue, but they are far from the only determining factor in the decision.
The current superintendent, Ramon C. Cortines, has announced he will retire again at the end of the year, after coming out of a retirement to take over after the controversial resignation of John Deasy. Deasy, whose confrontational style and ultimately doomed plan to equip every student in the district with an iPad drew criticism, had a tense relationship with the Unified Teachers of Los Angeles, according to Southern California Public Radio.
Deasy now works for billionaire philanthropist Eli Broad, who has been a longtime supporter of Deasy. Broad's foundation has proposed to help fund a substantial increase in charter schools to supplement the LAUSD, but many are concerned that a mass exodus of students from the current system will result in a debilitating loss of per-pupil funding for already neglected schools.
The charter schools issue will likely be the new superintendent's first obstacle in office, and the district will need to find a candidate who can overcome divisive politics.
To take on the challenge of finding such a prospect, the LAUSD has hired the firm of Hazard, Young, Attea and Associates, an executive search group specializing in public schools. The firm developed a Leadership Profile Report in November to summarize findings from surveys, interviews and focus groups, and to rank the top desired characteristics stakeholders desire in the new hire.
Out of a total of over 11,000 interviews, focus groups, and survey respondents, the report concluded that the top five characteristics were:
Foster a positive, professional climate of mutual trust and respect among faculty, staff, and administrators.
Hold a deep understanding of the teaching/learning process.
Have had experience as a teacher and as a campus administrator.
Promote the importance of providing safe and caring school environments.
Encourage a sense of shared responsibility among all stakeholders regarding success in student learning.
While the firm has been working for some time on finding a new superintendent, these searches can take months, and sometimes even over a year to find the right fit. However, Cortines' resignation at the end of the year may be a sign that the search is in its final stages.
READ MORE: Controversial LAUSD Superintendent Deasy Steps Down
LAUSD is the second-largest school district in the country by number of students, smaller only than the New York City Department of Education. Expectations will be high for whoever takes over the job, and not just because the size of the district. Because Los Angeles is home to so many diverse pockets of populations, many neighborhood schools face unique challenges.
Community Coalition and Inner City Struggle's students represent just some of the communities represented in the LAUSD, but they just so happen to be some of the most underserved in the district in South and East L.A.
"We stand here today representing our communities, demanding that our students get access to as excellent an education despite their zip code," said Maria Brenes, Executive Director of Inner City Struggle. "We urge the LAUSD Board of Education to hire a new superintendent who believes in the solutions our communities have demanded to increase graduation rates and college-going rates.
The LAUSD is keeping the job's candidates close to the chest, and will likely not publisize the hire until it is final.
Reach Contributor David Merrell here. Or follow him on Twitter here.