Los Angeles and Region
Controversial LAUSD Superintendent Deasy Steps Down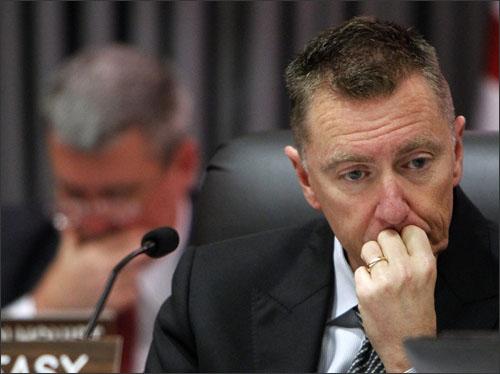 Los Angeles Unified School District Superintendent John Deasy resigned Thursday.
In a joint letter written to the school board, Deasy thanked the board for working "ceaselessly to ensure a better outcome for youth." The board, who voted 6-1 in favor of separation, thanked Deasy for the fact that "academic achievement rose substantially despite severe economic hardships."
Former Superintendent Ramon Cortines, 82, was appointed interim superintendent in a 7-0 vote, and will take office Monday.
LAUSD is the second largest school district in the nation, with more than 640,000 students enrolled at over 1300 schools. It's also a uniquely diverse district. Over 93 languages are spoken and almost three-quarters of all students identify as Latino.
Deasy, who's worked for the Bill and Melinda Gates Foundation and headed other school districts, took office in 2011. He was the district's fourth superintendent since 2000.
Deasy was touring schools in South Korea during Tuesday evening's school board meeting, where the board reportedly met for several hours behind closed doors evaluating the superintendent's performance in preparation for his annual review. The review was scheduled for Oct. 21, almost exactly one year after his contract was extended.
A controversial leader, Deasy has been on the receiving end of both high praise and harsh criticism. One of his most prominent detractors has been the United Teachers Los Angeles, the union that represents more than 31,000 local educators. After hearing about the extension of his contract and "satisfactory" evaluation last October, former UTLA President Warren Fletcher said the board's actions were "unbelievable," and called Deasy's leadership "anything but satisfactory."
"We believe that John Deasy is responsible for causing serious problems in this district," said UTLA Presidential Candidate and Director Alex Caputo Pearl.
UTLA said the school board granted Deasy "obscene salary increase[s]." This year's salary renegotiation led to a $20,000 raise. According to tax records obtained by the Los Angeles Daily News, Deasy earned $393,106 in 2013.
Meanwhile, many community and business leaders have been quick to defend Deasy. Recent weeks have seen numerous community leaders calling on the board to retain Deasy.
"As business people in the community, we believe that John Deasy has our school district on the right track….we believe we're making progress," Los Angeles Area Chamber of Commerce President Gary Toebben wrote in a letter to the school board.
Similar sentiment came from Civic Alliance, a group of business and civic leaders.
"Discharging Superintendent Deasy will have devastating implications to the education of our children," Civic Alliance's letter said.
Mayor Eric Garcetti has also spoken about Deasy's resignation, lauding Deasy for "a legacy that he can be proud of bringing to the district."
In his letter of resignation, Deasy thanked both his critics, who "have helped us see where we can do our work better, and that is what we do with each opportunity to improve," as well as his supporters, who "have enabled us to move quickly to right wrongs in the lives of youth."
Deasy's resignation marks the end of what the LA School Report describes as a "volatile but productive period" for the district. Deasy has been credited with increasing graduation rates and test scores, more rigorously evauating teachers and principals, reducing suspensions rates and implementing a free breakfast program.
He has also been blamed for the blunders that have occurred during his three-and-a-half year tenure. These include the disastrous $1.3 billion Apple rollout that promised to provide all students and staff with iPads or laptops in attempts to fit with new Common Core standards. There were also reports that Deasy, Apple and education publisher Pearson were involved in discussions that began almost two years before contracts were approved, which raised questions about Deasy's relationships with outside corporations. The situation resolved in Deasy canceling all contracts with Apple and Pearson.
Most recently, Deasy has been under scrutiny for the almost $20 million spent earlier this year on a brand new system, My Integrated Student Information System (MiSiS), designed to streamline enrollment.
MiSiS, an online student tracking program, made the news when hundreds of students were given incomplete or incorrect schedules. At South L.A.'s Jefferson High, many student have lost almost 3 weeks of instruction because of mistakes in their schedules. This has led to many students falling off track in terms of graduation or preparing for college. Jefferson High's 61 percent graduation rate is more 5 points lower than the LAUSD average.
On Tuesday, the Los Angeles Board of Education met and decided on a $1.1-million plan to make up for lost instructional time by adding a longer school day, additional classes, and tutoring for students at Jefferson who experienced scheduling problems. The board also announced there would be an audit in other high schools to make sure other students weren't facing the same issue.
Deasy will remain on paid "special assignment" until the end of the year.
Reach Staff Reporter Jenny Di here or follow her on Twitter.