Los Angeles
MiSiS Issues Continue To Challenge Teachers, Students, Parents Across LAUSD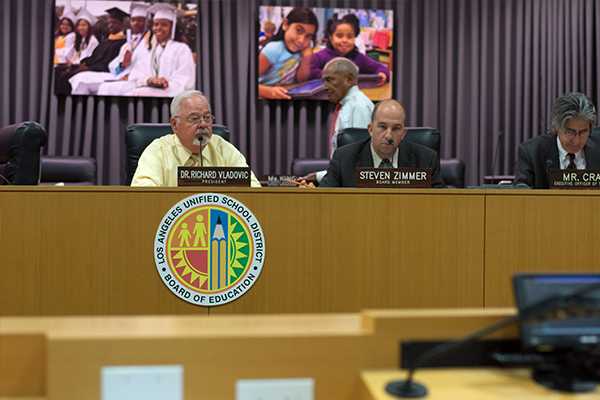 Speaking to an audience in
LAUSD's
boardroom that seemed to already know what he was going to say, District Superintendent Ramon Cortines announced the district is, indeed, committed to resolving the slew of issues surrounding its new digital student information system, MiSiS. Doing so, Cortines said, is going to cost the district both time and money.
MiSiS is LAUSD's attempt to improve and standardize computer records across the district. The system is supposed to provide a centralized location for teachers, administrators and parents, to access student information across all of their classes at any time. In addition, the system is supposed to automatically assemble student schedules, class rosters and provide teachers with a place to take attendance.
Placing these features into practice, however, proved more difficult than simply flicking the switch to 'on'. At Jefferson High School, MiSiS' scheduling features failed to generate schedules for several hundred students. Without schedules, students were ordered to sit in the auditorium until the school could figure out how to fix the system. They were in there for weeks.
Other students were placed into classes they had already passed, or didn't contribute to their graduation requirements.
It wasn't until the American Civil Liberties Union stepped in, suing the State and arguing public education was doing an inadequate job. On October 8th, a California Superior Court Judge issued a restraining order, forcing the district to address problems at Jefferson High.
After a flurry of press releases, $1.1 million and one weeks time, LAUSD's board announced a plan to remedy the MiSiS issues at Jefferson, and to audit other campuses for similar issues. The plan's tenants include extending the school day to help students make-up lost classroom time, as well as providing extra tutoring to those same students.
READ MORE: LAUSD's Graduation Rate Didn't Increase 12 Percent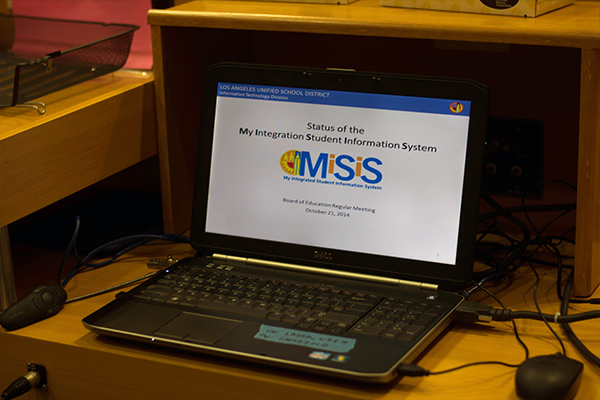 Jefferson's problems were likely the worst in the district, especially given the added pressures of seniors needing their transcripts when applying to college. But the campus was hardly unique when it came to experiencing MiSiS's disfunctionality.
From day one, teachers reported it was an extremely buggy system. At many campuses, teachers were unable to take attendance, had incorrect class rosters, and couldn't enter grades.
"In the MISIS system I can no longer tell what any of my student's schedules are," explained one Middle School teacher from the south area of LAUSD of the system. "The child must be relied upon to tell teachers that things are amiss."
Another added how "I've wasted valuable instructional time trying to take attendance and log in to MiSiS."
Obviously frustrated teachers hemorrhaging time with a system that doesn't work is not good for kids in the classroom. Not that those teachers felt in control of the situation from the start, however. Compounding the programming issues, many teachers also felt the district inadequately prepared them to use the new system.
An internal survey conducted by United Teachers Los Angeles South found that, of the survey participants, only 22 percent reported they received training on the new computer system.
The same survey found that 77 percent of the responsive teachers believe the "district is unnecessarily burdening teachers at the beginning of a new year."
"The training we received was less comprehensive instruction for those who were inevitably going to use the system, and more a quick check-off sheet for district officials to say 'yes, our staff are trained,'" said a teacher at Manual Arts High School.
She continued, saying that for at least some schools, one or two teachers were sent to a larger group training session, with the understanding that these two teachers would return and, in-turn, instruct the entire staff at their home school how to use MiSiS.
READ MORE: Controversial LAUSD Superindendant Deasy Steps Down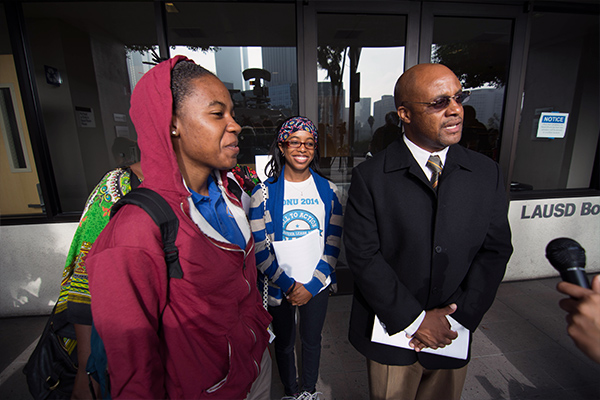 Parents quickly picked up on the computer system's glitches as well, given that for many the system's failure meant that their children could potentially not graduate, or were not allowed to enroll in classes crucial for college acceptance.
On October 21, a set of parents filed a request for a Grand Jury investigation into LAUSD's handling of the MiSiS System. Kahllid Al-Alim, one of the parents involved, heavily criticizes the district, demanding those in charge must rectify and audit all schools in the district to ensure no students are left behind as the year moves forward.
"My daughter Simone is a Senior at Crenshaw High. She's applying to college, but she wasn't able to get a crucial biology class on her schedule at the beginning of the school year. She needs that class to graduate." Al-Alim said, in front of LAUSD's downtown Headquarters. "We needed fixes yesterday, not tomorrow."
Simone Al-Alim, who aspires to attend Fordham University, added how "I don't understand why it's not getting done. I'm a student and they're supposed to be working for my benefit. But it's not happening, and now I'm worried that my future might be messed up because of this glitch. They need to get working."