National
Twitter Reacts To First Democratic Presidential Debate
Social media had a huge presence in the first 2016 Democratic Party presidential debate, with former Secretary of State Hillary Clinton receiving by far the most Twitter mentions of any candidate in the debate with more than 430,000.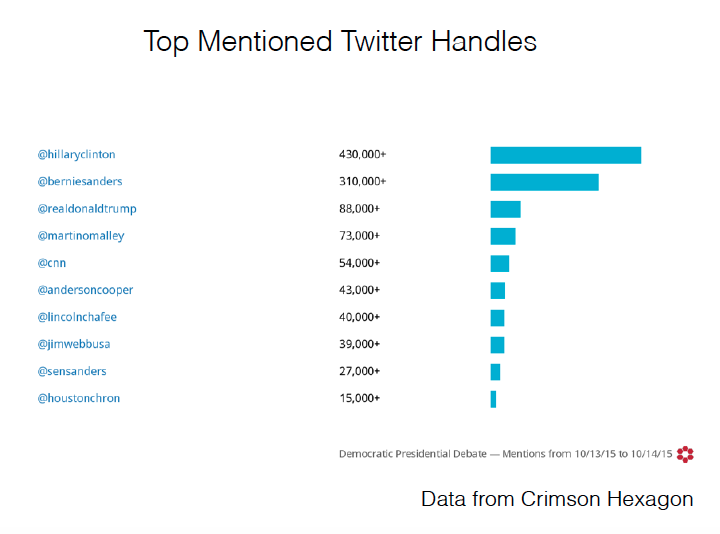 The Annenberg Media Social Data Desk compiled data from all English-language tweets worldwide that contained "#DemDebate," and were posted between Tuesday and Wednesday. Data compiled through Radian6 was captured only during live air, and data compiled through Crimson Hexagon was captured over both Tuesday and Wednesday.
Besides Clinton, who is also a former U.S. Senator from New York and former First Lady, the candidates who participated Tuesday in Las Vegas were former Sen. Jim Webb of Virginia, U.S. Sen. Bernie Sanders (I-Vt.), former Maryland Gov. Martin O'Malley and former Rhode Island Gov. Lincoln Chafee.
The most discussed issues during the debate, according to #DemDebate, were immigration, marijuana, guns, education, the Black Lives Matter movement, health care, Planned Parenthood and veterans.
The social data desk also compiled issue clouds for some of the topics. The top 30-50 words that were published in association with a topic are displayed in that topic's issue cloud. The larger the word, the more it was used for that specific topic.
READ MORE: Clinton Goes On The Defensive In The First Democratic Debate
LEGALIZATION OF MARIJUANA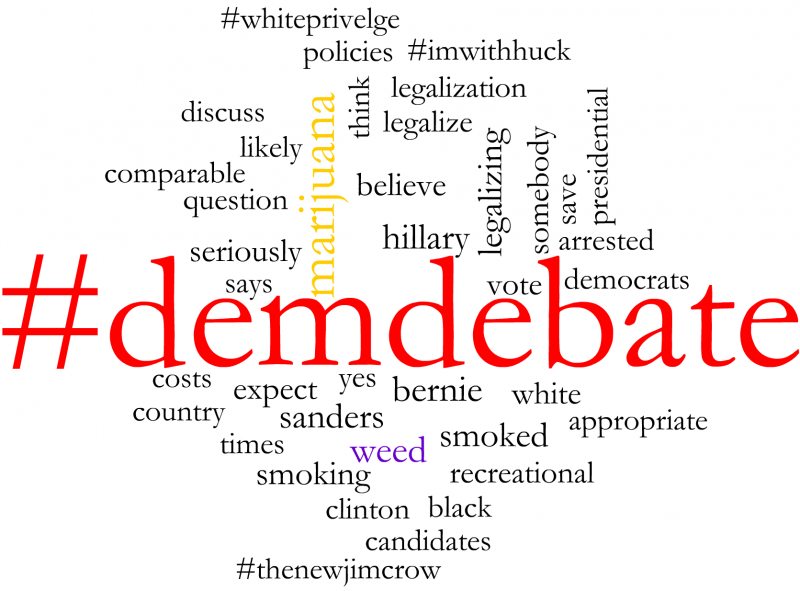 Only Clinton and Sanders spoke about legalizing marijuana, but it was the second-most tweeted about issue of the debate. Sanders said he would likely vote to legalize marijuana, while Clinton said she is not ready to take a hard stance at this time. She does, however, support medical marijuana and said she would like more research on the topic.
BLACK LIVES MATTER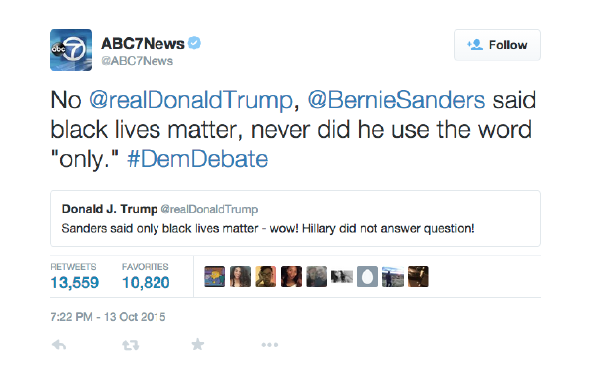 Republican presidential candidate Donald Trump live tweeted the Democratic Party debate and chimed in when he thought Sanders said "only black lives matter." Trump was quickly fact-checked in real-time by the Twitter account for @ABC7News. This tweet by ABC 7 News was one of the most retweeted of the night, with 13,559 retweets and 10,820 favorites.
HEALTHCARE/OBAMACARE
The issue of healthcare made it into the top 10 most tweeted about issues, and this word cloud shows that healthcare transcends multiple policy areas.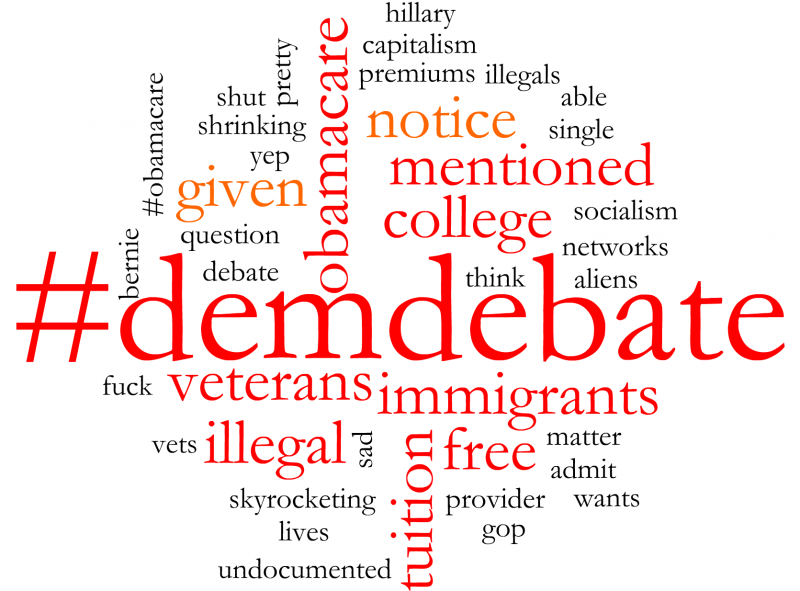 Webb went on the record saying that he wouldn't have a problem with undocumented immigrants receiving benefits from the Affordable Care Act, also known as "Obamacare," and Clinton said she would be willing to open up the option for immigrants to buy coverage through exchanges created by the law as part of immigration reform. She made it seem like this would be done on a state-by-state basis.

Sanders reminded the audience that he passed $18 billion legislation so veterans could get health care when they needed.
CLINTON'S EMAILS
The debate audience cheered loudly when Sanders said, "The American people are sick and tired of hearing about your damn emails! Enough of the emails, let's talk about the real issues facing America."
Twitter seemed to echo that sentiment, with a response showing the many issues people would rather hear about other than Clinton's emails.
HEAR MORE: Democratic Debate Was More Public Television Than Reality TV
OTHER SOCIAL MEDIA MOMENTS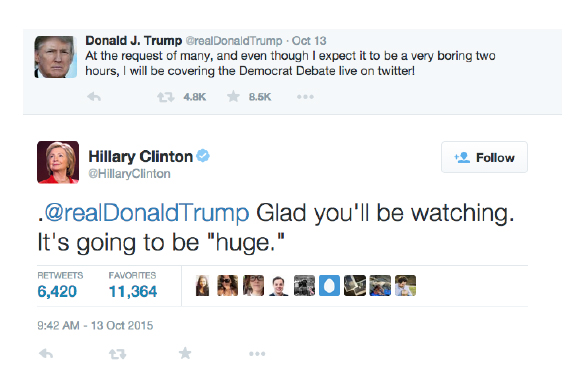 Clinton and Trump bantered via Twitter in another exchange that was among the most retweeted moments of the night.
The next Democratic presidential debate will be hosted by CBS News and is scheduled for Nov. 14 at Drake University in Des Moines, Iowa.
Contact Contributor Stephanie Haney here and follow her on Twitter here.