Politics
GOP Candidates Buck Horns For The Fourth Time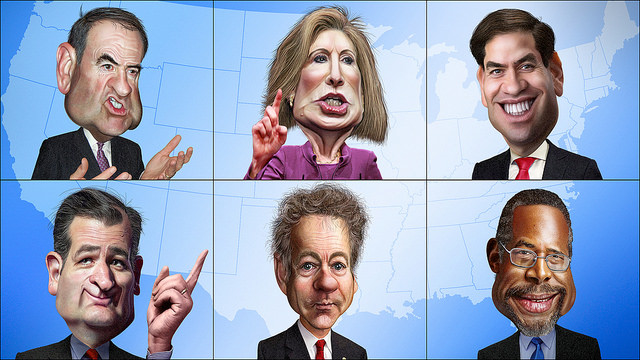 Will Sen. Marco Rubio or Ben Carson take the buck by the horns, or will the buck take them by the horns? That is certainly a question for Tuesday night's Republican Debate in Milwaukee. Both men have faced scrutiny this week. Carson for lying about admission to West Point, and Rubio for using a Republican Party of Florida credit card on personal purchases. He will need to explain, and likely admit his mistake, so the he can move on. If this becomes a recurring issue—which it sort of already is—it will likely be a liability for him.
Both candidates will have to come out on the offensive, especially Rubio who has the most to lose in this showdown. He will go after former Florida Gov. Jeb Bush before the former governor goes after him. Most pundits agree that he had the strongest third performance, and he is in third place—right behind political outsiders Carson and Donald Trump. Rubio will have to prove he can withstand the pressure, and he will also need to defend himself against attacks from Trump—who has been outspoken at the previous debates. The senator will also need to explain his tax plan, which is sure to be a focus at the debate given it is put on by Fox Business Network.
Carson will need to, once again, somehow show he has economic knowledge, and he will need to convince people he is in the race to do more than just sell more books. The former pediatric neurosurgeon appeals to the religious right, but he will need to make sure he does not continue to alienate the party's more moderate voters. Most importantly, however, he will need to explain why he lied about his admission to West Point. What may be the most embarrassing part of this story is that his campaign did not attempt to hide the fact that misrepresented what actually happened. Carson will likely be overpowered by Trump and the two Floridians.
READ MORE: CNBC Moderators Lose 3rd GOP Debate
Trump, who, like in the last debate, has the most authority to talk on financial issues, will need to explain different parts of his economic plan. He may also need to go deeper into what he has already explained. He will need to continue defending himself from his bankruptcy controversies, which like Rubio's credit card problem, is not likely to go away anytime soon.
Bush, who is sinking in the polls and whose donors seem to be growing very frustrated with the once nominee-in-waiting, will need to do damage control by not being stomped on by Trump, Rubio and Texas Sen. Ted Cruz. Many pundits have said he has done the worst in the previous three forums, and the New York Times reported he hired a coach to help him prepare. If he can get more than 10 minutes of talking time, his performance will likely be considered successful.
Cruz, who is OK with not being liked, may have the most to gain in this debate. If he does well, he may be able to soar above Rubio. That is, however, if people buy into and support his rhetoric - which involves religious values and being willing to shut down the government. He will need to be able to explain his economic and tax policies.
Ohio Gov. John Katich and Kentucky Sen. Rand Paul - a moderate and libertarian respectively - only need to be themselves because they are not going to change, and they will always have their built in base of support. They are unlikely to affect the outcome of the debate.
READ MORE: Twitter On Fire During 3rd GOP Debate
New Jersey Gov. Chris Christie and former Arkansas Gov. Mike Huckabee were demoted to the early debate because they did not meet FBN's polling threshold for primetime slots. They will likely dominate the early debate, which also includes Louisiana Gov. Bobby Jindal and former Pennsylvania Sen. Rick Santorum, given their personalities and experience in primetime.
South Carolina Sen. Lindsey Graham and former New York Gov. George Pataki were removed from the early debate, which is a likely precursor to their campaigns.
The CNBC debate was also supposed to be about economics, but it likely turned into personal jabs and other topics. Expect the same outcome Tuesday night. What may be different is the style of the moderators. They will likely ask what some believe to be easier questions, given their affiliation. That means not putting ay candidate on the spot, but we will have to wait to find out what that means for the questions and the candidates.
Reach Civic Center Bureau Chief Max Schwartz here; follow him on Twitter here.