Politics
Discussion With Petraeus Steers Clear of Controversial Questions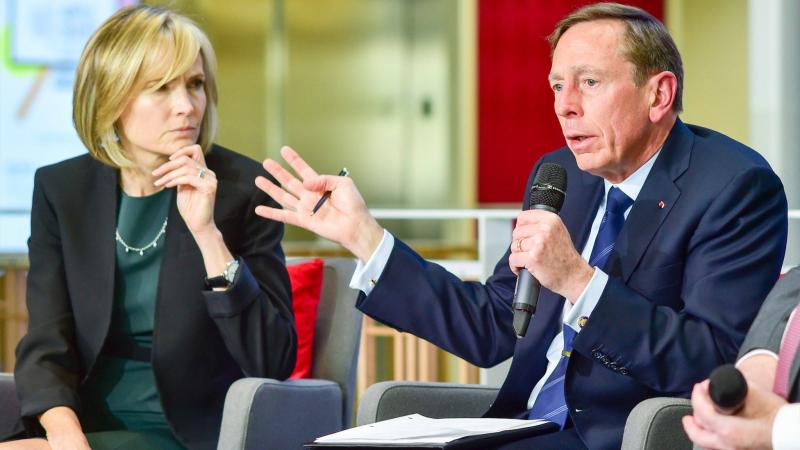 General (Ret.) David Petraeus visited the University of Southern California Wednesday for a discussion entitled "Media and National Security Policymaking." Packed to the brim, the main lobby of the Wallis Annenberg Hall was set up with foldout chairs and a small stage in front of the intimidating three-story LED screen. Led by the Director of the Journalism School, Willow Bay, and Vice Dean and Professor of Journalism Philip Seib topics ranged from Syria to Snowden all the way to women in combat.

Early on, the former General was asked about the role of the press. He mused over a briefing he used to give with journalist Rick Atkinson. "My view is that there are three major responsibilities that the press has:
"Get the facts right"

"Provide a degree of context"

"Get the characterization right"
The Context
Petraeus is a retired four-star General of the United States Army who led forces in both Iraq and Afghanistan. He is known for his "comprehensive counterinsurgency (COIN) strategy," which is praised as the saving plan in Iraq and condemned for its failure in Afghanistan.
He is on record as being anti-torture. He said of the McCain-Feinstein anti-torture legislation passed in June of 2015, "price far outweighed the value of the information gained." Still, hundreds of thousands of civilian casualties took place under his command.
In 2011, the Senate unanimously confirmed him as the Director of the Central Intelligence Agency. A year later Petraeus' CIA career ended after being embroiled in scandal. He had an extramarital affair with his biographer, Paula Broadwell, and stepped down as Director in November of that year.
In April 2015, Petraeus pled guilty to a misdemeanor count of unauthorized removal and retention of classified information. He had shared notebooks with Broadwell and was found to have lied about this incident. The FBI obtained the notebooks from his home. Petraeus was sentenced to two years probation and a $100,000 fine.
Reaction to the Controversy
Regarding the controversy surrounding Petraeus, Seib told Neon Tommy that "People make mistakes. He's paid the price psychologically and physically." He also said Petraeus' service to this country more than makes up for it.
This sentiment seems to be shared by several political elites. Dianne Feinstein said, "he's suffered enough."
President Obama said in his first speech after being re-elected in 2012, "We are safer because of the work that Dave Petraeus has done."
The judge overseeing Petraeus' sentencing unsealed three dozen letters of support for the former general. These came from politicians both local and abroad including Senator Lindsey Graham, former Prime Minister Tony Blair and again, Senator Feinstein.
Ironically, Feinstein is the Vice Chairman of the Senate Select Committee on Intelligence and has called what Edward Snowden has done "treason."
SEE MORE: Petraeus Apologizes For Affair: 'My Recent Journey Was My Own Doing'
During the event at USC, Petraeus was asked about Snowden and said, "We think that he was in virtually the last place within the NSA structure, or one of the last at least, that did not have the kinds of alerts … that would have triggered very quick to focus on somebody downloading the number of programs that he downloaded. At the Agency, the other agency, he never could've done it. It would have been impossible to do that again, without alarms going off. And there's a lot of precautions that have been taken because of the results of that."
Without discussing his own leak of classified documents, Petraeus called Snowden's leak, "a massive blow," because it changed the way that the enemy operated.
So Why USC?
Petraeus is a high-profile person. He's only a few months into his probation, but no longer under the threat of jail time, so why visit USC now?
Petraeus' visit is not out of the blue. His career post-resignation has had close ties to the university. In March of 2013, Petraeus made his first public speech after resigning from the CIA. It was given at USC honoring veterans and ROTC members.
Two months later, Petraeus was invited by USC to become a Judge Widney Professor, a title "reserved for eminent individuals from the arts, sciences, professions, business, and community and national leadership." Petraeus spends some time teaching, mentoring student veterans and having discussions such as the one at Annenberg.
SEE MORE: General Petraeus To Teach At USC
Through this role, he is associated with many schools at USC, including the Price School of Public Policy, Viterbi School of Engineering and Annenberg School of Communication and Journalism.
After his appointment, USC President C. L. Max Nikias said of Petraeus' new title: "He embodies all the noble qualities of our founder along with a fearless commitment to excellence. His presence will have a profound impact on our students across many disciplines."
Impact of Visit
What exactly will his profound impact be? What value does Petraeus' visit to Annenberg have for its students?
As journalists, students at Annenberg are taught to hold everyone accountable, especially high-profile politicians and public servants. The bastion is that of accountability and above all, truth.
So what was the value of today's discussion? Was it a display of quality journalism or is the university trapped by his charm?
I spoke with Director Willow Bay about the event Wednesday. I asked her about the value of having Petraeus at the journalism school. She told me his visit was, "a unique opportunity offered to us as a key figure." She said that talks like this are an opportunity to talk to figures that were major players in policy or wars. We call these people newsmakers. She said that these talks are, "great for the school."
But how are they great? Does Petraeus add value just by being present? Or could a conversation with him be an example of how a journalist should speak to a controversial figure?
SEE MORE: Petraeus First Public Appearance At USC
During the event, Bay asked the extra question. She followed-up for more information and pushed him for details. But what was missing was a deeper probe into the decade of controversy, as recent as his April sentencing.
There was one instance during the talk wherein Bay cut in to try and hold Petraeus accountable.
"You look at the tasks that an infantryman has to do," Petraeus said, discussing the concept of women in combat. "They have to be rational. They can't be unrealistic. But, you know, you either can or cannot carry a, whatever it might be, 80 pound rucksack, with a Kevlar, and body armor, and weapon, and everything else ... Women have successfully completed Ranger school, now. Actually, I think we're up to three…"
Here, Bay interjected, "Still waiting to become Rangers, however."
She doesn't refute him, but does raise the additional question of why aren't these clearly qualified women yet serving as Rangers. For some, this may be the only example of the day that exemplified how Annenberg students are supposed to operate as journalists. Instead of letting interview subjects talk over or past us, students here usually learn to be skeptical and hunt for the truth. Annenberg teaches young journalists to hold others accountable to their actions.
However, some might argue that the rest of the Petraeus talk conflicted with the type of journalistic training Annenberg strives for.
I asked her if the event set a good example for how young journalists should interview a figure like Petraeus. She told me, "I treated it like a moderated conversation." She told me that It was not for a news outlet. The point, according to her, was to have a discussion and to get his take on critical issues. It was not a news interview.
And, to be clear, the bill for the event did position Bay as the moderator. The event itself was called a, "A Discussion with Special Guest General (Ret.) David H. Petraeus…"
"One of my goals was to give us (all journalists) some insight into the other side of that wall." That wall being the military. She hoped that a conversation with someone like Petraeus would help students in covering subjects like the military. She told me, "I think it's interesting to ask someone who's been covered how he feels and his entities should be covered."
"It is a different venue, a different forum, a different set of questions that I would use if I were on the air," Bay said. "I'm not suggesting in any way, that because I hosted a moderated conversation, that that's what I should do when I go on the air or when I write for Neon Tommy..." She told me being critical has a place when covering a news story.
The Takeaway
The crowd was filled with students who are still learning how to be modern-day journalists. The questions asked throughout the talk were about the media, and Petraeus' three points gave direction to the future editors and reporters in the crowd. His points weren't wrong necessarily, but they came from a former general, not a journalist.
Petraeus spoke briefly about fighting the news battle in Iraq and likened it to a battle of timing and perception. "If you lose the headline, you then become the subtitle."
He is affected by how news is told and by how it is delivered so his association with a journalism school is potentially disconcerting. The question is, to what extent does advice from people like Petraeus, who as public figures are subject to our journalistic scrutiny, affect how we cover them?
While public figures should be brought and should be questioned, maybe we should question ourselves along the way.