USC Sports
Haden Shows Optimism With Helton As Head Coach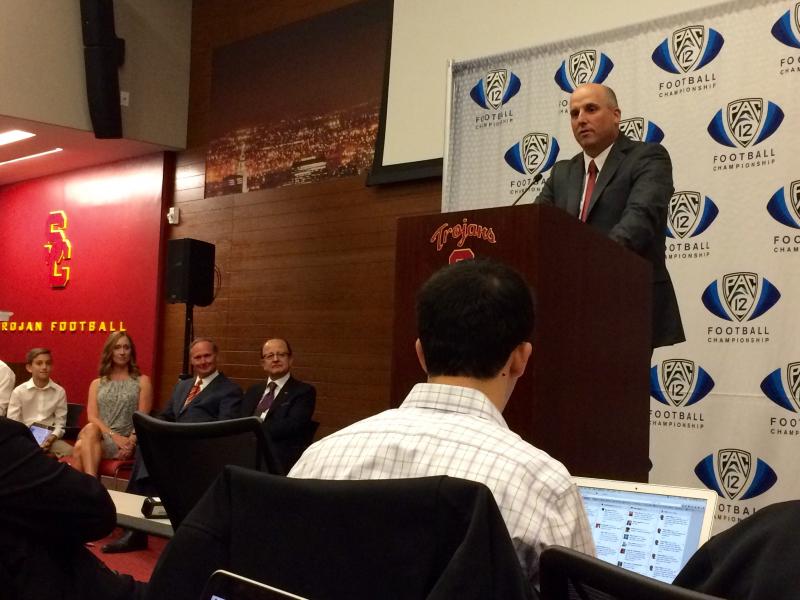 Clay Helton was appointed as the official head coach of USC's football team on Monday. In signing Helton to a guaranteed five-year contract, athletic director Pat Haden seeks to stabilize any shakiness that may have swayed the team recently.
"Clay is a terrific communicator," said Haden in a press conference on Monday. "He brings high character, stability, continuity, consistency, toughness, and resilience to our program. And our team deserves this after all they've been through in the last couple of years."
However, Haden said that his success as interim coach was not the sole basis for his decision. "Clay was not hired just because we defeated UCLA Saturday," he said.
READ MORE: Why USC Football Is Worth The Hype In 2015
"It was a nice win of course … he's our choice because we believe in him."Helton, 43, has been working as an assistant for the USC football team for six years. In October, he led the 2015 team to a Pac-12 South division victory in his stint as interim coach, following the firing of former coach Steve Sarkisian.
While Helton's 5-2 record as interim coach may have foretold the possibility of permanent hire, some were surprised that the department chose not to opt for a glitzier, more regarded name in the industry. Among several names in the speculation circuit was Philadelphia Eagles coach Chip Kelly.
"I totally understand that I am not a flashy name," Helton said Monday. "But I don't want to be flashy. I never have been and never will be."
Helton went on to describe that USC was built upon a foundation of blue-collar toughness, which he hopes to emulate as head coach. "Blue-collar toughness mentality is what wins championships," he said. "It has been proven here over a long period of time, way before me."
What do the players think about the decision? Aside from the few who showed up to cheer Helton on in the press conference Monday, many voiced their support on Twitter.
Prior to the announcement, veteran linebacker Su'a Cravens told the LA Times, "We want Coach Helton, plain and simple … everybody on this team would give an arm and a leg for Coach Helton."
In Monday's conference, Haden discussed the importance of choosing a coach who upholds good relationships with players and understands Trojan family values. Values, Helton claims, that can only be understood with significant experience as a Trojan insider.
READ MORE: Tempering The Hype, Increasing The Excitement
"You have to be here for an extended period of time to totally understand this special place and what it means," Helton said. "This place is extremely unique, and to understand the ins and outs of it, to understand what the Trojan family wants and needs, to understand how the relationship with the players that you have and how you carry that on a day-to-day basis — I think that's extremely important."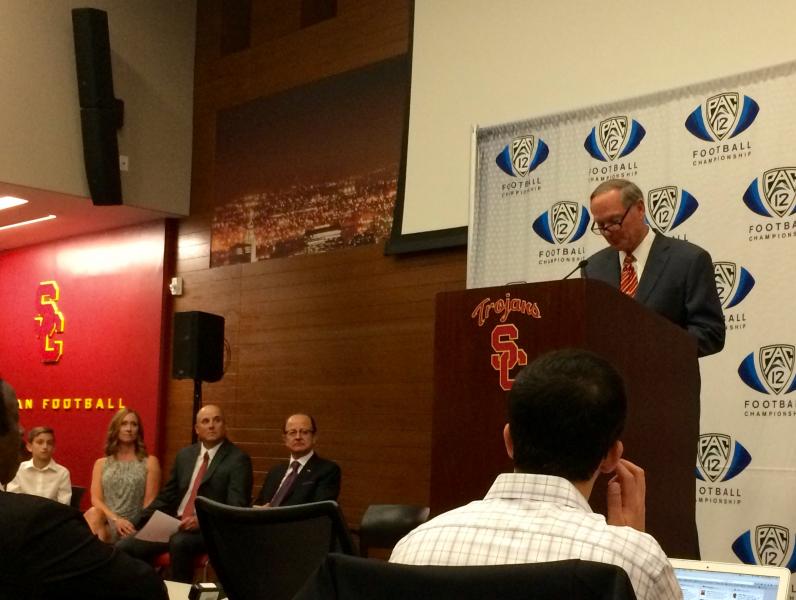 And for better or worse, the concept of "keeping it in the family" has certainly been the mantra in recent Trojan football history. Haden, a former star Trojan quarterback, hired Helton, a former interim coach and offensive coordinator under Sarkisian. Haden is also responsible for hiring Sarkisian, a past offensive coordinator under Pete Carroll. Haden's predecessor, former athletic director Mike Garrett — also a former star Trojan running back — hired Lane Kiffin, who also had previously worked as an offensive coordinator under Pete Carroll.
Sarkisian was fired from his position as head coach on October 12, 2015, after making a slurred, obscenity-laced speech at a pep rally and failing to appear in practice. He later admitted to have been struggling with alcohol abuse.
Despite the heat Haden received for the Sarkisian situation, he decided to preserve the internal tradition by hiring Helton.
"After weeks of searching the collegiate and professional ranks, interviewing several candidates and speaking with head coaches, athletic directors, NFL executives, and very knowledgeable football people, and after observing Clay in action the past several weeks, it became abundantly clear that what we are searching for in a coach is right here in front of us," said Haden in Monday's conference.
READ MORE: Coach Sarkisian Apologizes, Admits to Mixing Meds and Alcohol
"Choosing a coach is an inexact science," Haden said. "In Clay's case, there is exactness. We have a man with unquestioned integrity. He is a fantastic person and he is real."
On Saturday — just five days after the official announcement — Helton will lead his team of Trojans to Santa Clara for a Pac-12 championship game against North Division titlist Stanford.
"We have seen him handle incredible adversity from crippling NCAA sanctions, to coaching changes and uncertainties," Haden said. "He has been the same person: positive and upbeat throughout it all. He has been a rock in this department. He's our choice because we believe in him. We believe he'll win back the national championship."
Reach Staff Reporter Maddie White here.