Sports
Why USC Football Is Worth The Hype In 2015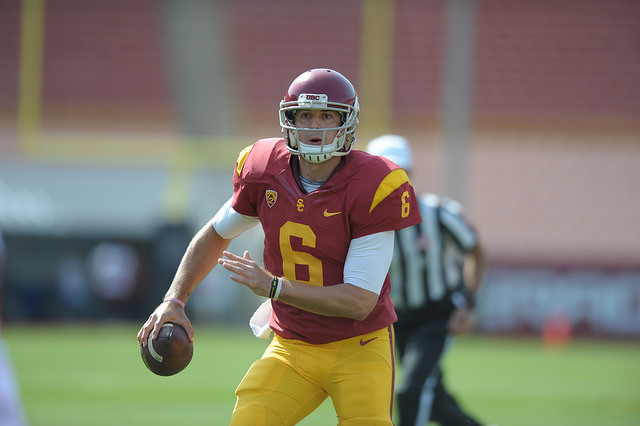 We've all been down this road before. A strong recruiting class builds into the Spring Game, which builds into summer hype and lofty expectations for USC football. It's as true a USC tradition as the Senior Fountain Run or kicking the flagpole on your way into the Coliseum. USC will be ranked inside the Top 10 to begin 2015… but this time it's for real. Let the last three seasons
deter you not
; it might just be time to believe the hype.
Every elite team needs a seasoned leader, and after two seasons, quarterback Cody Kessler has arrived. He put up gaudy statistics in 2014, throwing for 39 touchdowns and completing a fraction under 70 percent of his passes, but has to improve one statistic to cement his Trojan legacy: 19-8. That's Kessler's record in two seasons as a starter, with four losses in each season.
Kessler knows that he needs to win to be mentioned in the same breath as Trojan legends Matt Leinart and Carson Palmer. "I don't want to leave here without a championship," Kessler said after Saturday's Spring Game. "That was my main goal, and one of the main reasons I came back for my last year. We have the team to do it." Marcus Mariota said he'd trade his Heisman for a title, and Kessler's statement echoes the same sentiment to be expected of a leader trying to carry his team to the promised land.
Remember when USC ran a practice in 2013 with Nelson Agholor being the only scholarship receiver healthy enough to participate? There's no shame if you chose to forget. In 2015, USC gets to reunite with its long-lost, sanction-impaired friend: roster depth. For the first time since Pete Carroll roamed the sidelines, the Trojans will go three-deep in scholarship players at almost every position this fall. While 22 of those scholarship players will be freshmen, 2014 showed how players fresh out of their prom tuxedoes can have an immediate impact on the college level.
READ MORE: Offensive Showcase Headlines USC's Spring Game
As for weaknesses, this Trojan roster doesn't have a fatal flaw like previous years. The Trojan secondary, oft a punch line in the Kiffin Era, has its best cornerback duo in years with veteran Kevon Seymour and wonder-kid Adoree' Jackson. Even with Agholor and George Farmer gone to the NFL, Steven Mitchell's spring awakening has him looking like the Ying to JuJu Smith's Yang at wide receiver. Behind those two, a deep wideout corps will prevent a two-man show.
The days of Aundrey Walker are long gone on the offensive line, where 2014 starter Toa Lobendahn could be used in a sixth man role in addition to capable backups at every spot. Even the much-maligned tight end spot gets 6-foot-6 red zone threat Tyler Petite and Oklahoma transfer Taylor McNamara in the fall if Bryce Dixon's eligibility issues keep him out for 2015.
Momentum should still be used more as an AP Physics formula than a sports buzzword, but it's a fair term considering USC's spring performance looked to be rid of the painful growing pains of Sarkisian's first campaign. "We're playing faster and flying around because we're used to the playbook," added Seymour, echoing a near-unanimous sentiment for defenders finally getting used to defensive coordinator Justin Wilcox's system.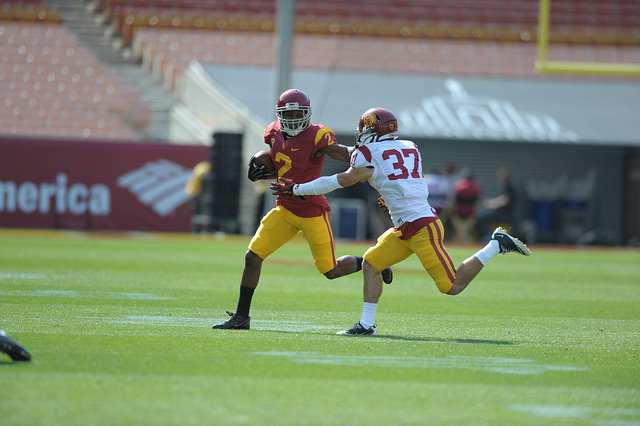 For Sarkisian, Year 2 means a full spring and summer of refining, rather than teaching schemes. The head coach is an anti-Lane Kiffin when it comes to
publicly praising his players
, and the feeling is mutual. "He's like a father to me and the team," said JuJu Smith on Saturday. "He's for sure a player's coach."
The Trojans are young, with only six senior starters who also started in 2014. Fortunately, leaders have emerged, with some seizing the reigns.
On offense, it's Kessler, Tuerk and Smith, with the sophomore wideout embracing a senior leadership role despite not turning 19 until Thanksgiving. On defense, Antwaun Woods will be the rock of the defensive line, while a three-headed monster of Su'a Cravens, Lamar Dawson and Anthony Sarao will make linebacker a low-maintenance position for coaches once again. In the back four, Seymour is ready to elevate himself. "I've always led by example, but I have to speak up more and work on being more vocal," the senior cornerback said.
"I don't show too much emotion, so it can be tough, but I take care of business. When it's time to talk to my guys, I will."
The season is still nearly five months away. A lot can, and will change from today until the Trojans' opener against Arkansas State on September 5. As of April, however, these Trojans look and play the part of a national title contender. This squad checks all the boxes, with an apt blend of leadership, depth and high-end talent. They might not be the star-driven behemoth of old, but these new-age Trojans look ready to do the only thing that can bring back USC fever to the days of Matt Leinart and Reggie Bush: win.
Reach Senior Sports Editor Jacob Freedman here or follow him on Twitter.