USC Sports
Tempering The Hype, Increasing The Excitement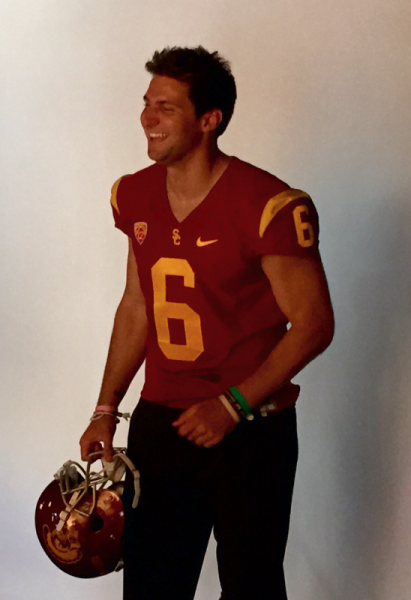 Cody Kessler walked up behind a sitting Steve Sarkisian, patted him on the back and sat down on the wooden chair next to him, setting his shiny, white plate on the surface of the shaded table.
A massive cheeseburger and an equally large hot dog caught Sarkisian's eyes as he got up from the table to leave, and Kessler immediately began to justify his large meal.
"I haven't eaten all day!" the starting quarterback pleaded his case.
It had been a busy morning. Pac-12 Media Day had begun early, filled with its many photo shoots, presentations and interviews. Kessler had spent the day moving around the Warner Bros. Studios like a rushed quarterback in the pocket. But even as he finally sat down to break his involuntary fast at the makeshift lunch area had been set up in a studio backlot, the senior quarterback could barely enjoy it. Reporters sitting around the table began prodding him with questions about the upcoming season.
Kessler, polite as always, did not mind it. Or at least, it didn't look like he did. He answered each question casually, between bites of the mustard-covered frank, keeping himself and his black USC polo spotless in the process, all while smiling with that patented, welcoming smile of his. His face could have read exhaustion, hunger, even annoyance. All of those would have been understandable, but instead his face — and his words — read excitement.
"I can't wait for fall camp to start," he said it almost shamefully, as if he didn't think many others enjoyed the preliminary summer work before the glory of fall Saturdays. "I know people get tired, but I love that. I love football."
--
As the days slowly countdown to kickoff, there are many Trojan faithful — and college football fans in general — who share that feeling with Kessler. The period preceding a season always fosters great anticipation among fans and players alike.
Yet it's not a secret that the expectations Trojan fans hold for coming seasons are naturally inflated by excitement and estimations of how good a team can become or will be. It's also not a mystery what kind of pressure this team has on its shoulders heading into 2015. When the Pac-12 media votes them pre-season conference champions, the expectations can't rise much higher than that.
Skepticism regarding those predictions is aplenty; after all, the Trojans did lose a couple of key players, and until the first fourth quarter grind arrives, it won't be clear if the coaching and decision-making has improved in some shape or form.
But rationality is not something fans or the general public are known for expressing. For some reason, it cannot stop at simply the abstract excitement that Kessler's comments displayed. There always seems to be a quantitative presumption attached to it.
9 wins? 10 wins? A Pac-12 title? A playoff berth? Well, why NOT a national championship, then?
Sure, it's human nature to expect and demand a tangible result from something we are emotionally attached to (and there are many who would categorize themselves as emotionally attached fans of this team.)
But it helps to step back once in a while and see that the feeling from which all of this hype sprouts is genuine excitement. From the fans who sit in the stands at the Coliseum, to those who watch on the East Coast. From the walk-on who simply gets to wear the uniform and hope for a chance to play to the starting quarterback himself. Excitement is ever-present.
--
Earlier in the day, Kessler and linebacker Su'A Cravens — the team's representative players at Media Day — sat in opposite corners of Studio 12, lights and cameras around them. This was the more formal interview of the day, structured so players and coaches had their own platforms where questions were directed at them for about half an hour.
The setting may have been different than the lunch rendezvous, but Kessler's message was the same.
"These guys really don't care what the predictions are. It's cool for them to get that recognition as a team because they've earned it, but they don't need it," he said. "They're excited, they're pumped, they can't wait for the year to start."
The word "hype" has been stapled alongside this team's name from the moment the whistle blew on last season (or, if we're being honest, ever since USC has been around.) The overly frequent use and incessant pumping of it by meaningless polls and rankings has bloated it even more with a negative, fictitious connotation.
The word has become a trigger. Players cringe when they hear it and then proceed to give their polished answer about why "it does not matter" or how they're "not paying attention to it." Kessler is familiar with that hype, having seen it thrust upon the 2012 team that so unceremoniously failed to live up to it.
"Not to say anything negative about them, but that year, they enjoyed [the hype] more than they should have," Kessler admitted. "And that's something we can't do."
The word is excessive by nature, yet when it comes to USC and the inherent expectations, it's somehow able to even exceed its roots to represent an unreachable goal. For his part, Kessler did not exactly set out to quell the expectations, instead referring to them as "realistic." But he did emphasize improvement as a priority, saying he didn't want to be 10–4 again.
Sark has definitely made it a point to emphasize that his trip south from Washington was conducted in order to win championships at SC, and he did so again at the Media Day podium.
"We all chose to come to USC to win," he reiterated. "I didn't come here to be okay or come here to be mediocre. We came here to win championships."
For those with a realistic view of where things stand among the college football pantheon, those comments may be cringeworthy. But would fans be satisfied if he said the opposite or nothing at all?
That's the line the Trojans are toeing as they set out to prove their worth during this year's campaign: How to temper the hype while simultaneously setting intrepid goals that meet the program's prestigious precedent.
--
On the other end of that same wooden table at lunch sat Cravens. The linebacker was freely talking about many things, including superstar sophomore Adoree' Jackson's role on the other side of the ball, funky haircuts and being an athlete with strong opinions on social media.
"Football players aren't just football players, we are human beings, and we do have human emotions believe it or not, and sometimes we're not allowed to," he said.
"I feel like we should be allowed to talk about things that bother us, or that we're passionate about."
Much like Kessler's genuine excitement showed, one thing Cravens is clearly passionate about is football. And he's pretty good at it too.
"If I could right now, I'd put on my pads on and line it up right now," he told USCFootball.com in another Media Day interview.
The junior is primed for a breakout year both as a ball-magnet of a playmaker and a defensive leader. His 68 tackles, five sacks and three interceptions last year have put him on track to solidify his top-level talent, talent that will likely make its way onto an NFL team next May.
His talent is also a microcosm for why this team is talked about in such high regard. Ability is not a point of contention. But amid past scholarship sanctions and questionable hires, it appears that talent without depth and decision-making does not a top-flight team make. This year's squad — nearing full scholarship numbers and boasting a plethora of top recruits — has a chance at finally meshing all three things into success.
Hence, the hype.
Kessler and Cravens both said they feel the team is ready to meet the high expectations, and it's safe to say that the talent this team has could certainly make their words accurately prophetic by the end of the season. At the same time, one doesn't truly expect a different answer from the appointed leaders of the team.
The more meaningful sound bites came when Kessler stumbled over his words trying to explain how excited he was for fall camp, or when he gushed over how Justin Davis was "one of the best running backs [he's] ever played with." Or when Cravens talked about how excited he is to see the competition at safety, and how he thinks five-star recruit Iman Marshall can "do anything he sets his mind to."
In reality, it all goes back to Kessler's simple declaration. Hype and expectations will be a burden the team will have to deal with no matter what, but if there is such dedication and passion to simply play the game, that should be enough motivation to ready this team for kickoff. And really what more can you ask for?
To the players, it might be that the external focus on the hype is just corrected into a word they, and especially Kessler, kept repeating in their politically correct answers.
Not hype, but excitement.
These players live, eat, breathe and sleep football. As much focus and devotion they can pour into other important aspects of their lives — last year's team had the highest GPA averages ever, as Kessler noted proudly — what truly gets them riled up is strapping on that helmet — whether shiny or not.
"People can say whatever they want, and it's going to be positive or negative and there's ups and downs. But I couldn't care less," Kessler said. "I don't care what people say outside, what the media says. It's my team. Whatever happens on my team, whatever my team thinks, that's all I care about."
Excitement alone might not translate directly to success, but hype does not have a record of fulfilling itself either. Come fall, one of the two will have to turn talk into results; it just might be that eschewing the hype in favor of strictly feeding off excitement could put this team on a more focused path toward success.
You can reach Sports Editor Paolo Uggetti here, or follow him on Twitter at @PaoloUggetti