Music
Why The 90s Was The Best Decade For Music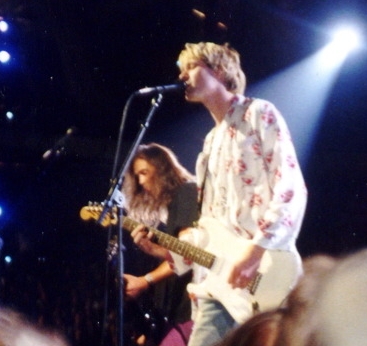 There are too many decades of amazing music.
As a matter of fact, great music is being produced every year. However, while looking back on some of the 90s greatest hits, we may come to the realization that they might have been a few of the most iconic of all time. With the developing rise of pop-punk music, fans got to experience something that had never been done before. They were also able to see the rebellious experimentations from rappers such as Jay-Z, Biggie Smalls, Dr. Dre, Snoop Dogg, Eazy-E and Tupac. There were so many classics brought out that it is with nostalgia and happiness that fans remember these songs.
READ MORE: Hello, It's Adele (And Her Comeback)
1990 - "U Can't Touch This" - MC Hammer
This song is truly iconic. No one can listen to it and not want to dance. It reminds listeners of the fun aspect of the 90s.
1991 - "Smells Like Teen Spirit" - Nirvana
This song, the lead of the band's second album, brought forth an innovative sound to the alternative rock genre. Its success has listed it as one of the greatest songs of all time.
1992 - "Baby Got Back" - Sir Mix A Lot
"Baby Got Back" is an anthem that almost everyone recognizes, knows and is willing to sing and dance along to. It was funny and it characterized the experimental "have a good time" attitude the 1990s possessed.
READ MORE: 6 Stages Of Discovering Lianne La Havas
1993 - "Nuthin' But A 'G' Thang" - Dr. Dre
During the 1990s, west coast hip hop was reaching its peak and developing critical acclaim. "Nuthin' But A 'G' Thang" is still an extremely popular song that really shows how rap was being pushed forward into the new millennium.
1994 - "Basket Case" - Green Day
Green Day's "Basket Case" is an overall amazing song with a good sound and even better lyrics to it. Its references to paranoia and anxiety can relate to many audience members and it is so far reaching that it earned a spot into the Rock and Roll Hall of Fame in 2015.
1995 - "Waterfalls" - TLC
The song "Waterfalls" is also an iconic song that came out of the 1990s. Not only is it catchy, but its lyrics demonstrate a profound message that tells its listeners to think about the consequences of chasing untangible dreams.
1996 - "Wonderwall" - Oasis
"Wonderwall" has been listed as one of the greatest songs of all time and there's no doubt that it sprung out of the 1990s. The album that it came from is the second best-selling in British history and has had much popularity in the United States as well.
1997 - "Hypnotize" - Notorious B.I.G.
Like "Nuthing But A 'G Thang'" this song shows how the popularity of rap and hip hop was coming to be a common-place genre. Biggie wrote this entire rap and had a huge impact on later rappers who would rise in the 2000s. Sadly, the song hit #1 seven weeks after Biggie's death.
1998 - "My Heart Will Go On" - Celine Dion
What a tearjerker. Celine Dion's iconic song was written for "Titanic," which is also considered one of the greatest movies of all time. The track was a huge hit and it led to the winning of multiple Oscar awards in 1998.
1999 - All The Small Things - Blink-182
Blink 182's new style developed from previous punk bands. Their catchy songs and "don't-care-what-you-think" mentality rose to popularity in the 90s. It is nearly impossible to not sing a long to "All the Small Things."
With all of these songs reeling in more than millions of views on Youtube, it is nearly impossible to not recognize these songs and smile. What are your favorite songs of the decade?
Reach Staff Reporter Gabriela Fernandez here.