Politics
A Look At GOP Debate Before Rocks Start Sliding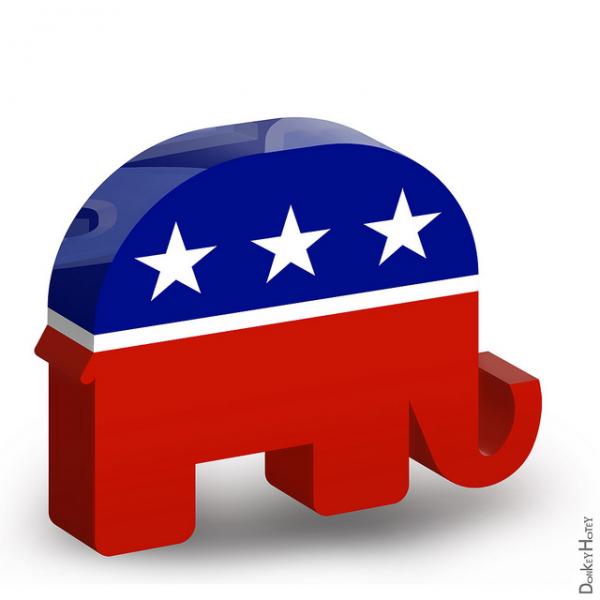 Ten clowns on a stage. That is just one of several Halloween-related statements that could be made about Wednesday's Republican Debate from Boulder, Colorado. Maybe, just maybe, members of the audience - both in the debate hall and on TV - will be able to hear the words "policy," "talked about," and "Republican Debate" in the same sentence without the word "not." That would seem like a trick, but it would be a great treat - especially after the
policy infused Democratic Debate
earlier in the month.
The first Democratic Debate was almost exclusively about policy issues. There was no arguing over rights that have not been taken away or whether a candidate falls in line with the party's ideals. Will the Republicans be able to set their factions aside and do that, too? It remains to be seen, but if there is a debate where it is possible, it is this one.
CNBC will be running the debates—one at 3 p.m. PST for lower-polling candidates, and a primetime run with the top 10 at 5 p.m. PST—which means it will be all about the economy. According to a press release emailed to reporters, the cable network reiterated that the "candidates [will be] debating the key issues that matter to all voters—job growth, taxes, technology, retirement and the health of our national economy." The three main moderators will be Carl Quintanilla, Becky Quick and John Harwood. Other network personalities, including Jim Cramer, will ask some questions as well.
SEE ALSO: House Republicans In A Leadership Crisis
It would probably not surprise many viewers, though, if the economic themes lead to a debate that focuses entirely on the candidates themselves. Look for Trump to tout his wealth and business success. Why? Because he can, and he seems to like bragging about this subject. If he did it during previous debates, why not now when the topic relates? Is four a good over-under guess for the number of times Trump brags about and/or discusses his success and wealth? Once during the opening statement, once during the closing remark and two times during the debate? Regardless of political standing, people know Trump is a successful businessman, so he can talk about these issues with some more clout than other issues. He will likely try to outdo himself, so he can take the lead back from retired neurosurgeon Ben Carson. Trump may try to separate himself by explaining his tax plan in greater detail. He could also, though, give more economic policies in a vague fashion.
Carson, who took the lead in the crowded field this week, will need to prove what he is talking about. As a physician, he doesn't have the proven economic prowess that Trump boasts. He will need to be more specific than Trump on the policy issues if he wants to stay ahead. Some would argue that he needs to stay quiet, but Trump will not hurt himself and Carson needs to prove his economic knowledge.
He will also need to talk with more energy than before—even though his calm nature may be what makes him appealing to some—because of Trump's knowledge in this area. Trump could easily drown out Carson and the rest of the field.
SEE ALSO: Debate Pays Off For Carly Fiorina
This debate is very important for the two Floridians in the race: former Gov. Jeb Bush and current Sen. Marco Rubio. Bush needs this debate to keep donors interested. He tapped the panic button this week when he cut campaign costs, including salaries, but he still has a super PAC that has lots of money. By law, however, the two cannot coordinate.
The Bush patriarch, former President George H.W. Bush, led a gathering of supporters over the weekend, in an effort to keep them from leaving.
Bush will need to give as many specifics as possible, so he can counter whatever jabs Trump has in store. He needs to maintain a balance because he cannot turn off any of the more moderate Republicans who will be watching, but that is a greater worry for some of the extremes. They are not aiming for that portion of the party, however.
The debate will either continue to boost Rubio, who is now the professionals' favorite, or it will cause him to lose all of the momentum he has gained in recent weeks. It is hard to see him remain flat given his place in the polls. He, like the other candidates who are not named Trump, will need to be able to give enough specifics to fend off the real estate mogul's broad statements and to get more people to support his campaign. He could win over undecided Republicans and moderates, depending on what he says. Rubio is someone who could appeal to all parts of the party, even though he was elected as part of the Tea Party wave. He can use this debate to prove that his economic policies are not too far to the right, while repeating the theme of American progress and the need for additional economic growth at the expense of the middle class.
SEE ALSO: The Hot Seat: A Discussion About Hillary Clinton And Republican Candidates
Ohio Gov. John Kasich and Kentucky Sen. Rand Paul are in interesting positions. Kasich can just be himself for the rest of the primary season. He is the closest to moderate in the race, which makes it very difficult for him to win in the pre-convention season. He could be a candidate for vice president as a way to balance the ticket and, more importantly, carry the swing state of Ohio. It is hard to imagine an election where Ohio voters do not select the ticket that includes its native son.
Kasich will probably have the most moderate stance on the stage, and he probably knows that, or at least something along those lines. It could be an advantage when talking about the economy, but it depends on the audience and what his fellow candidates to the right of him have to say.
Paul will need to do what he can to make himself sound like a legitimate Republican instead of an unelectable Libertarian. In the current political climate where compromise of any kind is considered egregious, but especially about economics, it is hard to imagine that Republican primary voters and caucus goers would select a Libertarian to be the nominee.
SEE ALSO: Twitter Reacts To John Boehner's Resignation
New Jersey Gov. Chris Christie has little credibility on this issue because his state has faced nine credit downgrades during his tenure. He, however, claims it is due to the pension problem. The reputation damage is done, and it appears that the hype that has carried over from 2012 has faded away.
South Carolina Sen. Lindsey Graham could really benefit from the debate—regardless of whether he participates in the early or primetime debate—because he could cast himself as acceptable to all factions of the party. If there is a night where he could take a unifying role, it would be Wednesday night. He just cannot appear too liberal, which is a greater risk than appearing too conservative these days.
Retired business executive Carly Fiorina will need to dodge any insults or questions that come her away about her time as CEO of Hewlett-Packard. She should receive questions about her time at the helm because of the mismanagement. The best strategy for her would be to not deny her track record, but try to move on from it. There does not seem to be a way she can counter it.
We could see at least one candidate drop out after lights turn off Wednesday night.
Reach Civic Center Bureau Chief Max Schwartz here; follow him on Twitter here.