Sports
Pac-12 Power Rankings: Week 3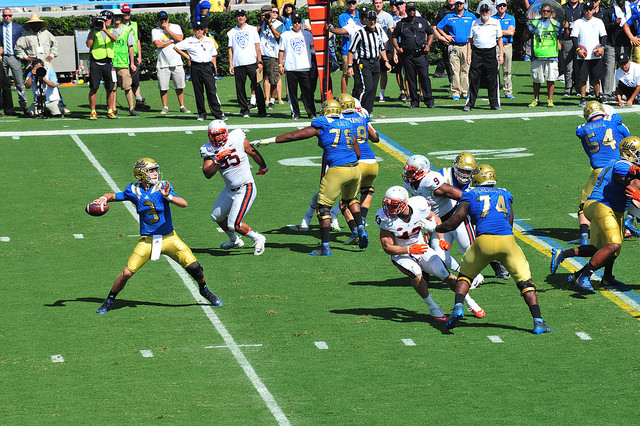 There's a new leader atop the rankings after Stanford showed us just how USC's' pre-season hype was quite inflated after all. Since the Trojans suffered the conference's only loss this week, there wasn't too much of a shake-up in in the rankings. Without further ado:
1) UCLA (3-0; 0-0)
For the first time this season, quarterback Josh Rosen looked like a freshman, and the Bruins looked very beatable. However, as RB Paul Perkins showed this past weekend, UCLA is deep in talent and can beat you in many different ways. Still, the No. 9 Bruins have arguably the most impressive win so far this season against BYU, earning them the top spot amidst USC's loss to Stanford.
2) Oregon (2-1; 0-0)
It certainty didn't matter who was at quarterback for the Ducks on Saturday, as the team rebounded big following last week's tough road loss against No. 2 Michigan St. No. 13 Oregon dazzled against overmatched Georgia St., with the Oregon defense being a turnover machine. Oregon could make a case for the ranking's top spot next week with a win against Utah at home.
3) Arizona (3-0; 0-0)
The 'Cats ran wild against NAU, setting school records for most points and most yards in a single game in an extremely favorable matchup. Arizona has arguably done the most consistent job through the first three weeks of the season, showcasing a highly explosive offense and physical defense. A win in their conference-opener against UCLA next week could catapult the No. 16 Wildcats to the top of the rankings.
4) Utah (3-0; 0-0)
Senior running back Devontae Booker led the charge on Saturday, earning the No. 18 Utes a non-conference sweep for the season. Beating up Fresno St. on the road with a backup quarterback is exciting, and potentially getting back quarterback Travis Wilson next week could mean very big things for Utah looking ahead. The Utes' win against Michigan is one of the more prominent in the conference thus far, but their true test lies ahead in Eugene, Oregon next week.
5) Stanford (2-1; 1-0)
Perhaps the Cardinal's Week 1 loss against No. 17 Northwestern (who isn't so bad after all) was all that was needed to jump-start the team for the rest of the season. Senior QB Kevin Hogan was masterful on Saturday at the Coliseum, managing the game while making big plays when necessary. Stanford's defense showed it could crunch down when necessary against an explosive Trojan offense. Don't let Week 1 fool you, as the No. 21 Cardinals have all the momentum needed to do some serious damage going forward into conference play.
6) USC (2-1; 0-1)
Well, through three weeks, it turns out that the Sun Belt is a partuclarly bad conference, and the Trojans aren't as particularly good as we anticipated. The Pac-12 preseason favorites were simply outperformed by Stanford, highlighted by USC's defense forcing only two punts. The Trojans head to Tempe next week for their first road game of the season. Coach Steve Sarkisian needs a big win to get his team back on track, as the last time the Trojans lost in Tempe it didn't bode so well for the head coach…
7) Cal (3-0; 0-0)
The Golden Bears once again put up huge numbers this Saturday at Texas, but were only an XP away from surrendering a 21-point lead in the fourth quarter. While QB Jared Goff continues to impress, the Cal defense and a potential lack of depth showed some cause for concern looking ahead. The Golden Bears look to stay undefeated heading into an intriguing matchup on the road against Washington.
8)Washington (2-1; 0-0)
Freshman quarterback Jake Browner continues to improve and so do the Huskies heading into Pac-12 play. Washington certainly looks stronger on both sides of the ball than many expected early on. Heck, the Huskies have yielded only 30 points on defense through their first three games. Washington has an incredible opportunity against division rival Cal to show the conference their much more than a roadblock in conference play.
9) Arizona St. (2-1; 0-0)
The Sun Devils finally got their offense going against a team that, well, should get your offense going. Arizona St. looked the best they have all season, but there is still much room for improvement. The Wildcats have a tendency to start games sluggish and will need to come out firing heading into conference play. The Sun Devils look to jump back into relevancy by taking down the shaken Trojans in the desert next week.
10) Colorado (2-1; 0-0)
My, oh my, make that two in a row for the Buffs, producing their first win streak since the 2013 season. The team's mental ability to shake off a missed game-winning field goal at the end of regulation and then win in overtime win speaks mounds. The Buffs will look to continue their streak with another non-conference opponent next week.
11) Washington St. (2-1; 0-0)
The Cougs earned their first home win in over a year against Wyoming on Saturday, despite struggling to get their defense off the field. A nice win makes it two in a row for Washington St., but the team's Week 1 loss to an FCS opponent buries the Cougars at the bottom of the rankings. A win against Cal next week would certainty boost the Cougar's position in the conference.
12) Oregon St. (2-1; 0-0)
Beating up on San Jose St. doesn't hold much weight after the nightmare the Beavers suffered in Ann Arbor a week ago. A promising, athletic performance from freshman quarterback Seth Collins was noteworthy, as he tacked on two rushing touchdowns and one in the air. OSU has an extremely tough matchup at home against Stanford next week.
You can see last week's power rankings here.
Contact Staff Reporter Garrett Schwartz here and follow him on Twitter.