Sports
Pac-12 Power Rankings: Week 2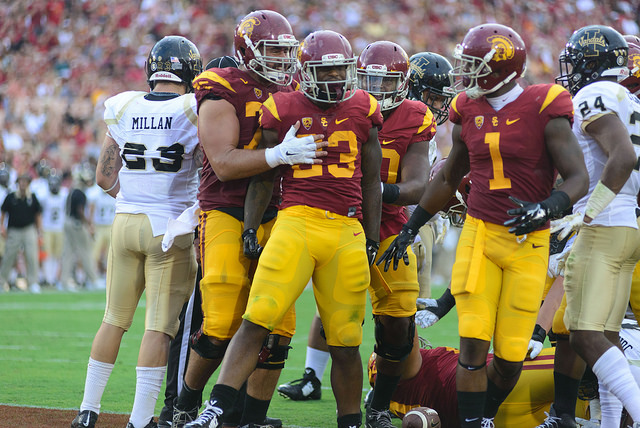 With ten winners on Saturday and only two losers, Week 2 proved strong for the Pac-12. The conferenence (5) is second to only the SEC (7) in AP Poll vote-getters, as the conference has been able to feast off easy, unranked opponents thus far.
1. USC (2-0; 0-0)
While nothing less than a dominant performance was expected from the Cardinal and Gold this weekend, the No. 6 Trojans looked nearly flawless on Saturday. With a handful of stud atheltes who have the potential to breakout at any given time, SoCal's dynamic offense showcased their dual-threat capabilities this week. A hydra-style running attack amassed 284 yards and 5 touchdowns and paired with a near-perfect performance by Heisman candidate, QB Cody Kessler. While placing the Trojans at #1 may seem premature after handling petty Idaho and Arkansas St., a deeper USC squad allowing only 15 points on the season is impressive. Let's see if the Trojans warrant legitimate recognition in the playoff conversation after hosting Stanford next week.
2. UCLA (2-0; 0-0)
If anything is certain, it is that the Pac-12's best team thus far resides in Los Angeles. On the UCLA side, running back Paul Perkins shined this week against UNLV and freshman sensation Josh Rosen continued to make Brett Hundley nothing more than an afterthought. Sze on both sides of the ball has showed to be a huge strength for the Bruins. There's no denying that #10 UCLA looks darn good so far, so look for the No. 10 Bruins to make sure BYU doesn't win off a Hail Mary for the third week straight.
3. Oregon (1-1; 0-0)
Falling short on the final drive against a top-5 opponent on the road may not warrant such a slide in the AP Poll, but nevertheless the Ducks fell to No. 12 in the poll and are sitting at third in the power rankings. Oregon's spotty defense proved on Saturday that it has the capability to buckle down when necessary, as it kept the Ducks alive until the final drive against Michigan State. A resilient defensive performance and a near-comeback performance led by quarterback Vernon Adams Jr. earns the Ducks a degree of respect, even after a loss this early in the season.
4. Arizona (2-0; 0-0)
Best pals QB Anu Soloman and RB Nick Wilson continued to impress in their sophomore seasons, combining for 5 touchdowns in a 44-20 beatdown of Nevada. While jumping out to a quick lead this weekend, No. 20 Arizona seemed to show much more about the coaching matchup than the one on the field . Rich-Rod's squad is still searching for the solution in replacing linebacker Scooby Wright. However, the Wildcats have another week of fine-tuning before a huge Week 4 matchup against the Bruins.
5. Utah (2-0; 0-0)
Though the No. 21 Utes didn't need much to outduel Utah State, the win paired well with their Week 1 performance against Michigan. Key losses of quarterback Travis Wilson and defensive lineman Hunter Dimick are cause for concern, yet Devontae Booker's strong 120-yard, touchdown performance show the running game may be able to pick up the slack. Another strong performance from Utah's defense helped force three turnovers in Saturday's rout. Hopefully the Utes can get their guys back on the field before a huge Week 4 road trip at Oregon.
6. Cal (2-0; 0-0)
The only undefeated team in the Pac-12 North has been potentially the biggest surprise early on. The Golden Bears, led by Jared Goff, have shown they can paint the scoreboard, scoring 108 points combined through their first two matchups. Needing a serious opponent to prove to be a legitimate threat in the conference, the Golden Bears will head to Texas next week.
7. Stanford (1-1; 0-0)
Is it possible that a flea-flicker jumpstarted a turnaround for the Cardinals? After not scoring a touchdown through their first five quarters of the season, Stanford got their first one with some trickery by quarterback Kevin Hogan to wide receiver Michael Rector. While the offense remains a question, the Cardinal's defense has remained solid and an upset at the Coliseum could quickly bump Stanford back into relevancy.
8. Washington (1-1; 0-0)
A 49-0 romping of Sacramento got the Huskies their first win of the season, led by a 150-yard, three-touchdown performance from running back Myles Gaskin. Freshman quarterback Jake Browning will only continue to improve, as he did following up last week's heartbreaker verse Boise St. Washington has a chance to gain momentum against Utah St. this week before heading into conference play against Cal. Keep an eye on the Huskies to be a surprise #2 in the PAC 12- North.
9. Arizona State (1-1; 0-0)
The Sun Devils managed to squeak out a win against Cal Poly this weekend to follow up a lousy season opener against Texas A&M. Cal Poly's triple option offense was nightmarish for ASU, as consistently poor defensive play is causing the team's playoff chance to evaporate. The Devils need to deliver a promising win against New Mexico this week if a Week 4 upset against USC is to have any playoff signifance.
10. Washington State (1-1; 0-0)
Beating a Big 10 school after losing to an FCS team!? Hmm… Quarterback Luke Falk delivered an explosive second half that was finished off by a game-winning drive in Saturday's 37-34 nail biter against Rutgers. Hopefully the Cougars can muster up some consistency and deliver big again next week againstt Wyoming.
11. Colorado (1-1; 0-0)
The Buffs snapped a nine-game skid dating back to last season, beating UMass by a score of 48-14. Colorado's run game exploded, producing 390 yards and four touchdowns. The Buffs will look to gain some momentum with two more matchups before they head into conference play in Week 5 against Oregon.
12. Oregon State (1-1; 0-0)
In their second go-around, Michigan got the best of the Pac-12, providing Coach Jim Harbaugh his first win in blue and maize. The Beavers couldn't stop the bleeding after a questionable punt decision by new head coach Gary Anderson, unluckily leading to a Michigan turnover and score. Playing in front of 110,00 at the Big House, OSU looked hopeless against the run on Saturday. The Beavers have much to improve before kicking off conference play Week 4 against Stanford.
Contact Staff Reporter Garrett Schwartz here and follow him on Twitter.