Film and TV
Why 'Me And Earl And The Dying Girl' Should Sweep The Teen Choice Awards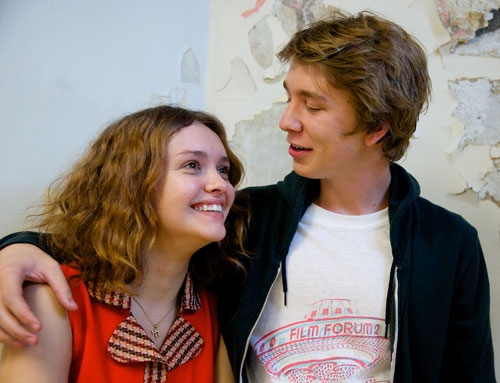 "Me and Earl and the Dying Girl" (the sleeper indie hit of the summer) and two of its lead actors (Thomas Mann and RJ Cyler) are nominated for three Teen Choice Awards, and that's after it won both the Grand Jury Prize and the Audience Award at the Sundance Film Festival earlier this year. The 2015 #TeenChoice Awards Show will be broadcast live from USC's Galen Center tomorrow night, airing on Fox at 5 p.m. Pacific/8 p.m. Eastern.
The movie invites us to take an offbeat look at our relationship with loss, and the important, tiny details that keep the people you love alive — if you pay attention. It's a gut-wrenching, hilarious, and altogether stunning film experience that will make you think, and will remind you why you love going to the movies (and not just the ones with Chris Pratt in them, though we do still love you, Chris Pratt).
READ MORE: Best Films Premiering at 2015 Sundance Film Festival
Sometimes a special film can get lost in the noise of summer blockbuster season, but that doesn't mean it isn't gush-worthy, culturally significant, or that it won't quietly wait for its turn on the awards stages now and next winter.
"Me and Earl" is the powerfully visceral coming-of-age story of three unlikely high school friends told through the eyes and voice of Greg (the quirky, self-deprecating "Me" of the title), played to perfect imperfection by Mann. It's a love letter to cinema, a director's deeply personal artistic gift for his father, and in a way, a moving manifesto for anyone who has felt paralyzed by regret.
Here's a breakdown of what "Me and Earl" does that makes it — without a doubt — this summer's (and possibly this year's) best movie.
The part where you fall in love with the characters (and the actors who bring them to life).
How do you get four-time Emmy-nominated actress Connie Britton ("Nashville") to sign on to do a small indie film with virtually no budget? For her, the answer was simple: bring in a director who empowers everyone to do their best. (And throw in a quirky, muumuu-wearing, often-talking-to-the-cat husband -- the incomparable Nick Offerman -- to play off of, well, that never hurts either.)
The legendary late film director Mike Nichols ("The Graduate") was once asked how he works so well with actors, and he answered, "You love them." This affection has translated into arguably some of the most powerful and iconic acting performances we've seen on the silver screen over the last 50 years, including Oscar-winning performances by the likes of Cher and Elizabeth Taylor. It's that kind of love that "Me and Earl" director Alfonso Gomez-Rejon says he brings to his set, every day.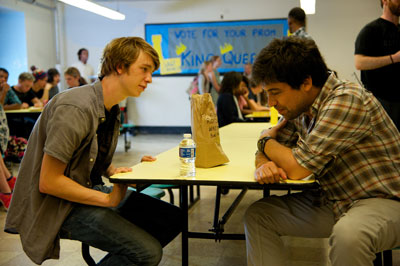 "I feel like the luckiest girl just gets luckier to get to work with Alfonso," said Molly Shannon (who plays the lovingly tragic single mother of Rachel, the "Dying Girl") in an interview with Variety at Sundance. "It re-inspired me about acting and show business in a way that I almost can't put into words."
Britton, having worked with Gomez-Rejon on "American Horror Story," was also already a fan, and initially didn't even ask to see the script upon hearing he was directing. "When I did get to read the script, I was blown away. It's so original," she said.
The part where it's so much more than a "teen movie."
Based on Jesse Andrews' 2013 best-selling YA novel of the same name, "Me and Earl" was adapted into a biting screenplay with hilarious and unexpected dialogue by Andrews himself, with the help of veteran producer/writer Dan Fogelman ("Crazy, Stupid Love"). The story of "Me and Earl" keeps us grounded in reality — albeit a quirky and colorful one — that, like "The Fault in Our Stars," focuses on complex issues like illness, real, abiding friendship, and death, without faux emotion, which audiences of all ages seem to appreciate.
The choice to focus on honest friendship is refreshing and ultimately much more challenging. Greg reminds us several times throughout the movie that this is -- in fact -- *not* a "touching romantic story." There's a sweet tenderness to the way Greg fumbles around and constantly says the wrong thing to Rachel (played by the stunning Olivia Cooke). How is he (or anyone) to know what to say to someone coping with their own mortality? "I'm actually only here because my Mom is making me," he tells her when they first meet. He is just a guy, after all.
And fans of last year's "Boyhood" will revel in the slower, more thoughtful pace of "Me and Earl". Its emotionally-charged soundtrack, with musical supervision by Randall Poster ("Boyhood" and "The Wolf of Wall Street") features original music from acclaimed british composer Brian Eno, which will absolutely leave you breathless.
"The music and the storytelling move you in a good way. It's not just sad, or saccharine or sweet; it's rich and unique," says Fogelman.
READ MORE: Golden Globes 2015: An Open Letter of Gratitude to 'Boyhood''s Patricia Arquette
The part where it honors cinema.
The brilliance of "Me and Earl" is in the way the directing, the writing, the acting, and the music is brought together in a rhythm that allows you to truly ache for and with these quirky characters, who are just trying to deal with real-life problems in real-time -- in an inconvenient storyline and cinematic style that takes us back in time to an era when being still, and sometimes silent, mattered. The movie is a return to days gone by, and to the romanticism of real friendship, the kind you yearn and fight for (not "click" or "like" for).
It's also a testament to how empowering art can be, especially when you're navigating the war zone that is the high school cafeteria. In fact, Greg and his best friend Earl (RJ Cyler, in a breakout performance) have used filmmaking (making parodies like "Grumpy Cul-de-Sacs" for "Mean Streets" and "Breathe Less" for "Breathless") to successfully avoid close relationships with most of their peers since elementary school. According to insiders on production, Greg and Earl's final film for Rachel was in flux until the last minute.
"It never fully came together until the day we used it on set," says Gomez-Rejon. "When I saw the finished cut, I cried my eyes out. It was so honest, so beautiful and it expressed everything I was feeling in a five-minute short."
"Me and Earl and the Dying Girl" is now playing in select theaters nationwide.
An edited version of this article originally appeared on MarieClaire.com on July 13.
Reach contributor Kristin Marguerite Doidge here. Follow her on Twitter here.