Film and TV
Nostalgic 'Wet Hot' Summer Night At Eat|See|Hear Festival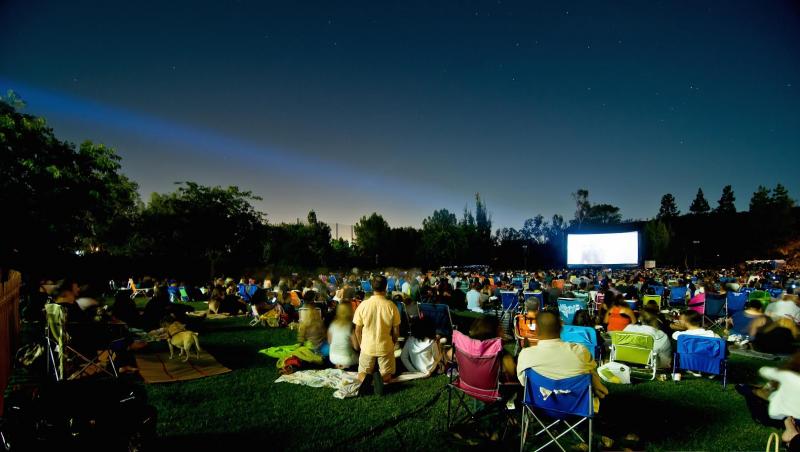 "Let's meet back here in 10 years."
That's the promise the hilarious, quirky ensemble of characters from "Wet Hot American Summer" made to each other in the original indie comedy film in 2001. It's been closer to 14 years now -- but who's counting? In a rare coup in Hollywood, it turns out some things actually do get better with age.
Last weekend's outdoor screening of "Wet Hot" at Eat|See|Hear played to an enthusiastic, sold out crowd on the lawn of The Autry Museum in Griffith Park.
In a special collaboration with Netflix, the event featured a preview of the new series "Wet Hot American Summer: First Day of Camp" after the film, along with special appearances from "Wet Hot" creator David Wain, and various cast members such as Joe Lo Truglio (and even a legit "Wet Hot" school bus), both of whom helped introduce the film once the sun set over the giant inflatable movie screen.
READ: 7 Things You Need to Know Before You Watch Netflix's 'Wet Hot American Summer: First Day of Camp'
The love for the original "Wet Hot" movie cannot be overstated; the crowd -- settled into their blankets and chairs -- cheered just because the opening credits started rolling, which made me smile. How often can something so silly and downright off kilter bring so much happiness to a diverse group of people of all ages on a warm Saturday night -- and 14 years after its release, no less?
The answer: the cast. Jeaneane Garofalo as the clueless and apathetic camp director. Molly Shannon as the weepy art teacher. Elizabeth Banks as the sexy but misguided giggly counselor. Paul Rudd as a dazed-and-confused punk. And Bradley Cooper and Amy Poehler as the prissy talent show producers-slash-choreographers-slash-directors-slash-costume-designers. Classic comedic genius complemented by great performances from David Hyde Pierce and Christopher Meloni, Marguerite Moreau and Michael Ian Black, among many others. Add in the glorious '80s wardrobe and hair, and it's pure bliss.
The most bittersweet moment in viewing the film in 2015 came during the scene when two closeted gay camp counselors Ben (Cooper) and McKinley (Black) decide to join in wedded bliss in the woods. The Eat|See|Hear audience reacted with some applause, but two fellow counselors in the film grossly mishandled the situation and resorted to derogatory language that today just wasn't funny.
But what happened next was so cool, especially in light of what's happening right now for gay rights.
READ: Same-Sex Marriage Legalized Nationwide
Those fellow counselors ended up embracing the new union and even put their camp counselor wages together to purchase what appears to be a surprisingly thoughtful wedding registry gift -- from Crate & Barrel, no less -- for the happy couple. That was when the live crowd really cheered. It was a beautiful moment -- and it led us into perhaps the most important message of the film, which comes from Meloni in an insane comedic turn as the moody Vietnam veteran-turned-cook, who delivers a powerful monologue to the camp counselors and campers: "Be proud of who you are."
After the film's screening, most of the live audience stayed for the special preview of the first two episodes from the new Netflix series. It seemed like we all wanted more. While the classic film focused on the last day of summer camp, the new series goes back to the first day of camp, before the shenanigans began. All of the usual suspects return -- looking fantastic, I might add -- along with some new faces to tell the story of the "Wet Hot" summer before the film. And there were some surprises.
As for the hot summer here in LA, the popular Eat|See|Hear outdoor series is in full swing through Sept. 12, with screenings of other cult classics like "Clueless" and "The Princess Bride". It was voted "Best Outdoor Movie Series" by Los Angeles Magazine in 2014, and weekly festivities also include local food truck favorites like Coolhaus and Umami, and an opening live musical performance curated by Echo Park record label Origami Vinyl. And they're socially conscious, too: Eat|See|Hear partners with Best Friends Animal Society/No Kill Los Angeles to help local, lovable shelter dogs and cats find suitable homes. For the full event schedule or more info, click here.
Reach contributor Kristin Marguerite Doidge here. Follow her on Twitter here.