Film and TV
7 Things You Need To Know Before You Watch Netflix's 'Wet Hot American Summer: First Day Of Camp'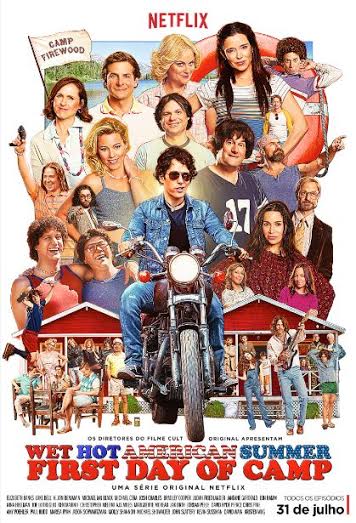 Bradley Cooper and Michael Ian Black's characters are hooking up
McKinley's (Michael Ian Black) friends may not realize that while trying to set him up with a girl, he's been having steamy hookups with none other than musical theater producer/total future A-lister Ben (Bradley Cooper) in the back of a supply closet. They end up forming a union of love, sanctified by Camp Director Jeaneane Garofalo. McKinley's friends buy him and Ben a chez lounge to show their support.
Molly Shannon is trying to get over her divorce with Judah Friedlander
Gail (Molly Shannon) can't spend a minute without breaking down, as her recent divorce has put her life in shambles. It may take a couple pep talks from the children for Gail to regain her confidence. At the end of the movie, she tells her ex-husband (Judah Friedlander) off and ends up getting engaged to a 7-year old.
Ironically, the main love story in the film features the only two actors who didn't rise to A-list fame
While Katie (Marguerite Moreau) is dating a bad boy cheater (Paul Rudd), the friendzoned Coop (Michael Showalter) can't help but falling in love with his best friend. Of course, they share a passionate kiss in the middle of the movie and Coop eventually professes his love to Katie. Unfortunatley, Coop and the actor who portrayed him have a less than perfect ending, as Coop loses his girl to Paul Rudd and Michael Showalter loses his future spotlight to all his castmates from this film.
READ MORE: 6 Reasons Why You Need To See 'Trainwreck' This Weekend
Amy Poehler is a cut throat musical theater director. Do not mess up your routine while she's around
Ruthless, high-pitched, and screamy, Susie (Amy Poehler) is ready to give it everything she's gotl. After all, being the director/choreographer of a summer camp musical theater performance can't be easy.
Jeneane Garofalo falls for the Nerdy David Hyde Pierce (and ends up saving the world with him)
Beth (Jeneane Garofalo) and Professor Henry Newman (David Hyde Pierce) may have found their match, as the two dorks start flirting in a rather hilarious manner. Once they become soulamtes, Henry and his students find that a piece of NASA's spacecraft has detached and is heading for earth. Long story short, they save the day using a 20-sided die.
Ken Marino has an afro
Poor dude goes through hell and back after his bus breaks down in the middle of nowhere to make it back to camp. Victor (Ken Marino) races back to Abby's cabin in the hopes that she'll hook up with him, only to find her attached to another. Funny enough, Abby (Marisa Ryan) and Lindsay (Elizabeth Banks) end up making out near the end of the film.
Paul Rudd is the sleazebag we all wish we had
"You taste like a burger. I don't like you anymore." Need we say more?
Reach Staff Reporter Sonia Gumuchian here. Follow her on Twitter here.