Technology
A Hodgepodge On Wheels: 2015 Toyota RAV4 XLE AWD, Reviewed
Recreational Active Vehicle with 4-wheel drive. That's what the name RAV4 stands for. You may think from its name that much like the Subaru Forester, all RAV4's must have standard all-wheel drive, but they don't. In fact most RAV4's you'll find stocked at California dealerships are front wheel drive so those are technically RAV2's. Since I had opted for the all-wheel drive version, it was a "real" RAV4.
We'll get to the all-wheel drive stuff later, but for now let's focus on what the RAV4 actually is.
SEE ALSO: What It's Like to Drive 1,030 Miles In A Single Day With A Toyota RAV4
What I was expecting from the RAV4 was simply a comfortable, practical and decent-handling crossover. I had imagined that the ride would be smooth as butter, with the wind noise controlled. In short, I thought the car would carry a family and their luggage long distances in comfort, all while getting great MPG. The car would be able to handle dirt trails and light off roading for when the going got tough.
I was however, not expecting the RAV4 to have front seats with large bolsters, nor was I expecting fake carbon fiber trim to be plastered all over the inside. Neither was I expecting the car to be rough riding and loud, with the average MPG to be a ho-hum 25.8.
Let's dissect this hodgepodge crossover, shall we?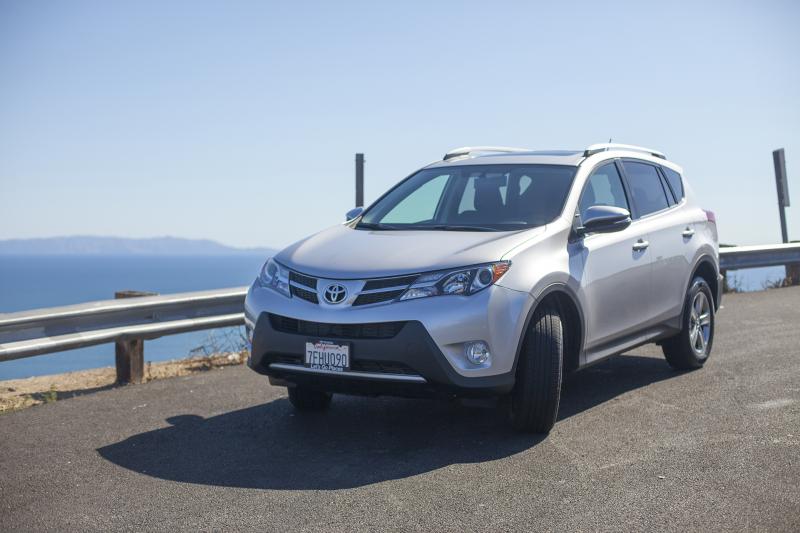 Powering the RAV4 is a 2.5L DOHC 16-valve 4-cylinder engine making 176 horsepower and 172 lb-ft. If this sounds familiar, it's because the engine is shared with the Scion Tc I reviewed earlier.
Power is sent to all four wheels through a 6-speed automatic gearbox. Unlike the last generation RAV4, the V6 engine has been dropped entirely.
The 6-speed automatic is rather smooth, but when it decides to skip gears the smoothness is replaced with jerkiness. This is where I wished Toyota had fitted their excellent CVT instead, as the fuel economy with the 6-speed auto was just average and while climbing up hills the automatic becomes a jerk-o-matic while downshifting.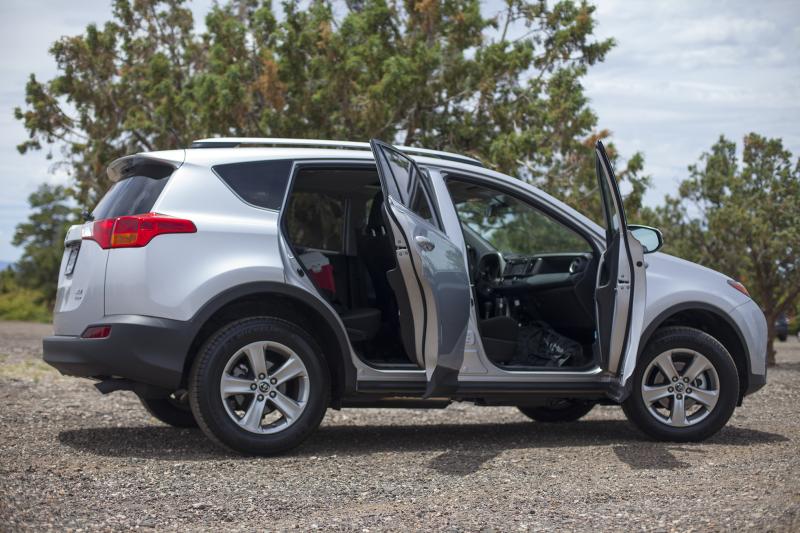 The RAV4's stiff-riding suspension is a large downside and may be a turn off to some drivers. It rides similarly to the Scion Tc I reviewed, which was fitted with performance springs. The RAV4 is a taller vehicle than most too, so there is a fair bit of bounce to go with the stiffness.
The hard suspension would be forgivable if the RAV4 handled well, but it's the second worst handling car I've ever driven. The understeer was so bad you could laugh at it until you get dangerously close to the center line.
Keep in mind that with all cars that I test have different thresholds of grip, however conditions for testing were optimal and the speeds that the RAV4 began to understeer don't instill any driver confidence at all. Wind noise is what I've come to expect of Toyotas on normal freeways, but on an interstate the noise is what you'd immediately recognize as the interior from a Boeing 747. Combine this with the stiff, jittery ride for an uncomfortable long drive.
Adding to my woes is the button placement, which for some of the controls ( center differential control, traction control and Sport/Eco modes) are scattered throughout the dashboard. The buttons that you don't use as frequently and don't want to accidentally press (Traction control, differential control) are smartly placed out of the way.
What irks me though, is that while putting these buttons out of the way is smart, why couldn't Toyota have just placed them where you can reach them and then made it so you would have to hold the button down for a set amount of time to activate it? There's a large amount of placeholder, dummy buttons in places where I'd like to see buttons but they simply aren't there.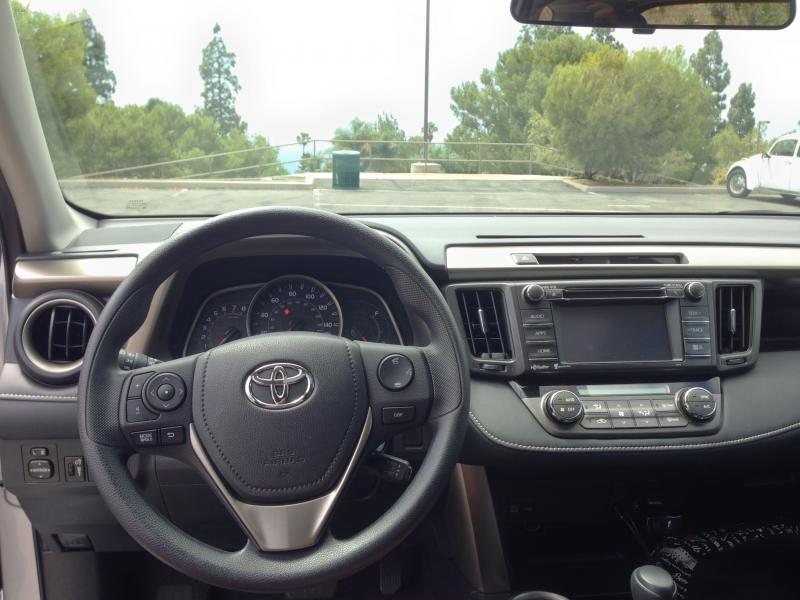 The Eco and Sport mode buttons from other Toyotas returns on the RAV4. In Eco mode the engine will prevent downshifting to maximize fuel economy, giving it a lethargic feel. If you do push the throttle hard enough the engine will downshift a gear or two.
In sport mode the car will hold the revs in the lower gears and will downshift more often. Throttle response is also livened up for some extra pep, but it doesn't really make sense to have it fitted to the RAV4 since it handles terribly in the corners. What makes even less sense is why Toyota hadn't bothered to fit a sport button on the Camry XSE but had chosen to fit one on the RAV4 instead.
What I did expect from the RAV4 is the practicality, and thankfully it's got it. The RAV4 has roof rails on the top for your surfboards and other outdoors equipment and a large trunk to fit multiple duffel bags and suitcases. With the rear seats folded down, there is room for a mountain bike to easily fit. Four tires and four boxed rims were able to fit just as easily. Behind the rear seats is a small, rectangular shaped hidden compartment. The plastic rear bumpers means that you don't have to worry about scratching the paint when you're loading large objects into the trunk; smart thinking from toyota.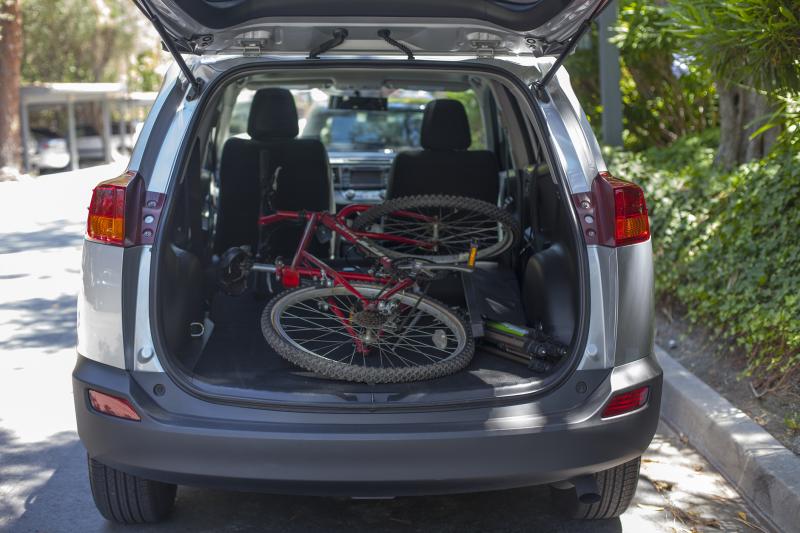 The best feature by far on the RAV4 are the seats. To appease any screaming child or full-sized adult, the rear legroom on the RAV4 is Avalon-like. The rear seats can be positioned in three positions: bolt upright, reclining and folded flat. While the reclining rear seats are a smart idea, the seat is still a bench layout so the right and middle seats and combined together. If someone on that part of the bench doesn't want their seat reclining, too bad. Still, the rear seats have large leg cushions which when combined with the gargantuan leg room makes for first-class seating.
When you take a step back and look at this picture, everything I just said makes the RAV4 a car which isn't sure about what it really wants to be. There's a good reason for that and it's because the RAV4 is a confusing car. On one hand, you have a noisy, stiff-riding car with bucket seats and faux carbon fiber trim. In the other you have a car with first-class rear seating, but you also have its practicality and off-road abilities.
The problem here is that when you combine all of these together you have a car that begins to contradict itself. The hard ride takes away from the excellent back seat's comfort and the appalling handling takes away the sportiness of the car. To put it bluntly, it's like eating two completely unrelated things and ending up with a conflicting mess in your mouth. In essence, now you have a car that is attempting to be jack of all trades, master of one but failing to do so.
Price As Tested: $28,110
Overall Score: B-

Crossovers Score: B-*

At-A-Glance Specifications:

Engine: 2.5L 4-cylinder DOHC 16-valve with Dual VVT-i

Horsepower: 176 @ 6,000 RPM

Torque: 172 lb-ft @ 4,100 RPM

Transmission: 6-speed ECT-i Automatic

Drive: All-Wheel-Drive with Dynamic Torque Control

Tire Size: P235/65R17

Tire: Michelin Latitude Tour HP

Curb Weight: 3,585 lbs.

Weight Distribution: N/A

Cargo Volume: 38.4 cu. ft.; 73.4 cu. ft. (With rear seatbacks folded)

Towing Capacity: 1,500 lbs.

Maximum Payload: 900 lbs.

Our Combined MPG: 25.8

Fuel Capacity: 15.9 gal.

MPG (EPA Estimated)(City/Highway): 22/29
*This is the benchmark vehicle for this class.
Video by Amou "Joe" Seto and Melody Jiang.
Reach Staff Reporter Amou (Joe) Seto here. Follow him on Twitter here.