Technology
What It's Like to Drive 1,030 Miles In A Single Day With A Toyota RAV4
When spring break rolled by early this year my mother and I decided to take the family Prius to Sedona, Arizona. On the way there we enjoyed 400 miles on just a tank of gas, with driver changes every few hours to distribute the load. We stayed there for three days, taking in the scenery and local food, having a pleasant experience- so pleasant in fact that I decided to try it all over again this summer.
In Sedona the first time around, I noticed that most tourists were driving All-Wheel-Drive crossovers. They were everywhere, all bearing out-of-state plates. I asked myself why their car choice was a crossover with All-Wheel-Drive and made the decision to figure it out by using an AWD crossover for my summer trip. I scheduled a Toyota RAV4 for a test in July which fit the bill perfectly; all that was left was to get going.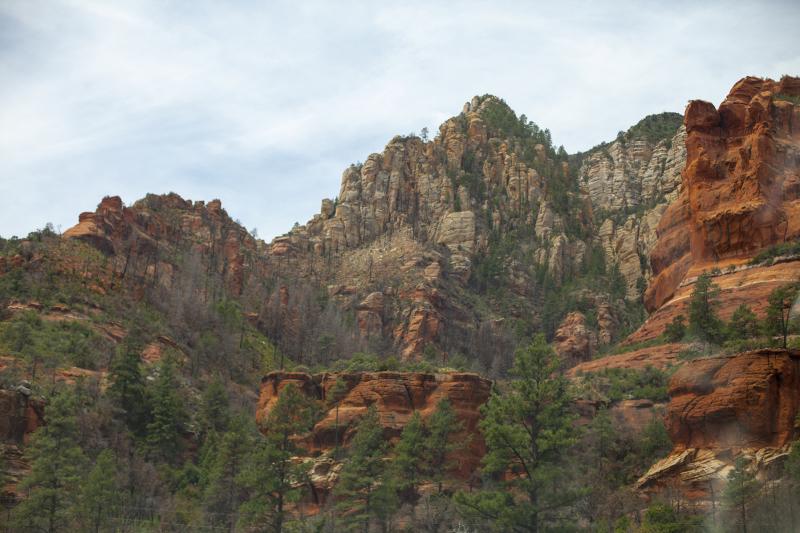 SEE ALSO: 2015 Toyota Camry XSE, Reviewed
From the start, the trip didn't look too good. Staying there was out of the question, so I would have to go in one day. The plan was to leave at 4 AM and to get back around midnight on a Sunday, as I predicted traffic would be light.
Driver changes would also be out of the question as other people aren't allowed to drive press vehicles, so I made sure to get plenty of sleep the night before by going to sleep early and prepared caffeine to get me and my friend there and back.
To make the road trip more realistic, I loaded ballast in the back to simulate luggage. After triple-checking everything and doing the math hundreds of times, we set off. That's where the bad luck all started.
The RAV4's navigation system gave me a choice of three routes. I chose the route that I had used the first time around, which required me to get on Interstate-110 then to route 91 with the main stretch of load being Interstate-40.
The RAV4's navigation system warned me that traffic was blocking the road on I-110 and told me to proceed to the route 91 using the city streets. I ignored this and set off, eventually finding out the traffic that the navigation had warned me about was in the form of around 30 CHP cruisers blocking the road with their sirens. The CHP used flares to guide everyone off the freeway and back onto city streets. This ended up costing us a lot of time given that by the time we hit Barstow for our first fuel stop, the sun was rising.
When we finally made it on I-40, I turned my attention to the RAV4. It was my third day with the car and I didn't understand it at all. It was a family crossover, yet it had fake carbon fiber trim on the center console and the door panels.
The unnecessarily stiff suspension proved to be even worse at high speeds as every single imperfection the size of a ritz cracker was being sent into the bottom of my seat and the car was loud, very loud. If you've ever been inside a 747 and listened to the noise when the plane reaches cruising speed, you'll know what I'm talking about.
Toyota's Corolla S and Camry XSE had comfortable suspension, so I was very taken back by the RAV4's stiff layout.
At this point I checked by freeway MPG and saw that we were averaging 25.8 MPG, which was dropping by 0.1 every 10 minutes or so. To bring the MPG up I decided to switch over to manual mode at to camp in 6th gear.
The gearbox had decided to step down to fourth gear for a hill, so I slid the gearstick into manual mode and gave it two pushes to bring the car into sixth gear. The car indicated sixth gear, but the RPM needle didn't move an inch- it still indicated 4,000 RPM. I found that every time I switched into manual mode the car would downshift to fourth gear immediately. I decided to just leave the car in D, only to discover that when I put my foot down to overtake people the car would go into fourth with a large jolt.
Around 8:20 AM we crossed into Arizona, and 10 minutes later I pulled over to get gas near Lake Havasu city. The gas at Barstow was going for $4 a gallon. In Lake Havasu city it was $2.85 a gallon. I topped the RAV4 off and set off again going into a large expansion of dry land with cacti growing everywhere to a large forest area where the temperature dropped from 90 degrees to a lovely 70. Livestock roamed in the large plains, and the number of bugs the RAV4's windshield killed increased tenfold.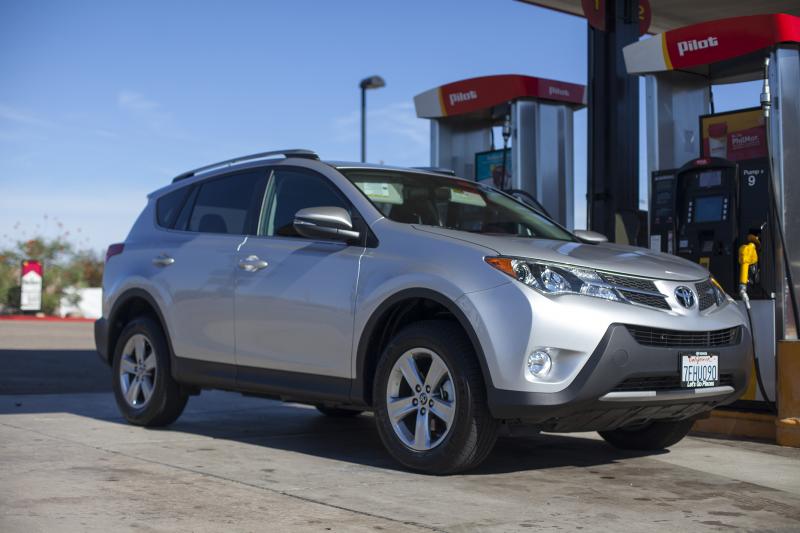 When 11 AM rolled by we were just outside of Flagstaff, transitioning to the beautiful 24-mile mountain road outside of Sedona. Here we saw why we had made this long drive- massive tall trees, cool weather and large, tall mountains. The green trees and mountains changed to the large, red rocked giants that Sedona is known for and I pulled over to take some pictures for the first chance I had.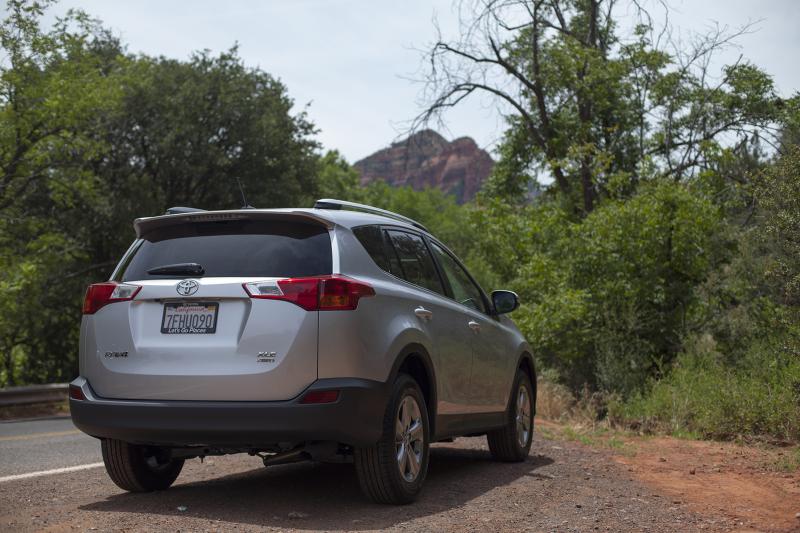 Remember how I talked about "bad luck" in the beginning? Someone threw a brownie at the back window of our RAV4 when we pulled over to take pictures. I had taken a picture of the RAV4's rear end when I had pulled over and when I went around to the back again I saw that it was everywhere. The impact was in the middle of the window but large chunks had flown upward toward the spoiler. I checked the picture I took of the RAV4 when I first pulled over and confirmed that there was nothing there when we first had pulled over.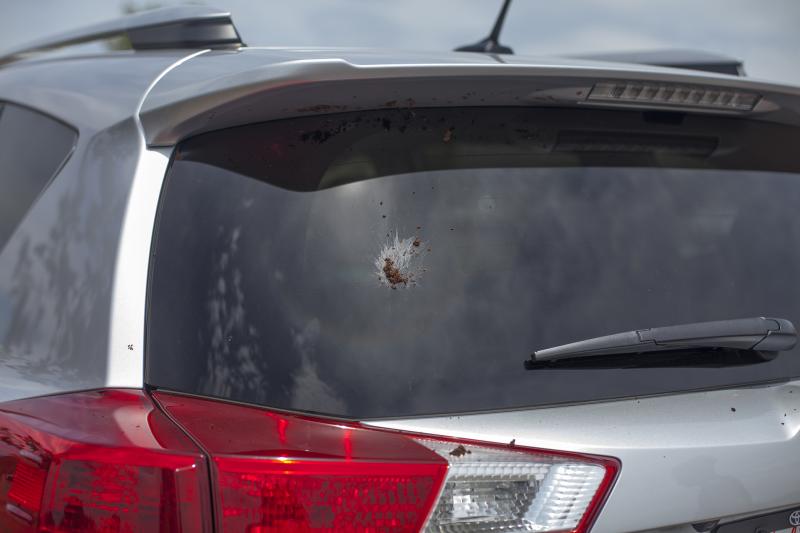 I drove toward a vantage point on the Sedona airport where I was able to wash off the splattered brownie off the RAV4. I took a small food break and drank my first five-hour energy.
After our small break was done we headed toward another iconic landmark in Sedona- McDonald's. The Sedona McDonald's is unique in that the golden arches have been changed to a olive green color to fit in with the surrounding environment.
As we got up close and personal to one of the larger rock formations, my bad luck increased. My camera strap broke off and my camera fell lens first from my shoulder onto the hard, rocky ground. When I picked it up, I let out a sigh of relief, as the lens glass wasn't broken. I then tried to take a picture, and noticed that the autofocus had broken. I switched the lens to manual focus only to discover that it wouldn't work either. The focus system was completely broken.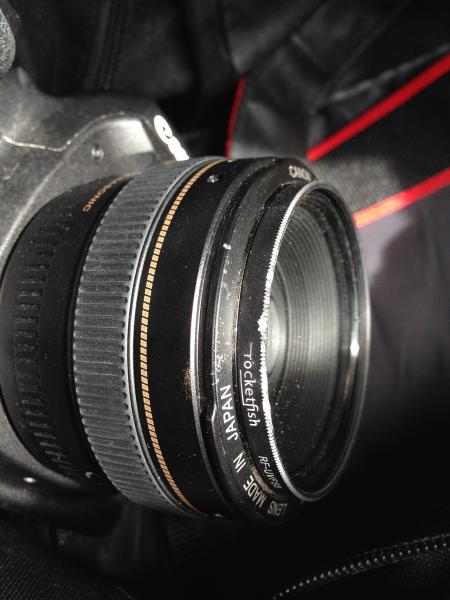 We headed toward an off-road area with the image of my camera falling to the ground still fresh in my head. The off-road area I had found was very rocky and had a small climb.
I checked to make sure that the RAV4 would make it and engaged the center differential lock. The RAV4 effortlessly pulled itself up the rocky embankment, despite being on standard road tires.
Now the All-Wheel-Drive crossover thing started to make sense. The taller ground clearance means you can go off road without scraping on rocks and other foreign objects, and the All-Wheel-Drive prevents you from getting stuck (for the most part).
At around 3 PM we decided to head back, so we topped the RAV4 up with Arizona's inexpensive gasoline and prepared for the long drive home. My friend opted to sit in the backseat (which in the RAV4 has the option to recline).
I punched my address in the RAV4's GPS and was only given one route choice. The direction it was attempting to take me in wasn't one that I was familiar with, but I trusted the GPS and followed it anyway. After about 15 minutes I realized that the GPS was making me drive toward Phoenix and I got stuck in the mother of all traffic jams.
I looked at the GPS and died inside when I saw that Phoenix was 46 miles away from where I was and to top it off the road I was on only had two lanes. A string of complaints from my friend led also led me to turn the stereo completely off. Not only was I extremely bored, but I was losing valuable time and fuel by being stuck in traffic.
After what seemed like an eternity, the two lane freeway transitioned into multiple lanes, allowing me to build up speed. As I was traveling through Phoenix, A Volkswagen 4R32 blew a tire into two pieces in front of me, both which came flying toward the RAV4. I was able to dodge the first chunk, ,but ran over the second one. As I was thinking about how today was just a large mess of bad luck, the maintenance required light came on.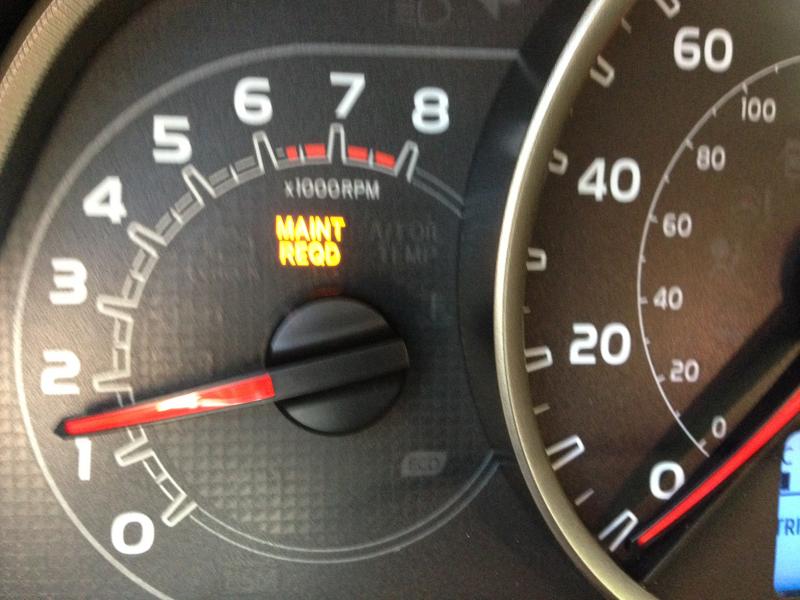 In a normal situation, I wouldn't be as worried about a maintenance required light, but since I was 400 miles away from my house when the light ticked on, I began to panic.
I took the first possible exit off the interstate and pulled into a gas station and inspected the car. Visually, there seemed to be nothing wrong; no fluid leaks, no visible damage. The engine temperature was normal even in the 100 degree Phoenix heat.
I pulled back into the interstate and phoned a friend of mine who also is an automotive journalist, who suggested to just let the engine stop for a while.
I pulled over again and shut the engine off. While I was stopped I dug into the owner's manual and discovered that the maintenance required light would come on 5,000 miles after it was first reset. I checked the odometer and noticed that the car was at 5,009 miles, meaning that there was nothing wrong with the car. I gingerly went back onto the interstate, heading for home once again.
With a monotonous, music-less drive I set my attention toward getting us home. The GPS stated that we would get home around 11:30 PM, right around where I had estimated we would before we left that morning. I didn't want to have to stop for gasoline in California as it was so much cheaper in Arizona, so I scanned the road signs for a list of cities that were coming along.
The plan was to drive on the current tank until I got to a point where the distance to get home was less miles than a full tank. That way I could have some gasoline left over and would save time and money by not having to stop again. I pulled over in Vicksburg, making sure that it would be my last fuel stop.
After burning through about 50 miles of the tank, I checked the distance from my house and the current range. I noticed that the range was dropping like a rock, but the distance to home wasn't. I was originally expecting to have around 60 miles of range remaining when I got home, but this figure had dropped to 50.
Around 20 minutes later it had dropped to 45, and to 39. Once it had hit 35, I started taking drastic measures to stop the distance to home from overtaking the range. I began to use the A/C in short bursts rather than it being on all the time. This proved to be incredibly difficult as the outside temperature was a whopping 108 degrees. I began to be extremely gentle with the throttle to prevent the transmission from downshifting. I checked the estimated range that would be remaining when I arrived home, which had ticked up to 36.
Since I still wasn't allowed to listen to music, I used hypermiling as a way to entertain myself. I constantly subtracted the current range from the distance to home and watched the range I would end up with go up. The 35 went to 40. The 40 went to 45. Once I had hit 48, I took my second 5-hour energy.
As nightfall rolled by, the outside temperature was still a sweltering 102 degrees. I wasn't having a problem with staying awake, but I was having a huge problem with being uncomfortable. The RAV4's suspension was battering my bones, the wind noise was hammering my ears and being very careful with the throttle had led to a very painful cramp in my right thigh.
When the GPS indicated 200 miles remaining, I had to stop hypermiling as the cramp in my leg had become unbearable. I watched all my hard work disappear as the final range went dropping from 52 miles as I switched the cruise control on. At 150 miles reaming, when the final range had dropped to 36 I switched the cruise control off and began to build the mileage back up.
Once I hit 100 miles to go I put my foot down because I just wanted to go home, sick of the music-less drive. Once I got on the 91 freeway, I used a blend of hypermiling and power to fly toward I-110.
At 11:20 P.M. I rolled into my driveway with 48 miles of range remaining and an extra $80 I hadn't used. I had been on the road for 19 hours and driven 1,030 miles in a single day, averaging 25.8 MPG overall.
If there's two things I learned from all this it's that this was a stupid idea, but it was a stupid idea that was (somewhat) successful one. The other thing I learned? The RAV4 is really uncomfortable for long road trips.
NOTE: Regarding the Maintenance Required light, Toyota has verified that the RAV4 is OK to drive.
Reach Staff Reporter Amou (Joe) Seto here. Follow him on Twitter here.