Music
Interview: Outcast Republic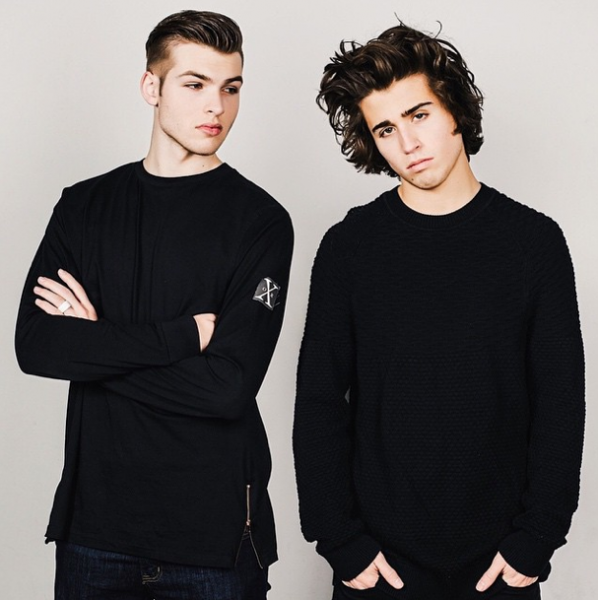 Solo artists Edgar Sandoval Jr (20) from Cincinnati, Ohio, and Levi Mitchell (17) from Arizona join forces in forming the latest duo: Outcast Republic. Although original tracks are yet to be released this summer, get to know the boys before they start becoming a household name. They've opened up about their pasts on being picked on in school while pursuing their passions, and shared their celebrity crushes and biggest pet peeves.
Follow them on Twitter and Instagram @OutcastRepublic or on their individual accounts @LeviMitchell and @EdgarSandovalJr.
NT: First of all, how did you two meet?
Levi: We actually met at an audition. That's where we first met in person but we knew of each other online and we always kept in contact, and we both knew that we both believed in Jesus so why not be friends? Other than that, we kinda just kept in contact through Twitter and then we finally met at an audition in Nashville, and then we hit it off like…I've never hit it off with someone like that before so it's pretty awesome.
Edgar: Yeah…I mean I agree. So the audition in person, it was for a band. There were like 20 guys there --a couple of people with their parents. We made a bunch of close friends but we became best friends at that audition. We ended up turning down that whole thing and just becoming a duo, really.
NT: What was the audition for?
Levi: It was for a group. It was about a year ago when everyone was trying to put together a boy band and to be honest, we thought it was kinda lame still but we were like, it's good experience and we wanna get our names out there. But it ended up, me and him hit it off so…
Edgar: Let's make our own group!
Levi: That's actually funny how that works.
NT: How did you guys come up with the name "Outcast Republic" and what is the meaning behind it?
Edgar: That's all me! Just kidding.
Levi: Edgar came up with the name. That's all him.
Edgar: So I was in high school, and I didn't have that many friends but I had a few close ones and I tried to think of a name for like my clique, really. So I'm in my room one day and I just came up with Outcast Republic; it just kinda stuck and I made a logo for it. I made the name, I had it all drawn out on my computer. I drew the logo on clothing and things like that and when we decided to be a group, we were looking for names and I was like, "well I came up with this one name and it's sort of cool so let's try it out. It's Outcast Republic."
Levi: I had names I came up with when I was little. When I was in kindergarten I came up with the band name called KFC.
NT: Like Kentucky Fried Chicken?
Levi: Yeah, exactly Kentucky Fried Chicken but it stood for something else. I think it stood for Kids For Christ or something like that. But I had all kinds of stuff. I couldn't even tell you. We had a bunch of friends try to come up with names as well. We were just hitting bricks when it came down to names, so.
READ MORE: Milky Chance Talk Music And Touring In American Head of Coachella Weekend Two
NT: What made you guys want to pursue a career in music, and when did you start?
Edgar: Well for me, I played drums since I was 15 years old and I started singing for real, my senior year of high school. That's when I started posting just a couple videos on Youtube. I don't have a lot –and I started recording myself and my parents said, "maybe you should pursue this." So I was like okay. It's weird, I've only been doing this for two years now.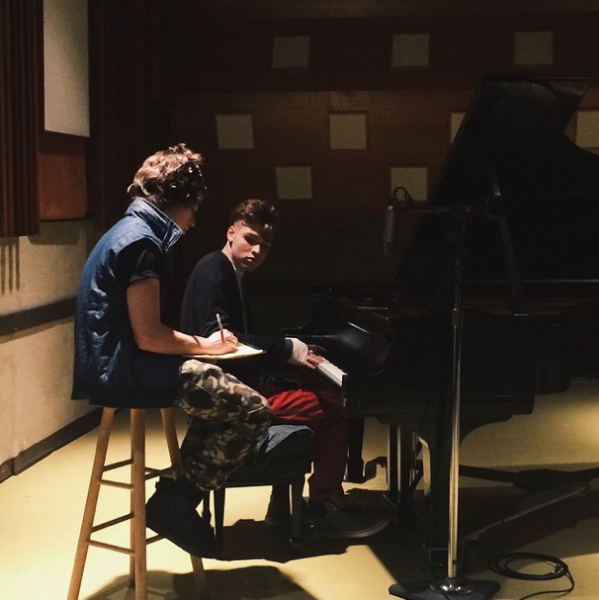 Levi: For me, it's almost polar opposite. I grew up in a musical family. I was dancing in my mother's womb supposedly. I fell in love with music at a very early age. For as long as I can remember, I've always wanted to play piano, play guitar, wanted to dance. I've been singing forever…For me, I've probably been doing this for about 17 years but professionally, about 4 or 5.
NT: Can each of you share a story or a fun fact not that many people know about you.
Levi: Should we do it for each other?
Edgar: Well, if you're ever around Levi in the early mornings, he will stare at you while you do everything. While you get your breakfast, he will watch you. Just watch you.
Levi: I'm an observer! It's not like I choose to stare at him. He's the only other person up at that time! There's nothing else to look at other than him. I find Edgar very interesting. The normal things you find everyone else does the same, he does differently. So he's very entertaining. For Edgar, when he walks around the house, he's always breathing. But like…it's not a whistle but…I don't know how to explain it.
Edgar: Okay, while my dad and I are in the car and we're driving late, he does this thing *whistle/breathes in tune*.
NT: A soft whistle?
Edgar: It's a soft whistle, but it's like air. And I do it all the time.
Levi: But he doesn't do it in public! Only at the house.
NT: I know that you haven't released any of your own music yet –when can fans be expecting an album from you? Are you working with anyone right now?
Levi: Yes, we are. Right now we are signed to a production deal. Push Music Group. We are working on an EP, working on a video, and all I can say is that it's awesome. We are trying to make an early summer release so very soon. It's not the type of music you expect to hear from us probably.
NT: What kind of music is it going to be?
Levi: I would say it's very funk pop driven.
Edgar: It's not like teeny-bopper pop or EDM or anything like that.
Levi: We're trying to make everything a real instrument. If we can, we try to play everything by ourselves. We like to keep everything real.
NT: Who are your musical inspirations?
Edgar: The people that influenced the stuff we've been doing, I would say so far, I can think of two: Justin Timberlake and Pharrell.
Levi: Definitely Pharrell's earlier stuff, when he was in The Neptunes. Uhm, and definitely Earth Wind and Fire. Basically the old funk groups and R&B.
Edgar: But it's new. It's our own spin on it.
NT: Do you guys write your own lyrics?
Edgar: Yes, we do.
READ MORE: 5 Questions With Wolf Alice
NT: Where do you guys draw your musical inspiration?
Edgar: I mean I've written stuff that I've experienced from my past whether it's like girls or love interests, but I've written things that I can not relate to. But they've turned out to be one of the best songs I've written, and when we write together, it's weird. Because we can write about anything.
Levi: Growing up, I've always written stories, poems, songs…mainly songs because music was just my love. Where do I draw my inspiration? Everything. I could write a song about this Starbucks that we are sitting in front of. But I've written songs about stuff I've never experienced, especially when it comes to dating, actually. I've never had a girlfriend. So, whenever I write a song about love, it's very awkward at first but then I get into the flow of it. It's very easy for me to write anything, especially when I hear people's stories. I just find song writing to come very easily and naturally.
Edgar: I have to agree though, because I've never had a girlfriend either.
NT: Well I guess it must be hard with the crazy lives you guys have been living.
Levi: Well serious time, I was bullied a lot in high school, so I was never seen as the cool kid who got all the girls. I was just that kid who like, if I told you I liked you, guess who's becoming their best friend? I got friend-zoned so quick. In high school, I try to keep quiet that I was a singer because in middle school I felt that all the girls liked me because I could sing.
Edgar: And that's kind of where our name Outcast Republic comes from. Where we both have to deal with rejection, whether it be because we're both musicians. Like, I know when I started posting videos on Youtube, people didn't accept me for that. Especially guys. A bunch of insults, things like that.
NT: Well look where you guys are now. Are you guys excited for the people back home to see you?
Levi: Not really.
Edgar: *Laughs* Same. Not at all actually. Except for my family. My actual family.
Levi: Because no one else cared in high school. No one else cared what I was actually doing. They just thought I was some kid in a small town in Arizona who was trying to do music. And now that I've moved out here, they see me on a couple Disney Channel shows, on commercials, and stuff like that, and they're texting me like "What's up?" And I'm like, "Who's number is this?" *Chuckles* Where I'm from, you're praised if you're normal.
Edgar: Normal's boring.
Levi: Everyone was like, just be on the down-low. What's the point of that? I like being loud!
NT: Where would you like to be in a year from now?
Edgar: At the Grammys accepting an award.
Levi: I would like to have a hit song on the top 5 Billboards. Next year, I would like to have the hit single of the summer. Which I think we have one now…if we have the right promotions, I think it could happen. Next year, I would just love to be winning an Artist of the Year award or something.
Now for some more fun questions:
NT: Celebrity crush?
Levi: Camilla Cabello from 5th Harmony. But growing up, I thought I was going to marry Lizzie McGuire so Hilary Duff and then actually right now, I'd say Tori Kelly.
Edgar: Barbara Palvin.
NT: Favorite TV show?
Levi: I love super heroes so I like watching Arrow, The Flash, or Gotham or…I like, actually, skip all of those answers. The Walking Dead is my favorite. It's the best.
Edgar: I'm at a toss-up between The Office as my comedy one, but I also really liked Heroes. I was mad that they cancelled it.
NT: Favorite movie?
Levi: I have a long list of movies. I don't think I've ever been able to pick a favorite. Comedy, I would say Step Brothers. I love Step Brothers but it's not my top. It's tied with Happy Gilmore, Billy Madison, and a lot of Adam Sandler old movies…or Ferris Bueller's Day Off. I like old movies.
Edgar: My favorite movie would be How to Train Your Dragon.
NT: First concert?
Levi: Mine was Casting Crowns and Building 429. It was a great concert, by the way. Look them up!
Edgar: I think it was just some small town Cincinnati group. My first big show that I went to, my sister wanted to go to a Selena Gomez concert so I went with her to that.
READ MORE: 6 Style Trends For Summer 2015
NT: Biggest pet peeve?
Levi: I'd like to say I don't have pet peeves but bad listeners.
Edgar: He's pointing me out right now. I mean when I'm given direction, I can't take more than 2 to 3 tasks at a time.
Levi: But I can't blame you because I'm the same way. I'm not here to bash on him but Edgar's getting better.
Edgar: Mine is when people put feet in my face.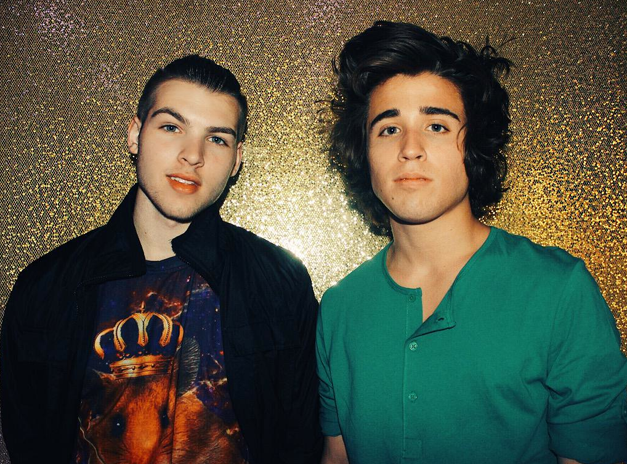 NT: Your favorite place in the world?
Edgar: London.
Levi: My favorite place that I've been is probably Canyon Beach in Oregon. It's where they shot The Goonies. It's really cool, the rock is still there. Honestly, if I could ever just move and retire somewhere it would be Canyon Beach.
NT: Your ideal first date.
Edgar: Paris…just like a side-street restaurant that's nice. Not just some janky-little place.
Levi: To be honest, this might be too far for a first date but I'd love to go where she's from and just learn about her.
NT: Dream location?
Edgar: Geneve, Switzerland. I lived there for two months. Or if I end up staying in the US, where there are just a bunch of planes and hills.
Levi: For me, it would be Canyon Beach Area or Seattle.
NT: Travel location for a week.
Levi: It would probably take a week to get there, but Australia.
Edgar: Puerto Rico.
READ MORE: OK Go At The Wiltern: Show Review
NT: An embarrassing moment.
Levi: It's really hard for me to get embarrassed because I'm really open about everything but probably having my fly down for almost a whole-acoustic set and I couldn't see it because the guitar was in front of me…I just felt wind going in there and then I was like, what are these girls zooming in on, on the camera?
Edgar: My most embarrassing moment would be…life. My life is an embarrassing moment that you just gotta learn to embrace sometimes.
NT: Something on your bucket-list.
Levi: Skydiving (until he found out you have to be 18 years of age in California)…Squirrel-jumping.
Edgar: It's not something crazy but I would like to own a husky. It's something that I would like to do before I die…I would like to own a dog and my favorite dogs are huskies.
NT: Any tattoos or if you would get one what would it be.
Levi: Yes, my dad has a tattoo of a sun and then my name under it. So then I've always thought about getting a tattoo of my kid but then I think about what if I have seven kids? But I've always wanted a tattoo.
Edgar: Yes. Mine would be just like a bible verse that's important to me.
Reach Staff Reporter Moera Ainai here.