Music
Milky Chance Talk Music And Touring In America Ahead of Coachella Weekend Two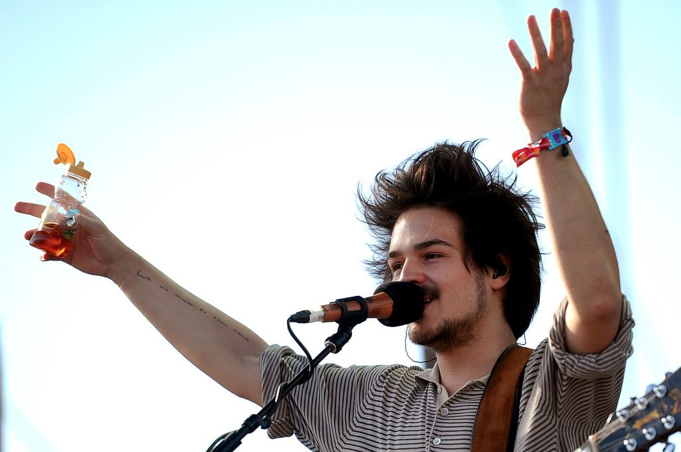 The unstoppable German duo Clemens Rehbein and Phillipp Dausch form Milky Chance, known for the chart topping single "Stolen Dance." Their album "Sadnecessary" was released in October 2013 and they've been rising to the top ever since.
With their unique sound, influences from both folk and electronic music, their fanbase continues to grow from music lovers of all genres. They just killed it at Weekend 1 of Coachella despite the fact that the lead singer, Clemens was sick. They will also be performing at Weekend 2 of Coachella in Indio, California, as well as their own headline show at the Mayan Theater in Los Angeles on April 16th. Get your tickets here. If you can't make it to those events, don't miss them while they're in your city on their North American Tour.
If their quickiness and European energy isn't enough for you, their talent is absolutely out of this world. I caught up with the voice behind the band, Clemens in an exclusive interview.
READ MORE: Celebrities Spotted During Weekend One
NT: What's it like having this immense amount of success at such a young age (21 years old)?
Clemens: It's crazy. I mean…yeah everything went by really fast. It was surprising. It's a big deal. Big thing.
NT: So your fans are incredibly excited to see you on the Coachella line up. Have you played at any other music festivals in the past?
Clemens: Festivals? Yeah. I mean we played a lot of festivals last year and a year ago. Like all over the place.
NT: Which ones?
Clemens: Oh man, there are so many. A lot of festivals in Germany…a lot of festivals from Switzerland, Austria…
NT: Is Coachella the biggest festival you'll be playing it?
Clemens: I don't really know. I mean, I don't know exactly how many people are in front of the stage. But we are playing on the main stage. I guess we played some festivals that are the same size and just as big as Coachella.
NT: How did you guys get asked to play at Coachella?
Clemens: Oh man, I don't know. *laughs* Someday, our manager told us that we have the opportunity and that we're gonna do it. I mean it was some time ago, like, I think around October?
NT: How is it different from playing your own private show, like you will be playing at the Mayan Theater in LA on the 16th, as opposed to music festivals? Do you prefer one over the other?
Clemens: I don't prefer one, I mean, I like both. I think the difference is that to play your own show, like your own headline show, all the people come to see you. So they might expect something from you or even expect more…and they focus on you and your music. But at a festival, It's like maybe…I don't know, less than half the people that know you. And some of them aren't caring about the music. It's a different situation.
NT: But you can create a bigger fan base that way.
Clemens: Yeah, but it's fun because yeah, people at the festival, if they are open to discovering new stuff…that's a good chance that at a festival, they can get into new music that they've never heard before. Very spontaneously, if you wanted.
READ MORE: Best Social Media Posts of The Week
NT: Yes, definitely. I heard that your first time in America was last fall, what have been your favorite parts of America so far?
Clemens: Favorite place? I don't know…I mean, we've seen a lot of places but I guess there are so many more. It's very exciting to get an all and all overview of the country and an all and all experience from the country because I think it's very diverse. It's fun to look at the different areas like on the east coast and the west coast. People can be very different from each city…and the weather is very different.
NT: Do you have a favorite junk food place yet?
Clemens: Hahahaha…I can only remember one and it's uhh...a burger restaurant in a yellow train. We were in a hotel that I can't remember the name of but it was right next to there.
NT: Where do you see yourself in a year from now?
Clemens: In a year, well uh…producing new stuff I guess. Hopefullt already done, already finished with the second album and start touring again.
NT: What do you expect to see at Coachella?
Clemens: From Coachella, a lot of people have told me about the festival that it's a very nice area and I expect kind of that there are a lot of people who are trying to look good. Everyone told me about that there are so many people caring about their outfits and stuff.
NT: Unfortunately, I am one of those people.
Clemens: Yeah that's one thing about it but I expect a lot of nice act and to get some good concerts in. The line up is pretty good so I'm just trying to see some of the other artists.
READ MORE: 6 Up-And-Coming Acts That Are A Must-See at Coachella
NT: Who do you think is the most exciting person on the line-up?
Clemens: For me…I don't know. I mean I would love to see Alt-J. I really wanna see them. Hozier, as well. Jack White maybe…I mean we only got the day we play at the festival so…I'll have to look it up. I don't know who's playing on that day so I'll have to check out the line up again and see what I can see.
NT: Lastly, what can the fans expect from you guys at Coachella and at your show in LA at the Mayan Theater during your North American tour?
Clemens: Well they can expect…well we always really enjoy being on stage. We have a lot of fun. It's a bit more energizing if you compare us [on stage] to the records.
Reach Staff Reporter Moera Ainai here.