Film and TV
'American Idol' Says Goodbye To The Music Industry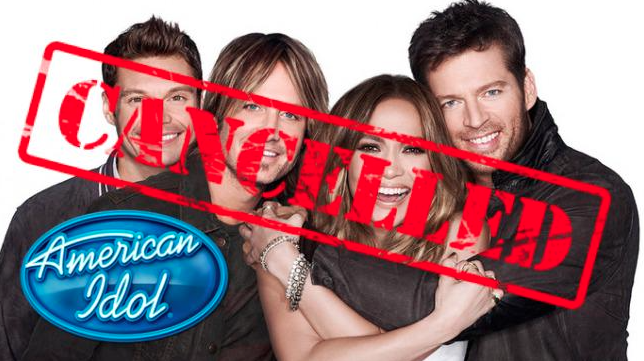 Whether you're an "American Idol" fan or not, it's hard to deny that it impacted a generation of musicians, singers and music listeners/consumers.
The announcement of the show's cancelation has created a buzz. "Idol" judge Jennifer Lopez recently spoke about her feelings toward the show's end to E! News host Giuliana Rancic at the Billboard Music Awards.
What it has done for the public is different than what it has done for the music industry, though they are connected. Musicians have expressed their thoughts about TV competition shows such as "American Idol," and they're not all positive.
Nirvana and Foo Fighters member Dave Grohl told Sky Magazine, "It's destroying the next generation of musicians! Musicians should go to a yard sale and buy an old f****** drum set and get in their garage and just suck... then they'll f******* start playing and they'll have the best time they've ever had in their lives and then all of a sudden they'll become Nirvana. Because that's exactly what happened with Nirvana. Just a bunch of guys that had some s***** old instruments and they got together and started playing some noisy-a** s***, and they became the biggest band in the world. That can happen again! You don't need a f****** computer or the Internet or 'The Voice' or 'American Idol.'"
READ MORE: Film Review: 'Pitch Perfect 2'
The Toronto Sun reported that one of the negative aspects about "American Idol" is that it promotes one genre of music: Pop. In 2008, we saw contestant Chris Daughtry bring in Rock 'n' Roll. He made it through to the final stages, but didn't make it to the end. That didn't stop Daughtry from making a name for himself, even though he lost.
"American Idol" has done a good job with promising their contestants fame, loser or winner; winners Kelly Clarkson, Fantasia Barrino, Carrie Underwood and even Taylor Hicks, to name a few; losers, Chris Daughtry, Jennifer Hudson, Katharine McPhee and Adam Lambert.
Fame is an important aspect to being successful, so well done to "American Idol" for that; but "Idol" has taken away musicianship. Playing an instrument isn't required anymore to sell an act. We say goodbye to the concept of a band and hello to solo acts that can be found on YouTube (Justin Beiber anyone?) or a TV talent show. In the meantime, a show like "American Idol" packages the gift of a record deal in false wrapping paper. Artists don't get a record deal, but a production deal, where all the artists' songs are owned by 19 Entertainment, which is a producer for the show.
In January, Hollywood Reporter broke news of season 11 winner Phillip Phillips filing a legal claim about 19 Entertainment. According to the entertainment news outlet, Phillips complained about the company providing a producer for his first two albums, which went against his interests. The company also lied about his and the producer's mechanical royalty rates (producer earned more).
"I am very grateful for the opportunities provided to me through appearing on American Idol," Phillips said. "The value that the fans and the show have given to my career is not lost on me. However, I have not felt that I have been free to conduct my career in a way that I am comfortable with."
We say goodbye to "American Idol' as its ratings have dropped. We have seen a shift since the original judges left the show. No matter the drama, consumers have seen success and failure during and after "American Idol," the show that changed music on television and the music industry.
Reach TV Editor Tanya Mardirossian here. Follow her on Twitter.