Film and TV
Film Review: 'Pitch Perfect 2'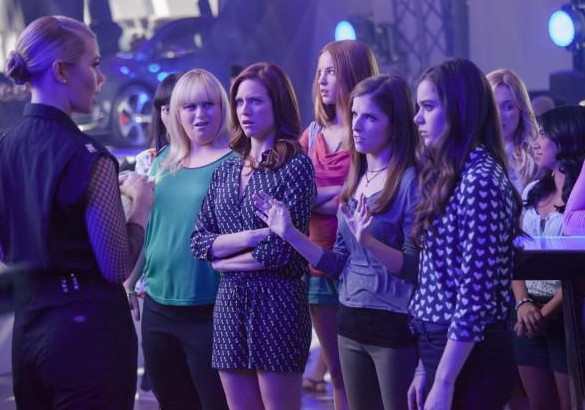 As opposed to the first film, we see most of the romantic struggles happen with Fat Amy (
Rebel Wilson
) rather than with Beca (
Anna Kendrick
). What we do see in common with all the Bellas, including newbie Emily (
Hailee Steinfeld
), is the struggle with identity and the future.
Though the film is worth seeing in theaters for the comedy, the film seems choppy. "Pitch Perfect" sold itself to the audience because it was funny, music-filled and included an environment that made sense for the plot. In this film, we see the Bellas have their own house like a sorority. They skip around to different venues that are filler scenes until the ending venue in Denmark for the world championships (which makes sense).
Perhaps it was the intention of the film to be choppy, so we understand that the Barden Bellas are spinning in a downward spiral as they search for their Bella voice after a couple of shameful performances. Continuing with the choppiness, Skylar Astin is present for a song, drops Beca off at her internship at a record company (where we see Snoop Dogg as one of the highlights of the film), disappears for majority of the movie and reappears for a small ending scene.
READ MORE: Get Pitch Slapped: 5 Things To Look Forward To In 'Pitch Perfect 2'
The best part of the film? New songs. We don't hear the Bellas singing the same songs over and over like in the first film. As a result, we see new songs incorporated in funny scenes, which build up to what we expect to be a great ending. Yes, the Bellas are graduating as they welcome Emily as a freshman legacy, but the ending was a disappointment, as we expect the girls to end with a bang.
Naturally, we see Emily take the spotlight as a talented songwriter and shy singer as the rest of the girls prepare to graduate. "Pitch Perfect 2" leaves room for the possibility of future films. But let's face it: bringing in a completely different cast with Hailee Steinfeld as the new Anna Kendrick just isn't going to have the same effect as any of the existing films.
As a director and producer, Elizabeth Banks stayed true to keeping the comedy in check and the former cast in tact; but please, let's end it on the somewhat good note.
Reach TV Editor Tanya Mardirossian here. Follow her on Twitter.