USC Sports
USC Football Fans Must Temper Expectations For 2015
Welcome to the offseason in college football. A day after Ohio State's victory over Oregon, the corpse of a historic and surprising 2014 season isn't even cold yet, and still predictions for next year's top 25 rankings are coming out in droves, self-reflexively warning readers that they are "way too early". We've barely sat shiva and we're already reserving a coffin for the next funeral.
Amazingly, within 24 hours of the end of the season and the demise of the Mariota era at Oregon, there is already a consensus among interweb experts on who the favorites to win next year are. The early picks are Ohio State and their three-headed quarterback, Big XII co-champion TCU, perennial SEC juggernaut Alabama and…USC.
One of these things is not like the other.
ESPN's Marc Schlabach has the Trojans ranked fourth in his "way too early" 2015 rankings and numerous ESPN analysts have predicted USC to represent the ultra-competitive Pac-12 in next year's College Football Playoff.
The pre-pre-preseason respect is nice and all, but where on earth is it coming from?
The Trojans, under first-year head coach Steve Sarkisian, posted a 9-4 record and went 6-3 in the Pac-12, winning easy games in convincing fashion and struggling against ranked opponents. The beginning of the Sark era saw the swan songs for future first-round pick DE Leonard Williams, workhorse RB Buck Allen, standout WR Nelson Agholor and defensive captain LB Hayes Pullard. It also introduced the Trojans fan base to three-way athlete Adoree' Jackson, speedy WR Juju Smith and rocks on the O-line, Toa Lobendahn, Damien Mama and Viane Talamaivo.
In sum, while there is promise on the near horizon for these Trojans, there are a few holes that need to be filled on both sides of the ball that make these pre-season prognostications all the more questionable.
The opinions of sports pundits, myself included, don't necessarily mean so much at this point of next season - that sentence itself is enough to prove how ridiculous this topic is. Unfortunately, while these pedictions hold no actual weight, they are rather dangerous standards and should be taken with a grain, no, a molecule of salt.
SEE ALSO: USC's Blowout Win Over Notre Dame Sets High Expectations For Next Season
Let me take you back a few years to the Lame Lane Kiffin era. The USC Trojans had just capped off a stellar 2011 season with a 50-0 drubbing over a pre-Hundley UCLA and, still under bowl sanctions, finished 10-2 and ranked fifth in the final AP poll. The bleached babe of Troy, Matt Barkley, announced he'd return for his senior season, making 2012 the most highly anticipated USC campaign since 2005.
USC had the storybook momentum, and the media bought in. Barkley graced the cover of Sports Illustrated (CURSES!), he and his Serra wideouts, Robert Woods and Marqise Lee, were featured in ESPN the Magazine and the Trojans were the preseason favorite to win the Natty.
During the offseason, Kiffin and his staff preached to the players that they shouldn't buy into the hype, leading to the creation of a soon-to-be-ironic battlecry Prep, Not Hype. The phrase was even spray-painted on the Howard Jones practice field, just to ensure that the Trojans understood the message day-in and day-out.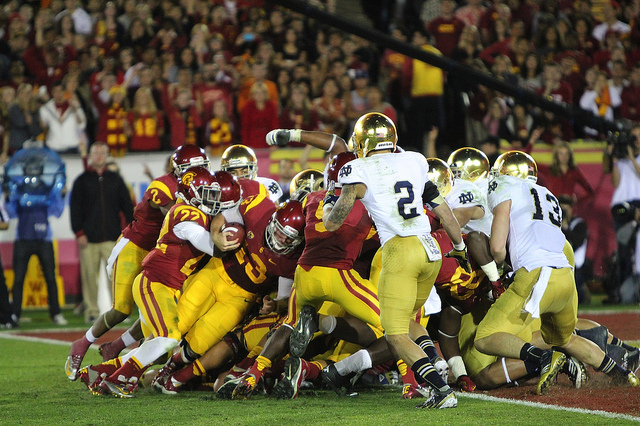 And then…well, you know what happened next. The Trojans fell at Stanford early in the season, lost four of their last five including a heartbreaker to top-ranked Notre Dame, got into an intra-squad scuffle after a 21-7 Sun Bowl loss to Georgia Tech and became the first team in the history of college football to start the season at #1 and end it unranked.
Kiffin didn't want any hype surrounding his team, and by the end of the year, it was clear the Trojans never deserved it anyway.
Here's the lesson, kids: the trouble with ordering players to not buy into whatever hype surrounds them is that they immediately become aware of said hype, and though you can dissuade them against paying attention to outside noise, the noise coming from within becomes equally distracting.
With a #PrepNotHype, Part Deux campaign surely on the horizon, I beg Trojan fans and players to take a step back from the self-fulfilling eye candy that are pre-pre-pre-preseason rankings. Sure, sites like ESPN and SB Nation are ranking USC so high so early because the Trojans deserve some credibility and have a bright future ahead for them; but they also know it's good business to have USC and the bandwagon Los Angeles market in the playoff conversation as early as possible.
We all know college football is better off when USC is successful, or presumed to be. However, we also know that America loves it when a top dog, and an arrogant one at that, falls short of its expectations.
So USC fans, heed my advice, for God, country and university.
Tread lightly. Cool your expectations. Hold your Trojan horses.
Reach Sports Director Jeremy Bergman here. Follow him on Twitter @JABergman.