USC Sports
Offensive Showcase Headlines USC's Spring Game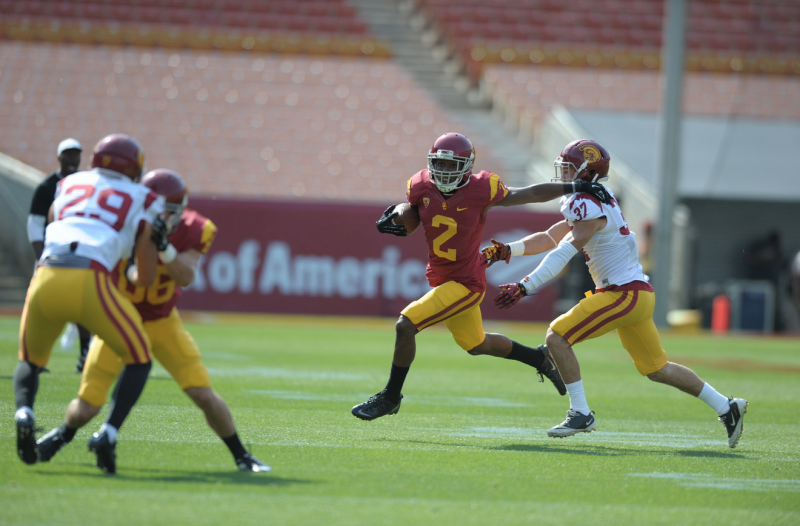 In what was a non-full speed scrimmage, the USC Football team capped off their spring session with the annual spring game, where the offense overtook the defense by a score of 37-23
Thanks to some craftily set up rules, the defense was allowed to accrue points through three-and-outs, scoreless drives and turnovers, while the offense was rewarded for field goals, first downs and touchdowns in their usual fashion.
"All in all, it was a good day for Trojan football," said Coach Steve Sarkisian after the game.
The game—if you could call it that—was four quarters long, with light drills in between quarters.
Perhaps no one stood out among the Trojans more than backup QB Max Browne who racked up 247 passing yards on 37 attempts, completing 24 of them.
"This was Max Browne's game," said Sarkisian bluntly. "He just comes in and he's been making plays."
"I think I made big strides in all areas, like throwing on the run", Browne admitted. "I'm just getting bigger and stronger."
The junior was dropping dimes all over the field, moving well around and out of the pocket and spreading the love around to the other major standouts in this game—the wide receiving corps.
With WR Nelson Agholor headed to the NFL, the dilemma of replacing his numbers and impact continues to to be in good hands, as the duo of JuJu Smith and Steven Mitchell looked very impressive.
"There was a lot of question marks coming in," Sark said in reference to the wideouts. "The receiving core coming out was a real positive ... I was impressed."
Smith had 152 receiving yards on nine catches and a touchdown, while Mitchell had 90 yards on seven catches of his own. Even early enrollee Isaac Whitney showcased what he will add to this already-strong core with 45 yards and a touchdown as well.
The offense as a whole displayed the improvement that has been forthcoming not only since spring began, but since the end of last year's first season under Sarkisian.
"Going back to the fundamentals [this spring] it makes for a much more positive experience," Sark admitted. "They're a much more confident group."
Though the game on the ground was largely inexistent, the influx of incoming fall tailbacks should do well to add that to that facet of the game, especially if the game on the air continues to take form as well as it has.
From the first snap to the final few drives, one could tell that the passing game would be a large focus of this game. Whether it was Browne or starter Cody Kessler, the passes were flying all over the Coliseum, showcasing the high-octane offense Sarkisian looked to bring to the land of Troy.
Some of the passing game highlights:
36-yarder from Kessler to Smith.
"Coming to balance and being patient on my routes and reading the defense," Smith said of his improvement. "Today, I felt like I did that."
31-yarder from Browne to Harris.
"Ajene is Mr. Consistency," said Browne of the wideout. "He's sure-handed and I feel extremely comfortable with him."
60-yarder from Kessler to Mitchell, whose speed and yards after the catch were the reason for the big gain, and a display of how much the wideout has progressed since his injury.
"My ability to make those tough catches playing in the slot," Mitchell said of his improvement from injury. "In the back of my mind, I think I'm going to get hit anyways so I might as well make that catch."
41-yarder from Browne to Smith who caught the ball over his shoulder with ease.
"JuJu's had his camp," said Sark of his No. 1 receiver, while Browne also praised the wideout's continued success and abilities.
Walk-on Christian Tober had the first two touchdown catches—one from Kessler and one from Browne—in the first two scoring drives for the offense.
And finally, a double-pass trick play in which Kessler threw a screen to Harris who then tossed it to a wide-open Smith downfield was called back due to an illegal shift penalty.
--
The defense, on the other hand, was hampered by the scoring format, but nonetheless, they had their impressive moments and standouts. Their highlights included a recovered fumble and an interception of freshman QB Ricky Town.
"I loved our defense's ability to get a couple turnovers," Sark did point out. "Ultimately they got the stops in the goal-line challenge."
LB Su'a Cravens had five tackles, including a couple of them for losses in the backfield, while Kevon Seymour, Matt Lopes, Leon McQuay III and Cameron Smith all had five tackles of their own.
Despite the offensive show, the defense was able to get pressure in the backfield, making both Kessler and Browne have to move and scramble. Coach Sarkisian knows full well, however, that that is one of the biggest needs for improvement headed into next season.
"We need to get healthy and perform in the fall," said Sark of the defensive front. "We need that incoming group of freshmen to solidify that too."
Of course what looms over this squad as they adjourn and head into the summer is the hype that has been following them since the end of last season.
This spring showed they are up to the task of fulfillment, and what's more, some like dual-threat star Adoree Jackson have only added more fuel to the fire by speaking of certain heralded awards.
After spring's final act, the cornerback and wide receiver, who had only a couple catches spoke instead of the team's mindset.
"We don't get too caught up in the rankings," said Jackson afterward. "It's not hard to block it out, we know how we were last year, we just know we need to take it day by day."
The sophomore said he's learned and progressed immensely, especially in regards to how much dedication he now knows this game requires of him and how it is truly a "24/7, all-day" thing.
That 24/7 mindset will have to carry on through the summer now, as the Trojans look to achieve their high hopes and dreams in the fall.
"We obviously still have a lot of work to do to get ready for fall camp and to get ready to play," Sarkisian made sure to reiterate.
So far, from the coach to the stars, this team is showing the awareness and knowledge that they know what it takes and are striving toward that ultimate goal. Saturday's spring game was the end of the first stage and now, the countdown to kickoff begins.
Reach Associate Sports Editor Paolo Uggetti here, or follow him on Twitter at @PaoloUggetti.