Sports
Trojans Lose First Series Of Season To UCLA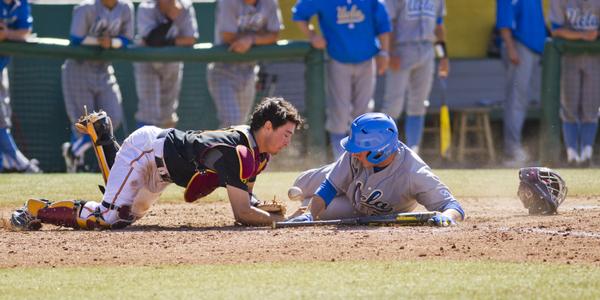 The Trojans (26-8) simply couldn't get their bats going Sunday afternoon as they fell 8-3 to UCLA (25-7) in front of another packed Dedeaux Field crowd. The loss marks the Trojans' first series loss of the season and another step back in the Pac-12 standings.
After a decisive shutout win by the Trojans the previous night, UCLA pitcher Griffin Canning consistently held USC at bay offensively. However, the Trojans seem to believe that they were more to blame for their offensive woes.
"We just didn't do a very good job of staying over the ball," head coach Dan Hubbs noted, "We talked about it and we had too many high fly balls. If we try to stay low and hard I think we get different results."
"I think we got ourselves out a lot." first baseman Jeremy Martinez added.
READ MORE: USC Falls Flat Against UCLA in Series Opener
UCLA struck first with a sacrifice fly from Ty Moore, but USC answered back quickly with a run off of a Bruin error and a two-out, RBI single from Dante Flores. Moore logged his second RBI of the day in the third inning to tie the score up 2-2. Freshman pitcher Mitch Hart and Canning went head to head for the next three innings in a tough pitching battle. Hart retired nine batters in a row while Canning shut down 12 consecutively.
Hart began to struggle a bit with his location in the top of the 6th and UCLA took advantage. Moore sent yet another baserunner home with an RBI double to center. After snagging a hard line drive to left field, Bobby Stahel made a superb throw home, but catcher Garrett Stubbs could not hold on in a heavy collision with Moore. Darrell Miller Jr. increased the lead to 5-2 with a solo home run that put Hart on the bench for the day, leading to his first loss of his career.
The Trojans showed some life in the bottom of the sixth with a double from Stahel, extending his hitting streak to 17 games. Martinez drove in Stahel with a sacrifice fly to make the score 5-3, but that's where the offensive productivity stopped for the day.
Relief pitcher Marc Huberman's impressive two innings provided a positive take-away from the loss. The lefty held the Bruins hitless and struck out two. Junior Kyle Davis came in for Huberman in the top of the ninth after a three-week hiatus due to a groin injury. Davis struggled in his first appearance since March 22, letting up four hits and three runs to make the score 8-3.
READ MORE: USC Bats Light Up Early, Take Down UCLA
"We just need to work on being down in the zone," Hubbs said of the reliever's troubles on the mound, "I thought he was a little bit jumpy off the rubber and the ball was elevated. We'll get him right back out there and try to knock the rust off because for us to be the team that we think we can be, he's gonna be a big part of it as well as Marc in the back of the bullpen."
Martinez spoke about using this loss to improve as a team saying "We kind of beat ourselves today and we're just gonna learn from it and remember it, because I'm sure we will see them down the road and we'll just play a better ball game next time."
The Trojans head to Pepperdine on Tuesday and are looking to take advantage of some key Pac-12 match-ups in the next couple of weeks as they try to rise up in the conference standings.
Reach Staff Reporter Carly Fasciglione here or follow her on Twitter.