USC Sports
USC Falls Flat Against UCLA In Series Opener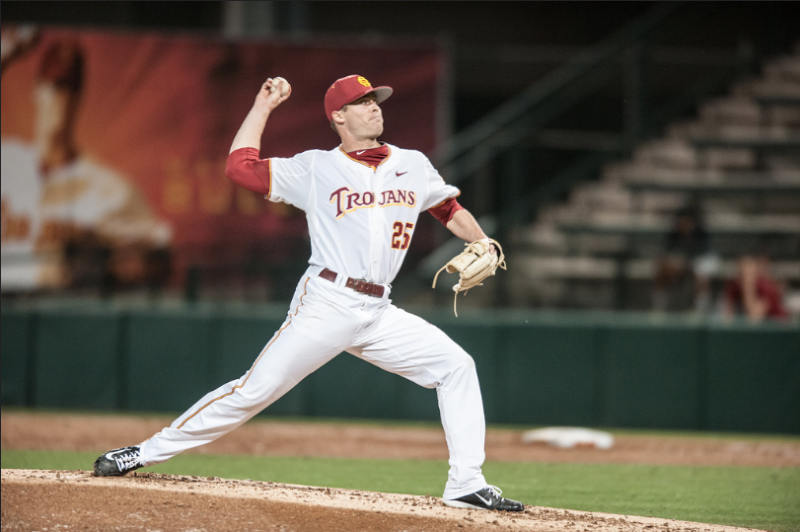 A promising week for USC baseball has quickly turned sour after back-to-back home losses.
The Trojans fell to crosstown-rival UCLA Friday night, 9-3, in a contest that escaped USC's grasp on numerous occasions.
USC struggled with runners in scoring position against the Bruins, leaving 11 men on base and blowing several opportunities to narrow the lead early on.
"We had plenty of opportunities to make it a game or take the lead," head coach Dan Hubbs admitted. "It was going to come down to who could make a big pitch, a big hit, a big play and today they did all three. We didn't."
The Bruins got off to a hot start, plating three in the first inning thanks to a Ty Moore home run off the scoreboard in right field.
A three-run homer from UCLA center fielder Christoph Bono salted this one away in the seventh inning.
Wheatley's stuff wasn't nearly as dominant as he could have been. He recorded just one strikeout, a season-low for him, and surrenderd five runs. In his last three starts, Wheatley hasn't been able to go longer than 5.2 innings and has struck out just five batters combined.
"I didn't think Brent was very sharp," Hubbs admitted. "He just didn't look right. He competed, but it wasn't good enough."
SEE MORE: Sports SCene: Episode 10
Hubbs claims that Wheatley hasn't been the same since he missed a start at Cal Poly with back spasms. But that's not an excuse.
"He's facing better players and better teams," Hubbs claimed. "Still, he just hasn't been sharp with any of his stuff."
His production is a far cry from his early season stats and Wheatley may be showing signs of fatigue, throwing 107 pitches in just 5.1 innings of work Friday.
On the other side of the mound, James Kaprielian held USC at bay, throwing six innings of two-run ball with six strikeouts. He let Trojan batters on base in every inning except the first and sixth, but Kaprielian never surrendered any big hits.
"We had the guys on," left fielder Bobby Stahel said. "But we couldn't come up with a big hit like they did."
Stahel continued his torrid pace at the plate with a seventh-inning home run to deep center field. He now has a fifteen-game winning streak.
"I've been going up to the plate thinking hard up the middle," Stahel commented. "It's paid off for me."
After the Trojans' historic sweep in Tucson last weekend, USC has now dropped two in a row at home to close rivals. This is just their second two-game losing streak on the season, but the first to come completely at home.
SEE MORE: Cold Bats On A Cold Night Doom Trojans
Dedeaux Field was as lively as it had been all year, packed with both USC and UCLA faithful who couldn't quite make it out to Coachella. But as the game got away from the Trojans, the crowd dissipated and quieted.
USC isn't discouraged despite the lopsided loss to a Pac-12 rival.
"We're going this one game at a time," Stahel assured. "We can't start thinking too far ahead."
"We've been here before," Hubbs closed. "No one game, no one weekend defines you."
The crosstown rivalry will continue Saturday night at 7:30 pm at Dedeaux Field and USC will hope to capitalize on a post-Spring Game crowd.
Reach Sports Director Jeremy Bergman here. Follow him on Twitter @JABergman.