Sports
USC Bats Light Up Early, Take Down UCLA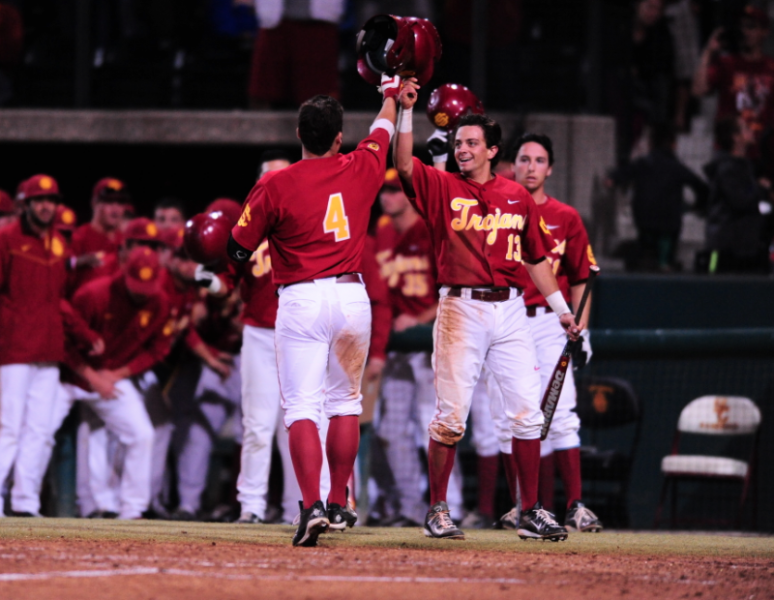 It turns out that all the Trojans needed was a strong start. After losing 9-3 on Friday, USC Baseball scored four runs in the first two innings, then held steady on defense for a 5-0 win over UCLA in front of a packed Dedeaux Field on Saturday night. The sixth-ranked Trojans (26-8, 8-3 in Pac-12) will go for the series win against the Bruins (24-7, 11-3) at 2pm on Sunday.
The number of the night was seven for left-hander Kyle Twomey (6-1, 1.79 ERA), who pitched seven innings of shutout ball, allowing seven hits and finishing with seven strikeouts and the win. The junior allowed UCLA to load the bases in the fourth and seventh innings, but escaped both jams against the Bruins.
On the basepaths, Dante Flores' two-RBI double set the right tone for USC in the bottom of the first, quickly rewarding a standing room-only crowd. In the bottom of the second, a chopper by senior Angelo La Bruna got the shortstop in base. Moments later, junior left fielder Bobby Stahel sent a fastball from Grant Watson soaring over the left fence for a two-run homer, boosting USC's lead to 4-0.
"Your pitcher is able to pitch with more confidence because he knows any mistake he makes isn't the game," said head coach Dan Hubbs on obtaining an early lead. The shutout came a night after USC's 9-3 loss to UCLA, where it was the Bruins who took an early lead and never let up.
READ MORE: USC Falls Flat Against UCLA In Series Opener
"You're able to put more pressure on them," Hubbs added. "We were able to steal a couple of bases. And it limits what they're able to do. They can't take as many gambles offensively when they're trying to play catch up."
After the Trojans' offensive spurt in the first two innings, both offenses kept pressure on the two pitchers. In the fourth inning, Twomey got into a jam after third baseman Blake Lacey fumbled a UCLA grounder to load the bases. But in after hitting a home run against USC on Friday, Twomey got Christoph Bono to strike out and survive the inning without allowing a run.
"It was really important to make sure I went out there and attacked," Twomey said on his approach tonight. "Tonight, I was really able to stay in my game. Knowing the offense was going to score runs was huge."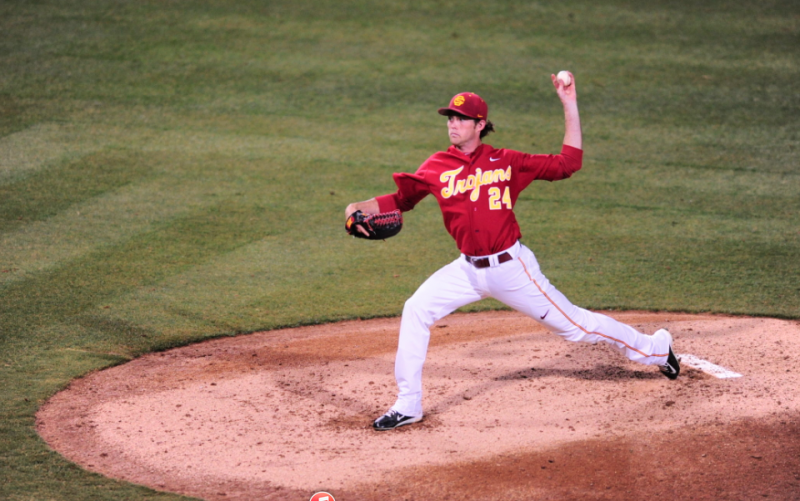 Twomey allowed two men on base in the sixth inning before escaping, and an RBI single by Stahel in the bottom of the sixth extended the Trojans' lead to 5-0. "It was huge to get a run in the sixth. We needed to score one more time to put them away," Hubbs said. Stahel finished two of three with two RBIs and a walk, improving his batting average to .437, good for second in the Pac-12.
The cat and mouse game continued in the top of the seventh for Twomey, as a walk and pair of UCLA singles loaded the bases once again. But just as he did in the fourth, Twomey fanned a Bruin, this time Luke Persico, to escape unscathed.
From there, junior reliever Tyler Gilbert finished out the Bruins. Gilbert wasn't perfect, allowing two hits and a walk in two innings, but worked through the Bruins' lineup to seal the win.
---
Saturday night also meant a packed house at Dedeaux Field, notching a sellout with 2,500 fans in attendance. Adding in the rivalry factor, and it was a crowd atmosphere to be proud of for the Trojans. "This was by far the best crowd I've pitched in front of," Twomey said. "It fueled the fire, and I think our whole team fed off it."
Coach Hubbs put it more simply: "It's hard to lay an egg when you have a packed house." The Trojans are going for the series win against the Bruins on Sunday at 2 pm.
Reach Senior Sports Editor Jacob Freedman here or follow him on Twitter.