Film and TV
James Corden Talks Hosting 'Late, Late Show,' Gives Career Advice To USC Students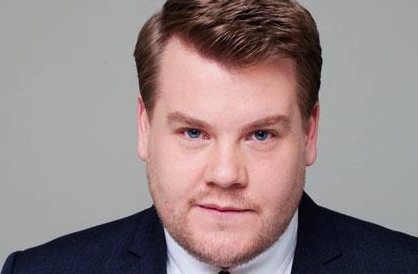 Since "The Late, Late Show with James Corden" premiered on March 23, 2015, late night television at CBS is enjoying a necessary facelift. Corden, who replaced fellow Brit Craig Ferguson, is bringing his voice to the small screen in a creative way.
Already, Corden is off to a successful start — beating out time slot competition Seth Meyers in ratings throughout his first week of shows and creating numerous segments that have gone viral in fewer than 20 shows on the air.
Such early attention is perhaps a bit surprising. Already massively successful in Britain as a multi-hyphenate star, Corden was best-known to American audiences as a theatrical talent. He won the 2012 Tony Award for Best Actor in a play for his role in "One Man, Two Guv'nors," and he recently appeared as the Baker in Disney's screen adaptation of Stephen Sondheim's "Into the Woods."
READ MORE: Go 'Into The Woods' At The Segerstrom Center
But if you watch a short segment of Corden's show or spend a bit of time with him, it's instantly clear why American audiences are taking to him so quickly. In the world of late night television that was until very recently dominated by snark, biting commentary, and blasé interviews, Corden is a breath of fresh air. With a genuine exuberance and the skills of an old-fashioned song and dance man, Corden is giving Jimmy Fallon a run for his money in the "nicest, most inventive man in late night" category.
Corden admits that when he was first offered the job, the notion of a talk show felt daunting and he was reticent to accept. He was content with his career and the creative flexibility of jumping between multiple television projects, theatrical endeavors and film roles. Ultimately though, he says, "I thought, I would rather regret doing something than regret not doing something."
The show is executive produced by Ben Winston, a friend and colleague of Corden's from their early days in entertainment in Britain. When offered the job, Corden asked Winston to join him to help craft a show that they both could feel was unique in the world of late night television. Corden says they started with a question— "How to respect and pay tribute to the tenets of late night and still make it new and fresh?" He says they set out with the notion that "these are the tent poles that have to be there and asked what can we do within that?"
Corden says, "We'd attack it very differently if we were doing it at 11:30. But our show is on after a talk show, we can't just do the same thing, can we?" Despite the fact that it's on television, Corden is adamant that he wants a show that "feels alive and organic." It leads to a lot of lively, on-the-fly moments, such as when Josh Gad interrupted Corden's opening monologue with a "Frozen" inspired musical number, a bit Corden says they had only "about 26 minutes to rehearse." They attack each show with the question "What's the best show we can do today?" and strive to present that to an audience.
READ MORE: Are We Ready For A 'Frozen' Sequel?
Other than that question, Corden insists there's no master plan for how to win over American audiences. He dismisses questions about the challenges of producing a nightly show and transitioning from a British audience base to an American one: "If it's good, it's good, and it will work. If it's funny, it's funny. I can't cop out by blaming something not working because it was 'too British.' All you can really do is just be yourself and hope people respond to it."
He has certainly put a lot of himself into the show. Corden is more a showrunner than a host in his approach to his new job. When asked about the unique feel of his studio and set (for the record, it's a 360-degree experience with some seating designed like luxury theater seats, including little lamps and end tables), he reveals that it was his and EP Ben Winston's vision to create a set with more depth. Corden says, "We wanted it to feel like you could really see the whole thing and that the audience wasn't just a black hole. We just kept talking about having depth from the sofa back."
Corden's vision has been expertly realized with a 3D model serving as backdrop to his desk and couch. It is full of details that viewers at home might miss. While taking us on a tour, Corden pointed out that the Hollywood Bowl model's side panels are swapped out to display their musical guest and the billboard is changed to showcase the film or show of his guests each night. He clearly loves his set and is proud of how it has come to life, excitedly using the flashlight on his phone to highlight small details as he gives a brief tour of the space. He has poured himself into every facet of the show, even admitting "the herringbone floor was my idea." He's a man who appreciates the importance of attending to each detail, no matter how small.
READ MORE: Jessica Alba Speaks To USC On The Business Of Being Honest

Corden explains that this commitment to being himself is why the most memorable moments of his show thus far have been music and theatrically-inspired segments like a performance of "Grease" in a Los Angeles crosswalk and Carpool Karaoke with Jennifer Hudson and Mariah Carey. He says, "The reason I don't come out and tell like 20 jokes is cause I'm not that good at it — the musical stuff is trying to use the skills that I've amassed to this point." He insists repeatedly that he's "not a stand-up comedian" and has no interest in trying to force himself into that box to fit some pre-ordained format for the show. As he puts it, "it's not about playing to my strengths, but about not playing to my weaknesses." "If I had it my way," he says, "It'd just be song and dance the whole time….but there's licensing issues, so we can't."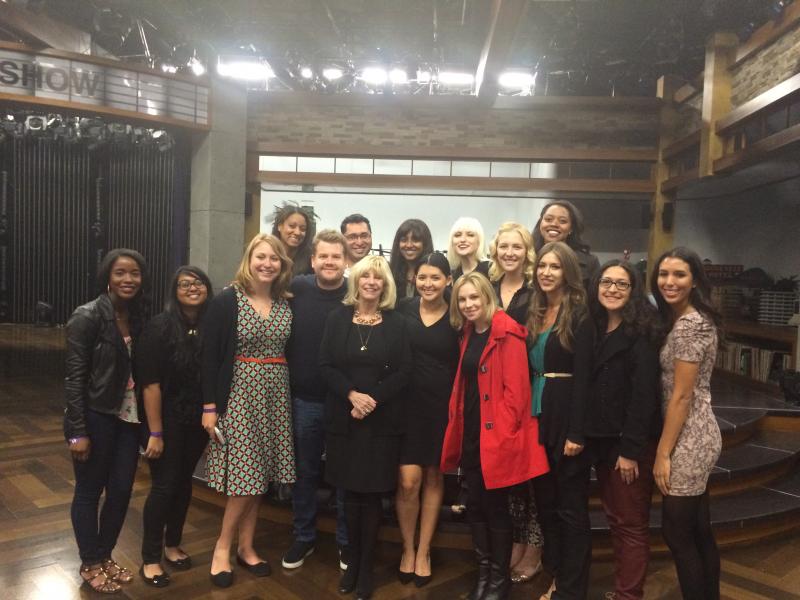 Corden downplays his abilities as a comedian, but his natural sense of humor shines through off-camera as well. He answers all questions with great depth and a clear desire to provide a thorough, well-articulated response, but his conversation is also littered with jokes (usually at his expense) and punctuated by his wide, gleeful smile. He can't help but be funny at all times, and it's this natural sense of humor and good-will that makes him such a joyous presence in late night. Nothing he does seems forced, but rather as if it all stems from his desire to have fun and make sure his guests and audience members are having fun with him.
That sense of joy and infectious enthusiasm is part of Corden's mission as a late night presence. "Our job is to just be a happy place to be," he says. He reflects on the current gloomy state of the world, but also smiles as he talks about the little joys people experience each day from births to marriages to small acts of kindness. "Now, in this current climate," he says, "Maybe it's just my job to put a smile on people's faces as they go to sleep at night. I want to remind people that there is and can be joy in the world every day."
READ MORE: Jason Collins Discusses Coming Out And Homophobia In Athletics At USC
That desire to spread joy is why you won't see Corden making jokes at others' expense on the show. He says they regularly cut jokes taking shots at other celebrities because he "doesn't feel comfortable mocking someone who is just trying their best." More importantly, he asserts, "no one's going to look stupider on this show than I do." He jokes that he has booked guests for his untraditional brand of late night television by telling them, "the show is hosted by a buffoon." Perhaps it's this winking self-awareness and willingness to make fun of himself that has made Corden's show an instant success -- guests can feel safe to let loose a bit with Corden who always commits to a bit one hundred and ten percent. His desire to spread joy starts with his guests and extends out into his intimate studio audience before it is broadcast into American homes several hours later. On top of this, he adds just enough cheekiness and ridiculous asides to keep the show from ever sliding into something saccharine.
When asked about his feelings on the eighteen episodes he'd shot at the time of the interview, Corden expressed both glee and a bit of surprise that they have been received so warmly. For him though, he says it's not about comparing it to what has come before or will come after in his career, or to other shows in late night, but instead "enjoying the journey [he's] on right now."
READ MORE: 'Girl Code' Star Nicole Byer Talks Body Image, Tasteful Vulgarity At USC
"The doing it is the reward," he says, "If you know what you want to do in life, you're among the luckiest four percent of people in the world, and if you get to do it and manage to eat and support your family while doing it, you're incredibly, infinitely lucky."
American audiences should also feel lucky to have such a exuberant talent on their screens to send them off to sleep each night. Where else can we find the promise of segments like Jon Cryer re-creating his "Pretty in Pink" dance or Corden legitimately closing out the Burberry fashion show in Los Angeles all in the name of a laugh and infectious enthusiasm? What's the best show they can do today? It's worth staying up "late, late" for to find out.
The graduate students of Mary Murphy's Journalism 572: Reporting on Entertainment and Popular Culture course here at USC Annenberg School for Communications and Journalism attended a taping of "The Late Late Show with James Corden" on Thursday, April 23. Following the taping, Corden sat down with us for nearly an hour to discuss his career, the trajectory of the show, and give us a bonus tour of the studio. The interview above was taken from this Q&A.
Contact Staff Reporter Maureen Lee Lenker here.