Politics
Hillary Clinton Announces Presidential Bid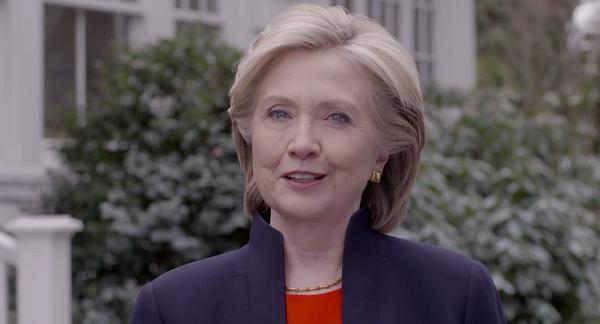 Hillary Clinton announced the launch of her 2016 presidential campaign Sunday morning in a video announced on social media, ending years of speculation over her desire to return to the White House as the first female president of the United States.
"Americans have fought their way from tough economic times, but the deck is still stacked in favor of those at the top," she says in the video posted on HillaryClinton.com and her YouTube channel."Everyday Americans want a champion, and I want to be that champion."
Clinton appears toward the end of the 2-minute 18-second video entitled 'Getting Started' featuring a series of Americans all talking about what they're getting ready to do in the future.
"I'm getting ready to do something too," she says. "I'm running for president."
In the video, Clinton says she's running to help Americans "get ahead, and stay ahead."
"So I'm hitting the road to earn your vote. Because it's your time. And I hope you'll join me on this journey," she says.
The former first lady and secretary of state is expected to begin making campaign stops next week to the early voting states of Iowa and New Hampshire to gain voter support.
The announcement comes after months of speculation in which Clinton regularly dropped hints about the possible run for president.
Last week, Politico reported that a lease has been signed for a two-floor office space in Brooklyn Heights for Clinton's campaign headquarters.
Under Federal Election Commission rules, a candidate has 15 days between receiving contributions or making expenditures over $5,000 and filing a statement of candidacy.
Clinton is the first major Democrat to announce a run in the upcoming election. Vice President Joe Biden, former Maryland Gov. Martin O'Malley and former Sen. Jim Webb of Virginia are on the list of Democrats who may challenge Clinton for the nomination. Sen. Bernie Sanders of Vermont may also run as an Independent.
Sen. Ted Cruz of Texas and Sen. Rand Paul of Kentucky have already announced they will run for the Republican nomination in 2016.
Paul is already tackling one of his biggest obstacles to his presidency - a Kentucky law that prohibits candidates from appearing on the same ballot twice. In addition to running for the presidency, Paul plans on running for a second Senate term in 2016.
READ MORE: Social Media Displaces Traditional Advertising In Election Campaigns
Clinton's campaign is expected to strategically differ from her failed bid in 2008, trading big rallies for a number of smaller events where she can connect with voters. A source close to the politician's campaign told NBC News that Clinton's run for the White House this time around would be more focused on voters.
Her campaign will center on improving economic security for the middle class and creating more opportunities for middle class families while casting her a "tenacious fighter" able to get results, said two senior advisers Saturday.
Advisers say Clinton's campaign will echo that of Obama's 2012 re-election campaign. He framed the choice for voters between Democrats focused on the middle class and Republicans wanting to protect the wealthy and return to policies that led to the economic collapse in 2008.
The advisers say Clinton will argue that voters have that same choice in 2016.
Clinton is not expected to roll out detailed policy positions in the first weeks of her campaign, but instead will talk about ways families can increase take-home pay, the importance of early childhood education and making higher education more affordable.
Though Clinton is entering the race as the overwhelming favorite for her party's nomination, her team says that her early strategy is designed to avoid appearing to take that nomination for granted.
READ ALSO: How Social Media Can Impact An Election
An early boost came from President Obama Saturday, who all but endorsed her saying, "I think that she would be an excellent president."
Clinton's husband, former two-term president Bill Clinton, and daughter, Chelsea, are unlikely to make appearances at her early events. The former president recently said that he wanted to play a role as a "backstage adviser" in his wife's campaign.
Her growing team of staffers gathered Saturday to circulate a memo called "We Are Hillary For America" and to hear from the campaign manager-in-waiting Robby Mook, who told them the campaign would value teamwork, diversity, discipline and humility.
Among the group is former White House director of communications Jen Palmieri, Obama's former message maker Jim Margolis and the woman who helped turn Michelle Obama into an icon, Kristina Schale.
But her efforts to gain support and introduce herself come at a time when fresh questions have been asked about her trust and honesty. In March, Clinton found herself at the center of controversy over her use of a personal email address and server to conduct State Department business while head of the federal body from 2009 to 2013.
Reach contributor Brianne Tracy here.