Arts+Culture
How Social Media Can Impact An Election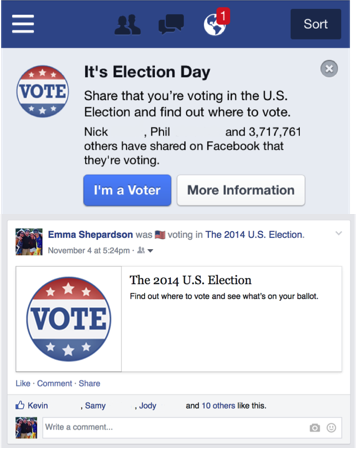 Ever since the 2008 Presidential election, social media has played a massive role in campaigns, especially on Election Day itself.
This Election Day, similar to 2008, 2010 and 2012, Facebook put an announcement on the top of most people's news feeds with a red-white-and-blue election button.
Facebook was not the only form of social media to get involved in Election Day this year. Snapchat, a form of social media that was not very popular during the past few elections, also adapted itself for Election Day.
Snapchat added a new geotag on Election Day. Geotags on Snapchat are a fairly new phenomenon that allows users to swipe their screen and add a graphic to their photo based on their location or based on a holiday or special event, such as Election Day.
The geotag was similar to the graphic displayed on Facebook's announcement; a red-white-and-blue I VOTED! button.
While this is the first year Snapchat has associated itself with Election Day, it is absolutely not Facebook's.
In the 2008 Presidential election, the 2010 Congressional elections and the 2012 presidential elections, Facebook used a similar announcement that doubled as a secret experiment.
The announcement on Facebook on Tuesday had a "VOTE" button graphic and read, "It's Election Day" in bold print underneath that read, "Share that you're voting in the U.S. Election and find out where to vote" and showed the names of the user's Facebook friends who had already interacted with the announcement. There were then two buttons to click: More Information or I'm a Voter. Once clicked, the announcement brings you to a page, where you can type in your address and find your nearest polling location, encouraging people to go out and vote.
If you choose, after clicking the "I'm a Voter" button you can share that you voted in the Election.
Six years later, the experiment is not so much of a secret anymore, and neither is the data. The data, regardless of voter turnout rates, which were quite low this Election Day, typical for many midterm election years, is quite fascinating.
In 2010, for the Congressional election, Facebook sent one of these "megaphone" announcements to 61 million users. The message was very similar to the one on Election Day this year, 2014. It read "Today is Election Day," had a link to more information and also showed the names and pictures of the user's friends on Facebook who had already clicked the "I Voted" button. A group of 600,000 users got a similar message, but it did not include the names and pictures of the users Facebook friends who had clicked the button. An additional 600,000 users did not receive any advertisement at all.
The social message group, the informational message group and the control group were closely monitored throughout the day. Those who received the social message were found to be 2% more likely to share that they had voted than those who received the informational message. In addition, and perhaps the most important part of the experiment, those who received the social message were 0.4% more likely to actually go and vote.
It seems like an extremely small number, 0.4%, and it is. However, because of a single announcement Facebook put on user's News Feeds, 60,000 more people voted in the 2010 election than would have if they did not receive the announcement. It is also estimated that, because of the social effect of the message, 228,000 more people were influenced to go vote.
From 2008 to 2010, voter turnout jumped 0.6%. More than one fourth of that increase can be attributed to one announcement placed on Facebook.
Similar to almost anything that is politically related, there are controversies that surround the announcement Facebook is now notorious for putting out every Election Day.
Generally, conservatives tend to believe that this announcement is aimed towards a demographic that would not benefit the Republican candidates. This is because majority of Facebook's users are younger people, who typically tend to vote more liberally. However, it is overwhelmingly clear by the data that it has produced that the announcement is completely non-partisan. The point is just to encourage and remind people that they should be doing their civic duty and voting.
By now, since many people are aware that Facebook uses this announcement as a way to experiment with voter turnout, the data might be skewed even more than usual. Some people, who received the announcement and did vote, might have been inclined not to hit the "I Voted" button because they don't want to participate in the experiment.
While the data, if there is any, for the announcement that Facebook displayed this past Election Day is not available yet, it can only be assumed that even with the low voter turnout rates and those who skewed the data intentionally, there was some impact from the announcement.
Social media apps, such as Facebook and Snapchat, not only have the ability to increase the amount of voters, as Facebook's method has proven to do in the past, but also does the simple courtesy of reminding its users that it is Election Day.
Reach Staff Reporter Emma Shepardson here.