California
The Future Of California's Education System Debated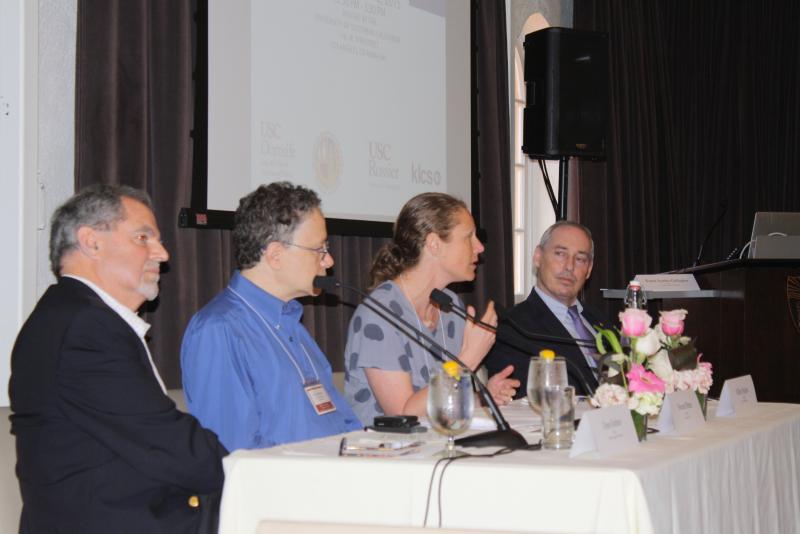 Vergara v. California found that unequal education is not just wrong; it's unconstitutional.
The case involves nine student plaintiffs who sued the state claiming that certain statutes regarding teacher retention rates violate the California Constitution and thus deny students of equal protection. In August 2014, Judge Rolf M. Treu sided with the plaintiffs, finding all five challenged statutes to be unconstitutional.
These included issues of tenure, teacher dismissal, and last in, first out (LIFO) layoffs. However, Governor Jerry Brown appealed the decision, and the case now awaits a second round in the Supreme Court of California.
Meanwhile, The Golden State is still deciding how its schools can make the grade.
SEE ALSO: Los Angeles Needs A Better Education System
On Sunday, the USC Jesse M. Unruh Institute of Politics, USC Rossier School of Education, Los Angeles Unified School District and KLCS held a luncheon forum to predict the future of California's public schools. Two panels discussed legal and political implications of Vergara on the state's education system.
"We all agree that we ought to do everything we can to prepare, support, and train our teachers so that students can receive the best education possible," said Dan Schnur, the director of USC Unruh.
According to the recent USC Dornsife/Los Angeles Times poll, voters put California public schools in the C+ range. They trust teachers in their community as the group who can change education most, though think tenure should be abandoned.
"A small number of inadequate teachers can impact a large number of students," said Hillary Moglen, the principal of Rally Public Affairs. "This system is not set up to put our students' needs first."
Teacher Dismissal
According to Students Matter, only 2.2 out of California's 275,000 teachers are dismissed for unsatisfactory performance per year.
But Glenn Rothner, an attorney at Rothner, Segall and Greenstone, argues that numbers aren't always as they seem.
"Ninety-five percent of dismissal cases never see a hearing because the teacher understands that they need to find a new line of work," he said.
Firing teachers can be expensive for school districts, with some cases cited as costing $450,000 in LA Unified, but most teacher dismissals are around $30,000, according to EdSource.
SEE ALSO: Residential Re-Education: Not Everything Is About Race
Rothner countered this statistic, saying LA's school district "is not the best managed in the state."
The dismissal process can also be lengthy, with most cases taking over a year to be finalized.
Bill AB-215 streamlining the teacher dismissal process was signed into California law on Jun. 25, 2014, though it only deals with teachers who are suspected of serious offenses, such as sexual misconduct, attempted murder, or drug offenses.
"Everyone is entitled to due process," said LA Times reporter Howard Blume, who has covered the case extensively. "But we need to figure out how to make that process better for all stakeholders, including teachers, students and parents."
Teacher Tenure
Before Vergara, teachers could receive tenure after less than two years of teaching, while 41 other states require at least three years, and four states have no tenure at all.
While California voters are overwhelmingly for longer evaluation periods or no tenure altogether, according to the Dornsife/LA Times poll, Rothner argues that debating the issue can do collateral damage.
"What it's doing to the pool of potential candidates is it's warning them that change is afoot," he said. "People are questioning whether this is a profession for them."
Others argue that longer tenure periods leave more room for accountability, which, for effective teachers, could be beneficial.
"Educators should be held accountable, and teachers should be paid more for doing a good job," said Ben Austin, who works for Students Matter on policy development and advocacy.
Still, some say that teachers aren't the only ones responsible for a child's education.
"Parents have an absolutely central and integral role on education systems," said Douglas Herman, a political strategist for The Strategy Group. "There needs to be a broader focus than just the teacher is the 'Boogeyman' here."
Austin replied, "You can be a great parent, but if you have to send your kid to an inadequate school with inadequate teachers, that's going to set you back."
Last In, First Out
Raylene Monterroza, one of the Vergara plaintiffs, testified that she was "deeply saddened" when her favorite teacher was laid off.
"He would have unique learning plans for each individual student," she said.
Monterroza's class was ranked highest in the district that year on the California State Testing. The teacher also created a debate team, which was subsequently terminated with the educator's job.
It is because of this teacher and many like him that Judge Treu declared LIFO unconstitutional.
"We need to move from a time-based system to a quality-based system of layoffs," said Moglen during the first panel on Sunday.
SEE ALSO: Thousands Rally For Basic Ed's Right In Downtown L.A.'s Grand Park
Educators seem to agree on this front. A Teachplus study found that 71 percent of teachers think that layoff decisions should be based either partly or entirely on job performance.
Job performance, they said, can be determined through evaluations, which 75 percent of teachers believe could be designed in a fair manner, according to the same study.
For the 24 percent who said layoffs should be based almost entirely on seniority, the other side argues that evaluations could be helpful for all.
"Evaluation is not to find the bad teachers, it's to improve the skills of all the teachers," said Blume.
Austin agreed.
"Teachers are not the enemy; teachers need to be part of the solution," he said.
Moving Forward
Some believe that Vergara v. California is the 21st century's Brown v. Board of Education. Though this particular case only deals with California law, other states such as New York face similar lawsuits.
No matter the outcome of Vergara's appeal, decisions on how to move forward will need to be made.
If the court's decisions are indeed upheld, they're only half of the equation.
"All the court case does is throw out what we have now, and then the question is, what do we default to?" said Blume.
If some or all of the decisions are overturned, it is apparent that many Californians are unhappy with the current education system.
Still, there is hope for bipartisan support, meaning Democrats and Republicans, teachers and students, privileged and poverty-stricken.
"Californians clearly understand that the state is rooted in all going forward together," said Drew Lieberman, vice president of Greenberg Quinlan Rosner Research. "We can't continue to create two different school systems; that is not good for the economy or for our children."
Contact Reporter Sarah Collins here. Follow her on Twitter here.