National
Thousands Rally For Basic Ed Rights in Downtown L.A.'s Grand Park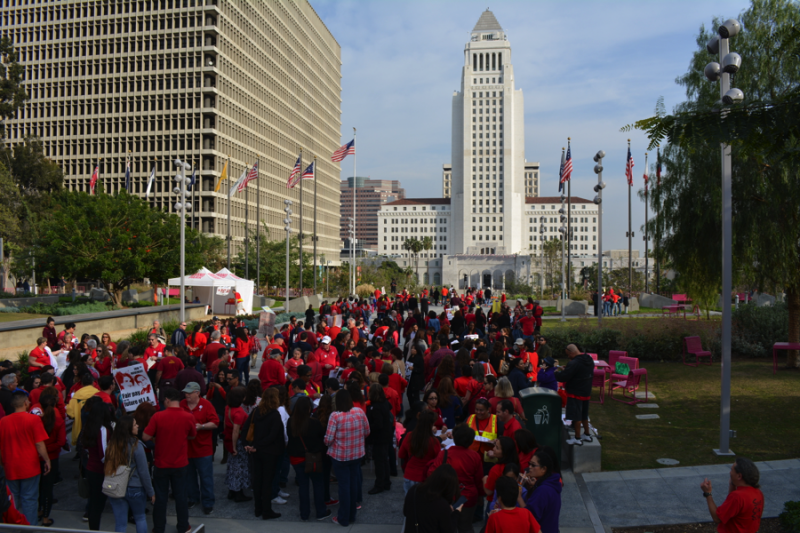 Teachers, students, and supporters of educational rights gathered at Grand Park in Downtown Los Angeles on Thursday to rally for higher teacher salaries, smaller class sizes and better student-to-counselor ratios.
The estimated 15,000 supporters urged the Los Angeles Unified School District (LAUSD) to accept the United Teachers Los Angeles' (UTLA) most recent demands. The district and the teacher's union have had 18 negotiations so far, but each side has deemed the other unreasonable.
A statement released by the district on Feb. 12 read, its "most recent offer of a 5 percent pay raise […] is very comparable to other districts across California."
Union members have said this amount is insufficient, and have asked for an 8.5 percent salary increase because they have not received one in the past eight years. On Feb. 18, the union declared an impasse.
SEE ALSO: Underground Problems Not Surfacing In City Council District 2 Elections
"We are in the bottom third percentile of salaries among other districts," said Jose Lara, a union member and teacher at Santee Education Complex High School. "We are tired of losing teachers to other districts: They get trained here and then they go somewhere else to teach. We want to stop that from happening, we want this to be a place where people can start and end their career."
Union board members also took the stage to speak to the sea of red t-shirts that had come to support the rally titled "Schools LA Students Deserve."
"We need to see improvements in salary, in working conditions and in learning conditions," Alex Caputo-Pearl, President of UTLA, said on stage at the rally. "They haven't met that, so that's why were at impasse."
"Week after week, we presented proposals to improve learning and working conditions for employees," union board member Victoria Casas said at the rally. "It became evident that student learning conditions and improving educator working conditions is not [the district's] priority."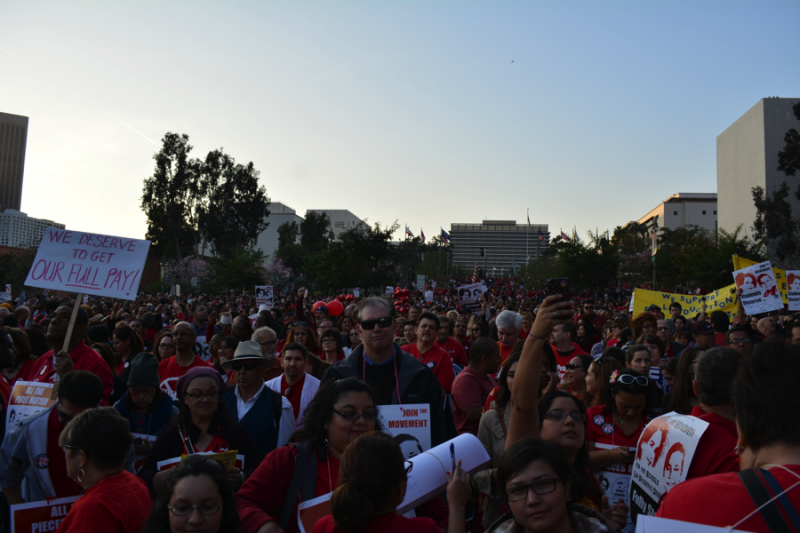 Protestors are dismissive of the district citing the tight budget as a reason for lack of salary growth, since administrators award themselves with raises. Lisa Karahalios, a teacher at K-12 school City of Angels, said "high-level bureaucrats over the last eight years have gotten pay raises while the people doing the actual work of teaching the children have gotten pay cuts."
Teacher salaries aren't the only problem the union is citing.
Jennifer Villaryo, a first- and second-grade teacher at Grand View Boulevard Elementary School, said, "we have over 3,000 classrooms with more than 45 students in them, and a lot of our schools don't even have a nurse."
Instead of spending millions of dollars on educational resources for the teachers and students, the district has had "displaced priorities," said union member Lara.
"The district wants to spend money on iPads, and on special gifts for bureaucrats," said Lara. "It's time to give back to the teachers and students who make the school run."
Student Joseph Moreno, 10, also voiced his opinions about his teacher's low salaries.
"They aren't giving the teachers enough money to teach us," he said. "My teacher stays an hour after school trying to teach us what we don't know, and she struggles a lot."
"The fact is that people at the top don't listen to the people in the field who are doing the work," said Karahalios from City of Angels. "We need to make sure that the teachers in society are fairly paid for what they do."
Parents and students on stage expressed their dismay about the improper funding and lack of dollars spent towards schools.
"We want for every dollar to be directed to real education needs and to supporting our teachers," said Rosa Miranda, parent of two district students.
Although no district official was present to counter these arguments, LAUSD superintendent Ramon Cortines had previously released a statement citing the district's current negative financial situation and lack of available funds.
However, the union, parents, and students won't stop until they get what they believe they deserve.
"Hopefully, they will finally listen to what we are asking for," said teacher Villaryo. "It's not about our pay, it's about the schools being what the kids deserve."
Reach Staff Contributor Beatrice Verhoeven here. Follow her on Twitter.