Los Angeles
Asian Angeleno Community Supports Minimum Wage Increase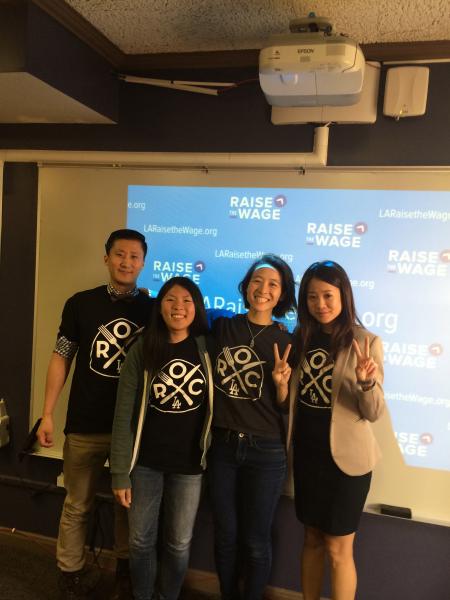 Community activists, workers, and business owners from across the city joined together Tuesday afternoon in downtown Los Angeles to call for sweeping employment reforms, including a substantial increase of minimum wage.
The "Raise The Wage" coalition — spearheaded by the Los Angeles Alliance for a New Economy, or LAANE — seeks to raise the minimum wage to $15.25 per hour.
"If workers can't afford basic necessities, it's very difficult for the economy to move forward," said Rusty Hicks, executive secretary of the Los Angeles County Federation of Labor.
In a city as expensive as Los Angeles, this has become a major concern. A single person without children needs to make $15.79 to afford living in the LA metropolitan area, according to the California Budget Project.
"Unexpected money issues, like when your car breaks down or going to the dentist, force you to borrow money," said Hanjo Kim, who immigrated from Korea 14 years ago.
SEE ALSO: $15 Minimum Wage Increase Could Help South L.A. Hotel Workers
The meeting, which was held at the LACFL building, placed an emphasis on the hardships members of the city's Asian and Pacific Islander community face at their workplaces.
Of the nearly 450,000 Asian Angelenos, One in three earn less than $15 per hour, and more than 15 percent live in poverty, according to LAANE.
"I have to penny-pinch like crazy," said Calvin Ratana, 23, who has worked numerous restaurant jobs since turning 16 to help support his family.
Ratana, a December graduate of Cal State-Northridge, was one of many in attendance who felt the issue went beyond wages. He spoke about a recent service-industry job that paid only $60 for 12 hours of work, which then threatened to cut his hours after he spoke up about the lack of overtime pay.
"I can't afford to lose hours as the breadwinner in my family, no matter how much I dislike [the job]," he said.
The impact of working unpaid hours was a common narrative on Tuesday.
SEE ALSO: L.A. Minimum Wage Workers: Garcetti's Raise Is Not Enough
"I was hired as part-time, but worked full-time hours. 100 hours every two weeks," said Tina Tran, a restaurant worker in Koreatown.
There have been several recent proposals to raise the minimum wage in Los Angeles, including Mayor Eric Garcetti's campaign to reach $13.25 by the 2017. "It's deplorable and bad for our economy to have one million Angelenos stuck in poverty, even when working full time," the mayor said at a rally announcing his goal last Labor Day.
The Raise The Wage coalition's plan is even more aggressive, aiming to expand paid sick leave to more workers and fight wage theft.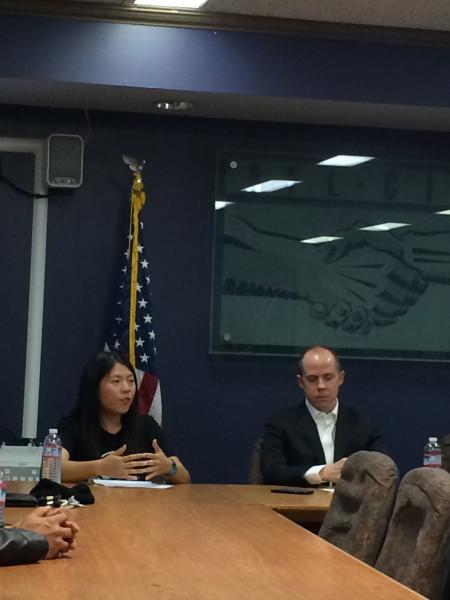 While there are worries a marked increase in the minimum wage would lead to layoffs and businesses fleeing the city, some business owners view the proposal as a positive.

"I lived and depended on tips, and at $15 it would be something they can count on," said John Neuman, owner of LAMKE vegan donut shop in downtown LA. "That would translate to their work, and it would be better for workers and employers."

As a former restaurant worker, Neuman said he understood how an increased wage would benefit both the employees and businesses, as well as paid sick days.

SEE ALSO: Los Angeles Minimum Wage Raise Process Begins

"I've seen people come in with scabs, coughing, obviously sick, but they need to work to survive," said Neuman.

Moving forward, March will be critical for Raise The Wage to gain traction with L.A. City Councilmembers. The Council will hear three reports on minimum wage increases on March 15th, and conduct town-hall meetings across the city afterwards before making a decision.

According to Hicks, three Councilmembers have expressed support for their plan: Curren Price, Mike Bonin, and Nury Martinez. With only one hard "no" from Bernard Parks, the challenge for Raise The Wage and its supporters remains in convincing the 11 remaining Councilmembers.

Reach Staff Reporter Sean Burch here.