Los Angeles
Los Angeles Minimum Wage Raise Process Begins
There was confusion on Tuesday at the Los Angeles City Council meeting. Supporters of the minimum wage raise expected council members to vote on the motion to raise the minimum wage.
Minimum wage workers thought that the motion was not addressed. Supporters thought that the motion was passed. In reality, the minimum wage raise motion was introduced.
"People get confused because they introduce a motion, but they didn't talk about it," said council clerk Patrice Lattimore. "They can only talk about a motion if it's on the agenda."
According to Lattimore, this kind of confusion happens often. The public assumes that the motion is further along in the process than it actually is, she explained.
The motion was introduced by council members Mike Bonin, Gilbert Cedillo, Nury Martinez and Curren D. Price, Jr.
It reads: "I therefore move that the City Attorney, with the assistance of the CIA and CAO, report back to the Economic Development Committee within 120 days with a draft ordinance to establish a minimum wage for all employees working in the City of Los Angeles that will increase over the next three years, effective July 1st of each year, to $13.25 an hour on July 1, 2017, and after that…the minimum wage in Los Angeles will be increased annually at a rate consistent with the Consumer Price Index."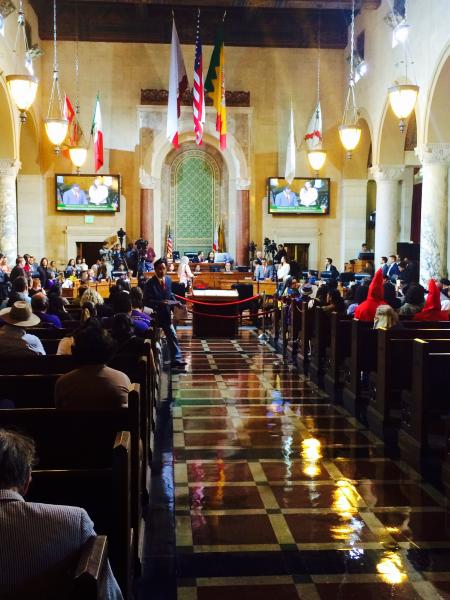 The introduced motion has been sent to the Economic Development Committee headed by council member Curren D. Price, Jr. The motion will be considered at one of their upcoming meetings on the second or fourth Tuesday of the month, said Lattimore.
While the council meeting took place, Mayor Garcetti met with Vice President Joe Biden at a roundtable discussion in Lincoln Heights to discuss their support for raising the minimum wage.
SEE ALSO: Venice Workers And Businesses React To Minimum Wage Increase Proposal
Before the council meeting, protestors stood outside City Hall early Monday morning to "end wage theft." Members of this group said that raising minimum wage to $13.25 is only the beginning and more needs to be done. Ana Barrios is a minimum wage worker at City View Villa where she is a caregiver. She said that $13.25 just isn't enough.
"I agree with the proposal of $15 an hour starting because as a mother, I have three kids so me and my husband, we're working hard to provide the minimum things to our kids so we're just living paycheck by paycheck and we cannot make it," Barrios said.
Adan Robles also works at City View Villa, but he has a second job at a hotel in Beverly Hills.
"In my personal opinion, it should be $18 to $20 an hour to have a good life," Robles said.
SEE ALSO: L.A.'s Minimum Wage Hike: A Tale of Two Snack Shops
The process to change the wage in Los Angeles began on Labor Day when the mayor announced his proposal to raise minimum wage from $9.00 an hour to $13.25 over the next three years.
"Right now, we struggle with what we earn," said Diaz-Gonzalez. "We need more to pay bills."
While most minimum wage workers support the raise, business owners and other consumers worry about the affect on their budgets. Despite this controversy, supporters of the raise plan to continue their fight for more pay.
Diaz-Gonzalez added, "I just hope that they do increase it and they won't increase in the stores so that we can be living a little bit better."
Reach Staff Writer Danica Ceballos here and follow her on Twitter here.