MLB
2015 MLB Season: 5 Storylines To Follow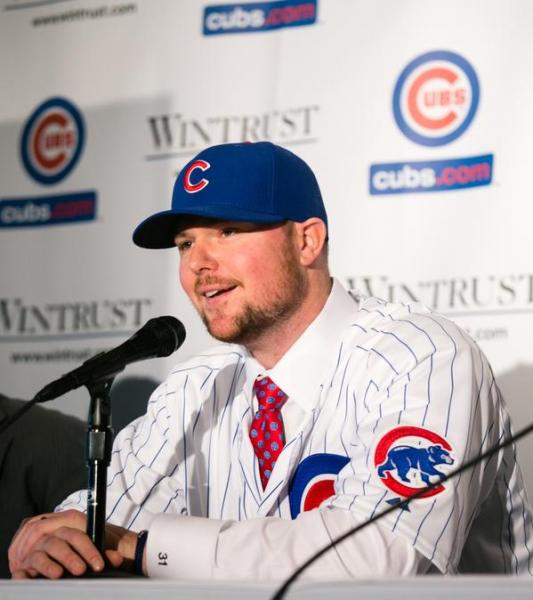 It's baseball season again. There are so many storylines flying around the league even during Spring Training that no one even seems to be paying attention to the San Francisco Giants, who are prepping for their championship defense. What are the biggest stories to follow?
SEE MORE: Halos Have High Hopes
1. Could The Curse Finally End?
It must finally be time. Head honcho Theo Epstein told fans: "2017 is our year" when he took over at Wrigley Field in 2012. That's still a couple seasons away, but to Cubs fans, it has to feel as if the pieces are finally coming together. Chicago has a stupidly talented young core of players who can hit balls really hard and really far.
In addition to that, they went out and got key veteran pieces such as Jason Hammel and a true ace in Jon Lester. To cap off their hectic offseason, the Cubs brought in Joe Maddon, who earned his reputation in Tampa Bay as a manager who can translate youth and talent into production. All of these moves make it seem like Epstein believes that Chicago's championship window is now open. And it's been one long wait – Feels like Cubs fans have waited for a title longer than we've all waited for flying cars.
2. Who Are The Next Royals?
Last season was truly remarkable in that a franchise mired in the cellar for decades, the Kansas City Royals, finally finished what seemed like an eternal rebuild and almost won it all. Another team that struggled for so long, Pittsburgh, made the playoffs again. So who will the surprise package be this year? It's much too early to peg Houston as a postseason dark horse, as they are still deep in the process of their complete overhaul, but they could be relevant in this conversation next year. Maybe.
The two popular choices seem to be the San Diego Padres and Miami Marlins (obviously the Cubs are in the mix for this, too). Both teams sank a whole lot of money and resources into this offseason to hopefully push themselves into contention, but it is the Fish who are finally putting money in the right places instead of paying top dollar for players like Mark Buehrle and the injury-prone José Reyes just to manufacture the illusion that they are a contender. They rightly gave a big paycheck to Giancarlo Stanton to make sure that he is the face of the franchise for a long time, and the awaited return of pitching phenom José Fernandez in midseason means that, for the first time in a long time, Miami will have a legit MVP-caliber slugger and big time ace on their roster.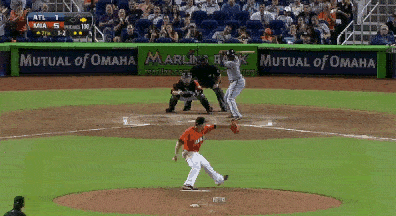 And it turns out that Fernandez is actually a modern day Babe Ruth. He's striking out hitters left and right, but all he's dreaming about on the mound is cranking one into the seats like this:
Are you kidding me? The duo of Stanton and Fernandez alone look like a championship-caliber team. All aboard the Miami bandwagon.
3. The Cole Hamels Sweepstakes
The Philadelphia Phillies are patiently rebuilding, after a combination of bad contracts and injured stars over the years caused the 2008 World Champions to suddenly plummet in the standings. The key to a successful rebuild is restocking the farm system with quality prospects, and lefty Cole Hamels represents GM Ruben Amaro's best chance at injecting more talent into Philly's future. It seems virtually a foregone conclusion that Hamels will have to pack his bags at some point this year.
The only question is, who will pay up to acquire him? Going into his age-31 season, Hamels will only be attractive to teams who believe they are contenders (or to over two-thirds of the league?), but every team's definition of "contender" differs. Take the Yankees, for example, who are still dishing out big contracts to veterans, convinced that they are on the brink of a championship season. A legit contender most likely will tease Hamels away from Philadelphia (in part due to his limited no-trade clause), but don't rule out another San Diego-type team swooping in in hopes of rejuvenating a stagnating franchise.
SEE MORE: Dodgers Spring Preview: New Boys In Blue, Same Goal
4. The Dark Knight Returns
Matt Harvey may not be the hero that the New York Mets deserve, but boy do they need him. The SI-dubbed "Dark Knight of Gotham" is a shining beacon of hope for long-disgruntled Mets fans everywhere. He will anchor what is shaping up to be a deep, promising Mets starting rotation, and with New York playing the abysmal NL East, we could be watching October baseball in Queens for the first time since 2006. Coupled with Masahiro Tanaka's return on the other side of town, two potentially dominant hurlers will duke it out for the title of New York's best pitcher, as long as Bartolo Colon agrees to stop hogging the spotlight.
See MORE: Forgiving Alex Rodriguez
5. A-Rod's Comeback
This one may be kind of a cop-out, considering anyone even remotely interested enough to click on this article will almost certainly know about this storyline, but there is really no reason for any baseball fan to be indifferent towards Alex Rodriguez. You either hate him for all the lying and cheating and want to see his career spectacularly go down in flames this season... or you're a Yankees fan and really have no other option but to root for him because, let's face it, A-Rod with a bum hip and one arm tied around his back might still be the closest thing New York has to a "Bronx Bomber" right now.
Regardless of your motivation, it is sure to be an interesting season, especially since any other player in Rodriguez's position as a glorified utility man would just slowly fade into the background. But who knows? Maybe he's a changed man. Tune in this season to see.
Reach Staff Writer Oliver Jung here